Bespoke Market is BC's newest market featuring a selection of unique goods for mindful shoppers who share a commitment to consume locally. Shop a curated lineup of over 70 creative and locally-owned businesses showcasing goods such as jewellery, paper products, ceramics, clothing, as well as artisanal food and beverages. Many vendors are from Squamish, the Sea to Sky region and beyond.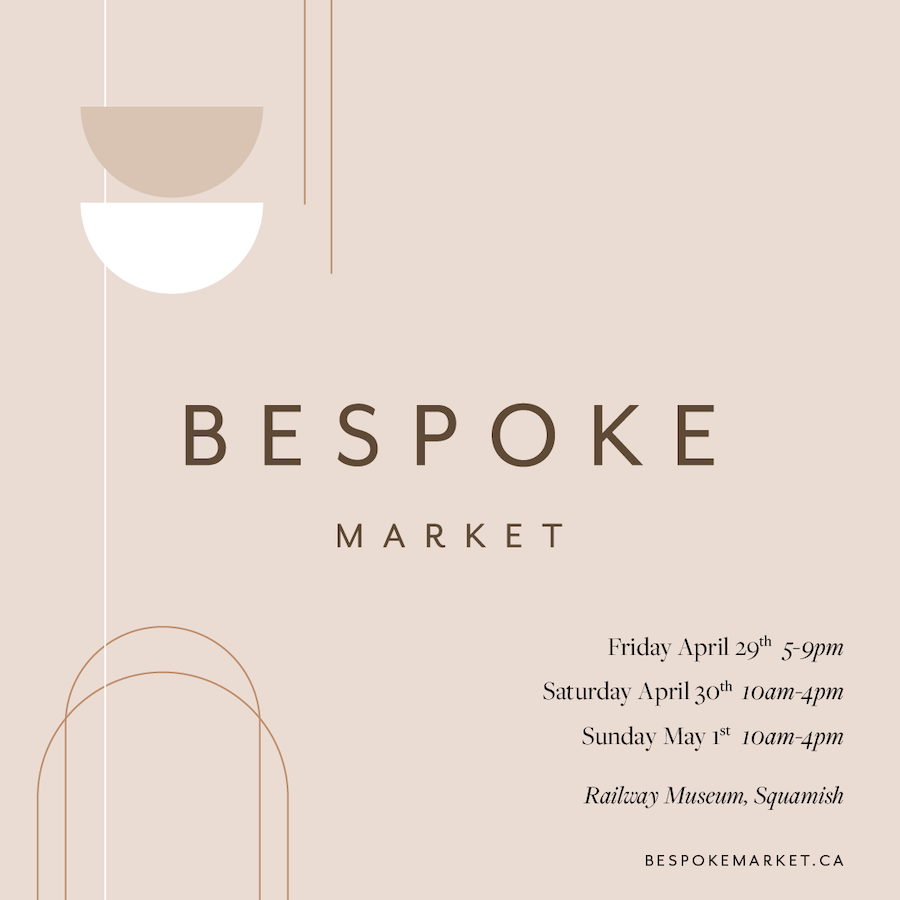 Bespoke Market in Squamish
When: Friday, April 29 to Sunday, May 1, 2022
Where: Railway Museum of BC (39645 Government Road, Squamish)
Tickets: Available online now for $8.87 (Sat + Sun) and $14.44 (all weekend)

Guests are also welcome to pay $5 cash at the door. Bespoke is excited to delight attendees on Friday night with a small gift to say thank you for the support at this inaugural market. 
The inaugural Bespoke Market will bring fresh creative energy and a deepened sense of community to the market world, offering a selection of unique handmade goods as well as market favourites including vintage clothing and housewares.
Live music and unique vendor displays will help inspire this new three-day experience of shopping and discovery.
At the helm is deeply experienced event producer and visionary Shannon Lorenz, whose aim is to make this market different by elevating the overall experience for everyone involved. Both shoppers and vendors alike will support each other through the commitment to consume locally and support the local economy.
"Amid all the challenges and uncertainty the last couple of years have brought, I could see the opportunity to help people through meaningful connection, " says Lorenz. "My goal is to serve creative entrepreneurs and build engaged supportive communities."
Enter to Win
I have $50 in Bespoke Market cash to give away along with two gift bags, and of course tickets to the market! Here's how you can enter to win:
Bespoke Market in Squamish Giveaway
The winner must be able to pick up the prize in person during the Bespoke Market.