In early March of 2020 I was given a plant, and not having the best track record with keeping leafy things alive in my home, I promised myself that this one would make it. I'm happy to report that two years later it's thriving, and I think I also managed to grow a green thumb in the process. Not really knowing where to go from here, expanding from my office window sill to perhaps my balcony, I was happy to be connected with the pros at Urban Roots Garden Market. They have eleven pop-up locations all around Metro Vancouver this season, open from April to July.
Urban Roots Garden Market – Community Garden Centres
I arrived at the PNE location, just across from the entrance to Playland on Hastings. Little league teams were playing baseball, there was a random pipe band rehearsing in the field, and families were flocking into the pop-up garden shop on a sunny spring morning. That's where I met Ron Murphy, Operations Manager at Urban Roots.
"The concept is really taking a garden centre and being able to put that in someone's backyard," Ron said as we walked from the stacks of bagged soil over to benches packed with colourful marigolds.
He's been with Urban Roots for nine years, since before they did pop-ups and were running large programs for big box stores. In 2021, they launched their own on-location concept in seven locations, and it was such a hit they added four more this season.
"We felt during COVID there was a better way to do business, to take business to people in big open spaces. Invite them in, right in their own neighbourhoods. That's why we ventured out on this quest."
Ron and I made our way from the marigolds over to the strawberries and blueberries.
"This was one of the first locations that we looked at. Everybody thinks of this spot and the fair comes to mind but there's a really great community behind here. Most of the people you see here are local, we're really fortunate to be supported by the community."
All of Urban Roots' plants don't have to travel far from their greenhouses to the pop-up markets as they're all either grown in Aldergrove or Maple Ridge. They traditionally focused on herbs, veggies, and annuals but they've branched out and are growing their own perennials now.
They ship about three to four times a week from their greenhouses to their pop-ups, and they're cultivating and culling product as they go to ensure consumers have the very best selection.
"Which means if it doesn't look like something you'd give to your mother, a loved one, a friend, we can take the product back, rehabilitate and bring it back because we are the greenhouse as well. That's the beauty of this concept, with us being the grower. We have the advantage of being able to put the right product in at the right time for the customers."
Since the product is changed up so frequently to showcase the best of the season, and the greenhouse, I asked Ron what I might want to shop for in say, June rather than April.
"Drought tolerant," he replied as memories of relentlessly hot summer days danced in my mind like the hanging basket of strawberries we passed just moments ago.
"They hold on for quite some time like the marigolds we saw, or that red geranium over there. If you look after that product, that will carry you right through to September or October."
Down another aisle of the outdoor market, I came across the "Harvest, Eat, Repeat" planters filled with salad greens that you can grow, eat, and they'll replenish – your own everlasting salad right at home (of course it just takes time to grow back).
Ron says Urban Roots has the largest selection of tomatoes (thirty varieties), and peppers (over 25 varieties) out there. "If someone comes in looking for a Carolina Reaper, you know the hottest pepper in the world, well they can get it here! We don't carry a whole lot of them but we want the customer to know they can come and get it."
Speaking of edibles, they sold over 300,000 strawberry plants in 2021 across their seven locations. Urban Roots also sells eggplants, onions, cilantro, chives, and other herbs. Ron joked that you can feed yourself in their store – not literally in the store, well except when they have food trucks on site in the summer.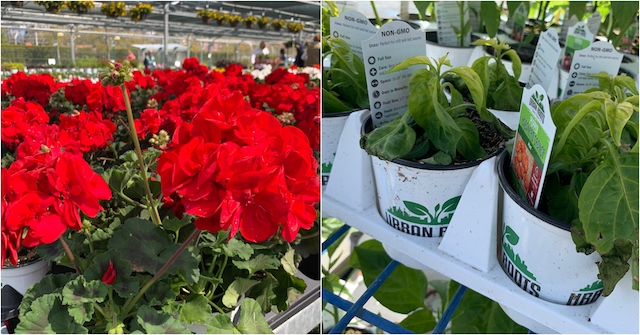 "There's a social initiative to what we do as well," Ron added. "It's a big part of what we do actually."
Urban Roots does a big give to local community gardens and food banks to help combat food insecurity. Last year they donated 100,000 edibles (herbs and veggies) to organizations and this year they've partnered with school boards, providing over 200 schools with seedlings and plugs that students can grow in their own garden programs.
"Food insecurity is a real problem. What we do here in a retail environment is great, people leave with a smile, but we believe these communities invite us into their backyard and we believe it's up to us to give something back as well."
Other programs they offer to the public include special events where you can participate in specific garden project workshops, like learning to plant your own continuous salad bowl or assembling a flower box for Mother's Day.
By the time we made it around to the grasses, I asked Ron my burning question: What can I grow on my balcony? He answered my question with a question: "What's the exposure? Southern or northern?"
Then a few follow ups: He asked if I wanted perennials (plants that regrow each spring, living more than two years) or annuals (which germinate, grow, flower, set seed and die all in one growing season).
"If you've just got a small balcony and you want a three foot planter box, then we'd ask you your favourite colours, and set you up with Thrillers, Spillers and Fillers, that's how you build a planter box."
Thrillers: Small evergreens, topiaries, or grases, something that makes a statement in the middle of the planter box.

Spiller: A spiller is like Creeping Jenny. Growing several feet to spill over, softening the edges of the box.

Filler: They give you some colour and some volume like pansies and violas, calibrachoa
That's the thing, the expert gardeners shop here, and the "I kept my first plant ever alive during COVID and now I want to grow a million more" hobbyists like myself are all welcome. If they don't know the answer, they'll help you find out and even carry what you purchase to your car for you, with a smile.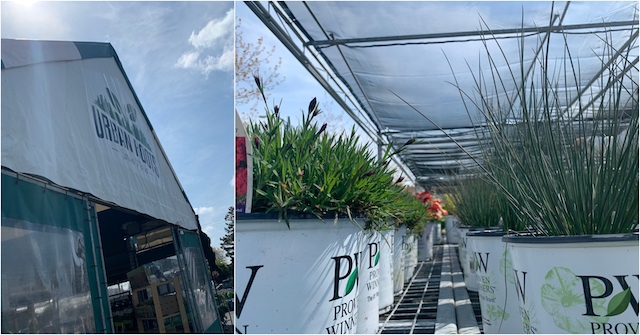 Our garden market tour concluded in the check-out tent among racks of tools, equipment, and seeds. "The whole concept is about supporting local," Ron waved his hand and gestured broadly at everything. "If we don't grow it in our greenhouses, and everything you've seen here we've grown, then it's from a local company." From West Coast Seeds, Sea Soil from Campbell River, to the literal fruit of the Aldergrove greenhouse.
"We're not a box store, we're not trying to compete with a box store. The most important message is we value the communities that we're in. We want to support the communities that we're in."
You can find Urban Roots Garden Markets in these communities right now:
| | |
| --- | --- |
| Vancouver (PNE)2901 East Hastings Street | Vancouver (DT)1755 Cottrell Street |
| Kitsilano2966 W 4th Ave | North Vancouver502 East 3rd Street |
| Sunset/Oakridge6495 Main Street | Coquitlam1150 The High Street |
| Port Moody2421 Clarke Street | Langley20090 91A Ave (Colossus) |
| Kerrisdale2465 W 41st Ave | Surrey1250 Guildford Drive |
| Richmond5300 No. 3 Road | |
Follow Urban Roots on Facebook and Instagram for the latest news and garden updates or sign up for their newsletter to get 15% off your first purchase."
TIP: If you're shopping from home before you head out to the pop-up, you can browse the Urban Roots Plant Library online. It features all the plants they carry each year, growing and information, ideal plants based on landscape and garden needs.