After a successful online event in 2021, the 33rd edition of Festival du Bois returns live to Mackin Park in Coquitlam for a weekend of folk, roots, global and Québécois music from French Canada and beyond.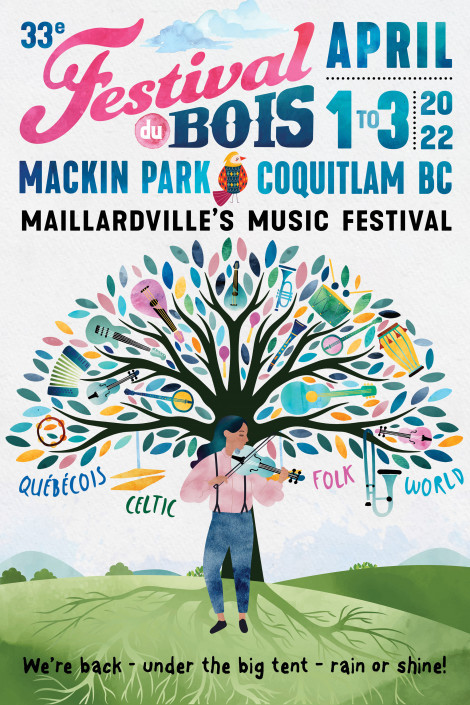 Not only does the festival present some of Canada's finest music artists at a very affordable ticket price, it offers engaging entertainment especially for kids and families, on-site performers, workshops, fabulous food, a market area, and a wealth of bon esprits.
Friday's Free Preview
A special Festival du Bois kick-off event with BC fiddling dynamo Jocelyn Petit and her band followed by the popular Friday Night Contra Dance featuring live music by the Sybaritic String Band with caller Maureen Collier.
Weekend Festivities
Performances from: Le Diable à Cinq, The Mcdades, Le Winston Band, Alpha Yaya Diallo, Collage Trad, Métis Jiggers, Locarno, North Shore Celtic Ensemble.
In the Children's Tent (Petit Chapiteau), kids and families can delight to the sing-along tunes and stories of the popular Will's Jams, the West African rhythms and tales of Yoro Noukoussi, the bilingual family folk of Ginalina, and the engaging interactive activities of Angèle Verrier from Les Petits Matins.
While in Mackin Park, festival-goers can participate in a variety of fun activities. There are roving performers that astound and delight, traditional and popular French Canadian food – including maple taffy on snow from the Cabane à Sucre André Beauregard Sugar Shack, the Métis Experience, crankies, unique shopping, interesting exhibits, and more.
Festival du Bois in Coquitlam
When: April 1-3, 2022
Where: Mackin Park (1046 Brunette Ave, Coquitlam)
Tickets: Free on Friday night (register online). Buy weekend tickets online in advance to save! $20 adults, $13 students & seniors, $8 kids ages 5-12, free for kids 5 and under. Single day family packages are $50. Prices change if purchased in-person on the day of the event.

Sunday Pancake Breakfast tickets $5 (children), $10 (adults) will be made available only at the door on the morning of April 3rd.
Visit Maillardville, the cradle of francophone culture in BC, to experience a taste of the community's rich roots and traditions, and experience the community's reputation for warmly welcoming folks of all ages from near and far for yourself.