From March 7 to 13, 2022 Canada will join with environmental charity WRAP for the first global Food Waste Action Week, with the goal of driving home the message, "Wasting Food Feeds Climate Change." The international week of action will be delivered through the National Zero Waste Council, an initiative of Metro Vancouver, and its well-known Love Food Hate Waste Canada campaign.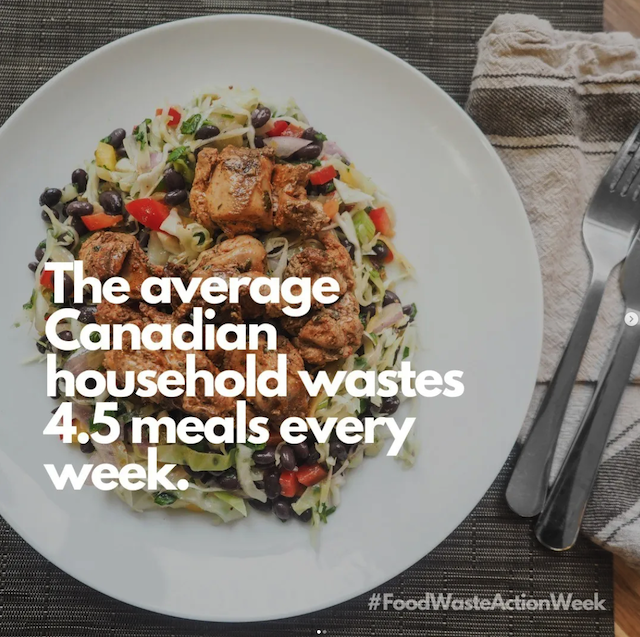 Prevent Food Waste at Home
Canadians produce nearly 10 million tonnes of greenhouse gases each year, simply by wasting perfectly edible food at home — however, there are plenty of simple actions everyone can take to help prevent unnecessary food waste.
Sixty-three per cent of the food Canadian households throw away is considered avoidable, meaning it could have been eaten. Nationwide, that amounts to almost 2.2 million tonnes of edible food wasted each year, at a cost of more than $17 billion. The environmental impact of this waste is equivalent to 9.8 million tonnes of CO2 emissions, or 2.1 million cars on the road.
Globally, around one-third of all food produced is lost or wasted, which accounts for between eight and 10 per cent of total greenhouse gas emissions. Fighting food waste at home has a direct impact on these emissions: every tonne of household food waste that is avoided is the equivalent of taking one car off the road each year.
To participate in Food Waste Action Week, Canadians are encouraged to use the food-saving tips shared on the Love Food Hate Waste Canada social channels (Instagram, Facebook, and Twitter) and through the #FoodWasteActionWeek hashtag. From storing food correctly, to using up leftovers and making sure none of the food we love goes to waste, every small change can make a big difference.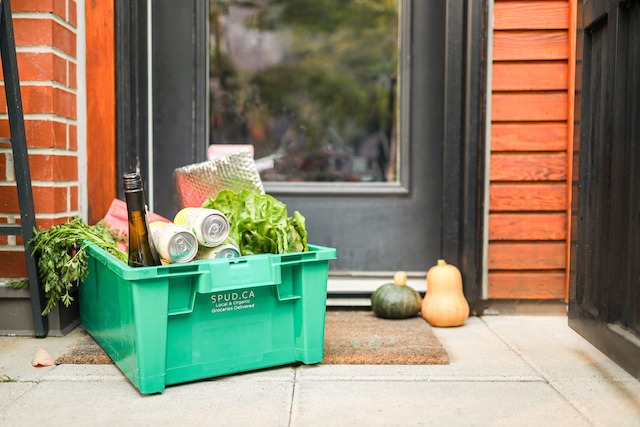 Tips from SPUD.ca
My friends at SPUD.ca online grocery delivery proudly partner with vendors that are as strongly committed to sustainability and fighting waste as they are. Here are some ways they are fighting waste through remarkable innovations:
Bee Kind Beeswax wraps are the reusable and biodegradable version of plastic wrap. They can also keep your food fresh and tasty for longer. Each Bee Kind wrap design is lovingly hand-painted by the founder's mom.
Bottle None Supply Inc. offers a wide range of natural shampoo bars and other zero-waste hair products. Upfront Cosmetics are also taking plastic bottles out of the bathroom. They offer a wide range of zero-waste all-natural shampoo and conditioner bars.
Nature's Path A family-owned company that has been committed to organics and sustainability for over 30 years, Nature's Path is on a mission to leave the earth better than they found it. They offer a wide range of organic foods and many of their plastic bags are part of SPUD's takeback program.
Susgrainable transforms beer "waste" into premium baked goods. Realizing that food waste numbers in Canada were climbing, Susgrainable saw a unique opportunity to take the used barley from breweries that otherwise would have been wasted, and turn it into high fibre, high protein treats and baking mixes.
Goodly was created from the desire to make good food from surplus natural ingredients and to give people with barriers to traditional employment good jobs.
Lita's Mexican Foods are Certified Plastic Negative. Through a partnership with rePurpose Global, they remove and recover twice as much plastic waste from nature as they produce through their packaging. Lita's Mexican Foods donates a percentage of every product purchase to fund the collection of 882 lbs of plastic waste from oceans and landfills every year.
Luv the Grub rescues imperfect produce and turns it into delicious chutneys and spreads. Their founder Alia is the daughter of a Ugandan refugee and knowing the barriers newcomers face, they hire newcomer refugees to give them their first Canadian work experience and a new community at Luv the Grub.
Soap Exchange has a comprehensive collection of products which are environment-friendly and 100% biodegradable. They also recycle and re-use their packaging so be sure to return all your empty Soap Exchange bottles in your SPUD bin so they can be reused. Read more about SPUD's takeback program.
Loop repurposes the outcasts of the food industry by transforming perfectly imperfect fruits and vegetables into mind-blowing cold pressed juices, probiotic sodas and more. With a rescue mission to be a food waste fighting powerhouse, Loop is constantly working on new initiatives such as making soap from rejected cooking oil.
Win a Food Waste Fighting SPUD Box
SPUD.ca wants to send a lucky Miss604 reader a grocery delivery filled with some food waste fighting items from their vendors. Here's how you can enter to win:
SPUD.ca grocery delivery giveaway
I will draw one winner at random from all entries at 12:00pm on Tuesday, March 15, 2022.
For Miss604 Readers/Followers
Not a SPUD customer? Check out with promo code MISS604 and you'll get $15 off your first order when you spend $50 or more. Already a SPUD customer? Use the same code for $5 off your next order over $50.