Comedian Heather McMahan is bringing The Farewell Tour across the United States and Canada in 2022, with a stop in Vancouver on April 1, 2022 and you can win tickets!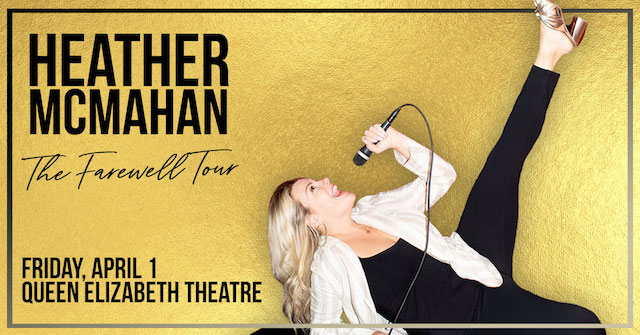 Heather McMahan in Vancouver
Due to unforeseen scheduling conflicts, Heather McMahan's show scheduled for April 1, 2022 at Queen Elizabeth Theatre in Vancouver, BC  has been cancelled. Refunds will be given at point of purchase.
If you don't know who Heather is already, don't worry you will! Heather recently sold Good Grief, a television show based on her life, to Peacock with Annapurna producing. She can be seen in the upcoming Netflix feature Love Hard, starring Nina Dobrev, Jimmy O. Yang and Darren Barnet, and her debut podcast, Absolutely Not with Heather McMahan leapt into the Apple Podcasts top ten on the day of the release.
A beloved standup comedian, Instagram storyteller and the best friend everyone wants, Heather has seen her fandom skyrocket with fans and the industry falling for her voice, her wit and her southern flair. Her audience on the platform has an average rate of engagement 4.4x higher than the average influencer on the platform and her growth has been explosive, doubling her following in just three months.
Heather has co-hosted the fourth hour of Today three times last fall and has an open door to return. She also previously hosted E!'s Daily Pop.
In 2019 she launched her tour, appropriately titled 'The Farewell Tour,' which sold out venues from Atlanta to Charleston to Seattle in under a minute with numbers that blew away all involved. She was prepared for another sold out run, but then of course, 2020 happened. Not to be deterred, Heather did two virtual shows last summer and sold more than 32,000 tickets combined. She officially returned to the stage last August, kicking off the back half of "The Farewell Tour" with over 30+ dates in 2021.
Win Tickets
I have a pair of tickets to give away for this fabulous night of comedy! Enter to win below:
Win Tickets to see Heather McMahan
For more information and to purchase tickets visit the tour website. One winner will be announced at 12:00pm on Monday, March 28, 2022.