This Easter at Maan Farms in Abbotsford enjoy two special offerings including the family friendly BAE Days (Baby Animal Easter Days) and the Bunnies & Booze adults only Easter egg hunt.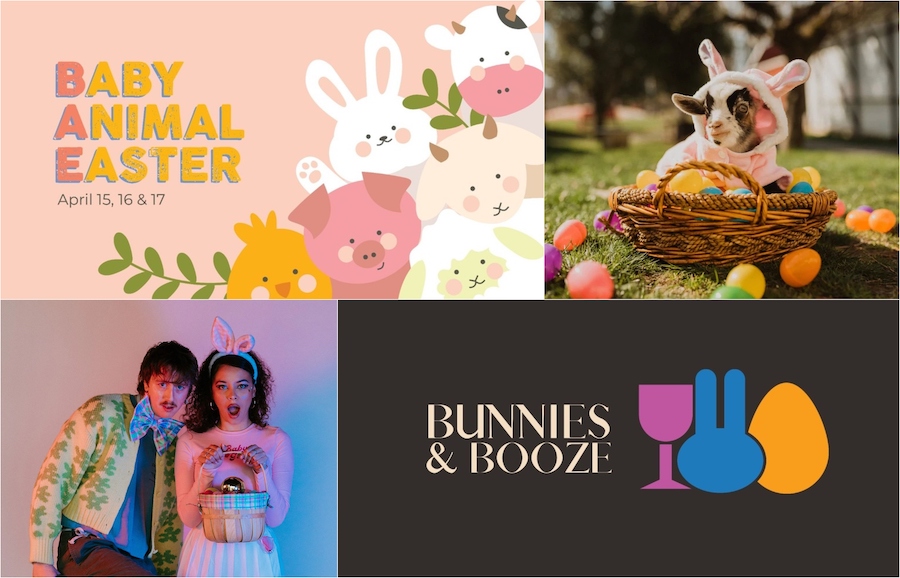 Easter at Maan Farms – BAE Days
BAE Days are all about storytelling and interactive time with baby farm animals, an egg hunt on the farm, a live Easter Bunny, playtime at Barnyard Adventureland, sweet treats made by Mama Maan including Rice Krispy Egg Nests, carrot cake, mini donuts, egg-cellent ice cream and savoury dishes, such as chickpea and butter chicken rice bowls.
Each ticket includes meeting the Easter Bunny, holding and interacting with six different baby animals (bunnies, ducklings, chicks, calves, goats, and pigs), admission to all seven attractions at Barnyard Adventureland, an activity booklet for the scavenger hunt, collecting eggs at each animal station to receive an Easter treat at the end of the day, and the opportunity to find the coveted golden egg for a chance to win the grand prize.
When: April 15 to 17, 2022 from 9:30am to 4:00pm
Where: Maan Farms at 790 McKenzie Rd (Abbotsford)
Tickets: On sale now! Walking age and up: $18.50 online, $21 at the door. Parents: $14.50 online, $15.50 at the door.

V.I.P. Tickets: $40 online and $45 at the door. In addition to the General Admission Ticket, VIP ticket holders receive animal food to feed the animals, six mini donuts, one glass of Maan Farm's berry wine or non-alcoholic strawberry lemonade, and a 'comeback pass' with a savings of $16 per ticket.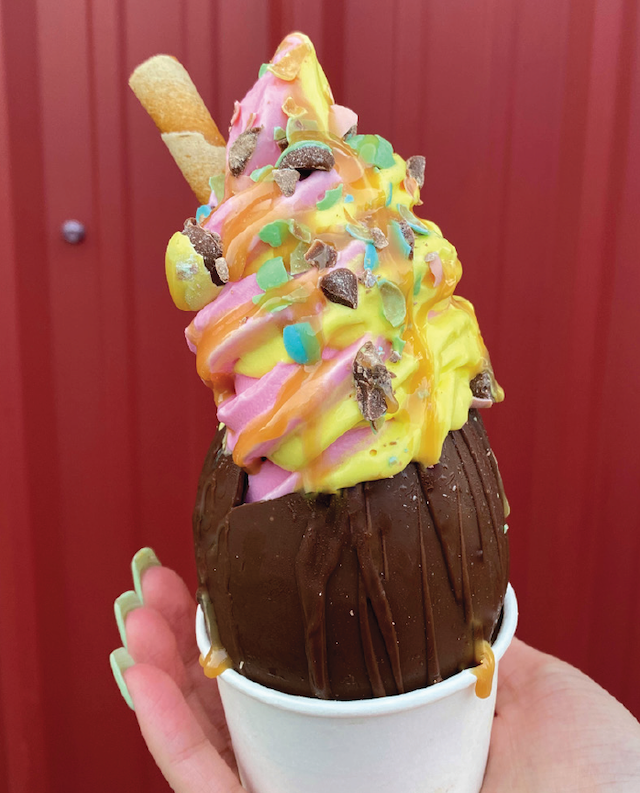 Make sure you have time for an egg-cellent ice cream! The handmade chocolate egg holds a creamy, soft swirl, complete with a caramel surprise and topped with mini eggs. Available for purchase during BAE Days and Bunnies & Booze.
Easter at Maan Farms – Bunnies & Booze
Bunnies & Booze is an Easter egg hunt for just the adults. Appetizers, dinner, and an egg hunt with 90s retro tunes playing in the background.
When: April 8 and 9, 2022 from 6:00pm to late
Where: Maan Farms at 790 McKenzie Rd (Abbotsford)
Tickets: On sale now! 19+ only $79 online (cannot be purchased at the door)
Each ticket includes the egg hunt with fun games, such as the spoon race, appetizers, dinner, an alcoholic beverage of beer or Maan Farm's Estate Winery's award-winning berry wine, 'meet and greet' with the Easter Bunny, and the egg hunt including a chance to find the golden egg to qualify for the grand prize.
For more information about the Maan Farms Easter event follow along on Instagram and Facebook.
Maan Farms is a third-generation family-owned and operated farm, located in the Fraser Valley. The Maans are always thinking of new ways to engage Lower Mainland communities, and strongly believe in hospitality, treating guests as if they were personally inviting them into their own home. With a welcoming nature, rooted in their cultural heritage, guests are guaranteed a fun farm experience.