Bosley's by Pet Valu New Westminster welcomes The Don't You Want Me Project ("DYWM"), a social impact photography project that showcases the beauty and resilience of LGBTQ+ people, and the transformative impact their rescue dogs have on them.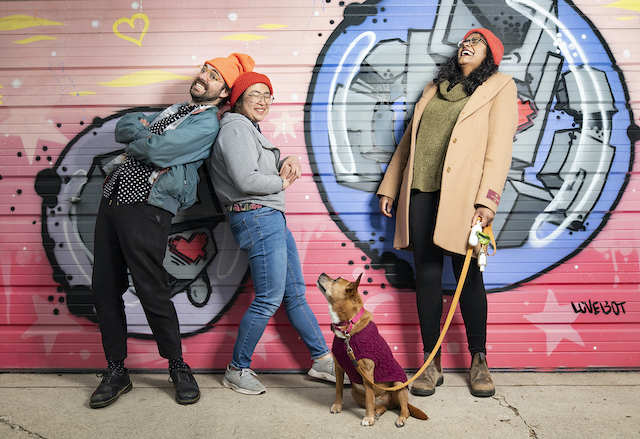 Don't You Want Me Project Comes to New Westminster
Where: Bosley's by Pet Valu (114-1015 Columbia St, New Westminster)
When: Daily March 28 to April 7, 2022 (9:00am to 9:00pm, 6:00pm on Sundays)

Co-founder Jack Jackson will be on site at the store on March 31st for Trans Day of Visibility, from 12:00pm to 4:00pm.

Admission: Free, although those who wish can make a donation online to support the project
Founded in 2019 by Jack Jackson and Deb Klein, the DYWM Project captures the transformation that happens when marginalized and often misunderstood individuals receive unconditional love and support. The exhibit includes six towers of compelling images and personal narratives of LGBTQ+ people and the impact their rescue dogs have had on them.
"Like rescue dogs, queer and trans people need love, purpose, family and to not live in fear," says Jackson. "I am delighted to have the opportunity to travel across Canada with Don't You Want Me; I look forward to chatting with visitors about the project and what happens when love is taken away, whether it's by discrimination, isolation or ignorance and how people thrive when love is given back."
Following its visit to New Westminster, the DYWM Project will travel to Winnipeg in April, Spryfield, NS in May, and Calgary and St. Catharines, ON in June. In each city, the project will be displayed in a Pet Valu store.
"The Project showcases the unconditional love, compassion and non-judgemental nature that is embodied in dogs, and how the strength and purpose they provide can help members of the LGBTQ+ community heal," says Karima Jivraj, owner Bosley's by Pet Valu New Westminster. "We encourage everyone to come in and experience the exhibit."
During each stop on the national tour Jackson is meeting with new participants and capturing their stories to share through the DYWM project. Anyone who identifies as being part of the LGBTQ+ community, has rescued a dog and has experienced firsthand how their dog changed their life is encouraged to apply to participate.