CelticFest Vancouver, the City's annual celebration of all things Celtic culture, is back for the 17th year with an in-person festival March 16-20, 2022.
CelticFest Vancouver Returns!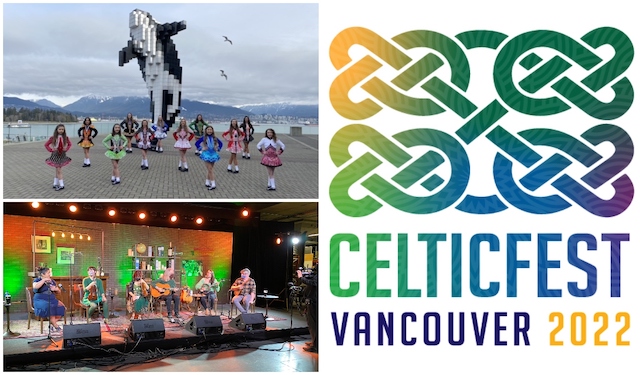 A highlight of CelticFest, sponsored by Community Savings Credit Union, is their live program, which includes a free, all-ages outdoor public festival at šxʷƛ̓ənəq Xwtl'e7énḵ Square the weekend of March 19-20. Other CelticFest events include a comedy night at Donnellan's Irish Pub on March 16, and a breakfast hosted by the Ireland Canada Chamber of Commerce Vancouver on March 17. View the full festival guide here.
Free Weekend Festival Downtown
When: Saturday, March 19 from 11:00am to 9:00pm & Sunday, March 20 from 11:00am to 6:00pm
Where: šxʷƛ̓ənəq Xwtl'e7énḵ Square (north plaza at the Vancouver Art Gallery)
Admission: Free!
As Western Canada's largest annual Celtic festival, year after year the event has delivered a rich cultural celebration of the Celtic nations' kinship and community, and this year's festival will be no different. The free two-day event will showcase a range of events including music from local Celtic favourites like Blackthorn and Fight Outside featuring Brian O'Brien and Paul Caldwell. The festival will be welcoming two artists from Ireland, Ordhan Murphy and Dani Larkin to the main stage, hosted by Culture Ireland.
The North Shore Celtic Ensemble will perform in addition to the kiddie favourite, MomBop. The Family Zone will feature a photo booth and games for all ages. Dancers from the O'Brien School of Irish Dance and Eire Born Irish Dance Company will perform on the main stage and Tourism Ireland and Air Canada will host an incredible giveaway. Stay tuned for details on a local scavenger hunt with a real gold prize at the end of the rainbow. Enjoy the Family Zone, food trucks, a beer tent, shop the marketplace, and more.
"We're very pleased to be bringing back the live festival and have a great weekend in store for festival-goers of all ages," shares Harry Cussen, Chairman of the CelticFest Vancouver Board. "We've got performances from some incredible local Celtic acts in music and dance and are thrilled to bring the community together to celebrate Celtic culture in BC. Spring is in the air and we're ready to re-establish our physical presence and return the festival to its former glory days in Vancouver."
The free festival schedule and ticketed events are being updated on the CelticFest Vancouver website.
About CelticFest Vancouver
CelticFest Vancouver is a registered non-profit society that has been in existence since 2004. The organization's mission is to bring together the local community in an annual festival celebration of Celtic Culture, deliver education on global Celtic heritage, art and cultural traditions and promote and showcase local and international Celtic music, dance, spoken word, theatre, film, art, crafts and food/beverage.
Follow on Facebook, Instagram, and Twitter for the latest event news and more.