The 56th Annual Show of Hearts Telethon is coming up on Saturday, February 26th (with mini telethon nights on Global BC February 24-25, 2022) to raise funds for the support Variety – the Children's Charity of BC gives thousands of kids with special needs each year. To promote the telethon and to spread some cheer, I'm once again hosting the Show Your Heart BC photo contest and I have $400 in prizes up for grabs!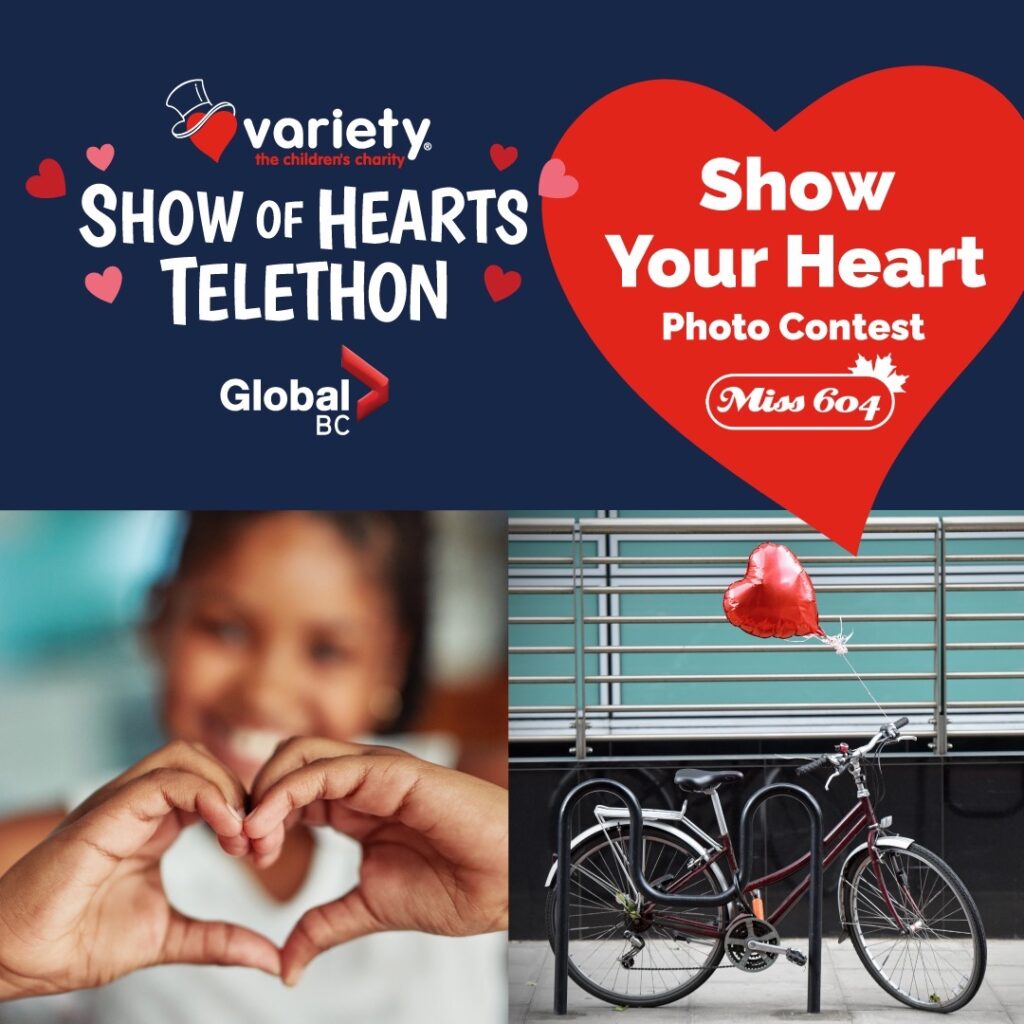 Photo Contest for the Variety Show of Hearts Telethon
White Spot Restaurants, who has supported the Show of Hearts for all 56 years, has offered a $200 gift card for my winner and a $100 gift card to the two runners up.
How to enter to win:
Take a photo of a heart: It can be made with your hands, drawn in the sand, a heart-shaped shadow, a balloon, a sticker, a cake, anything with a heart!
Share your photo to social media tagging @Miss604 @VarietyBC #ShowOfHearts and prize sponsor White Spot (Twitter: @White_Spot; Facebook: @WhiteSpot; Instagram: @WhiteSpot_Restaurants).
Once you share and tag, you'll be entered to win! Entries must be received/posted by 12:00pm on Tuesday, February 22, 2022. A jury will pick a winner and two runners-up.
The winner will be announced on Thursday, February 24, 2022 at 12:00pm.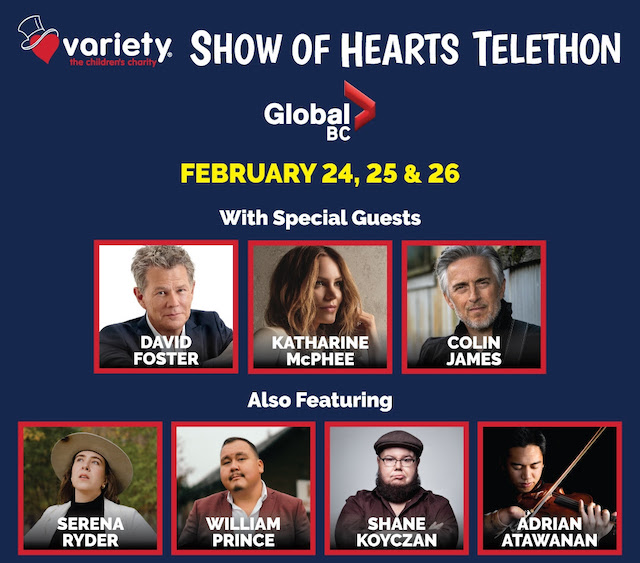 About the Show of Hearts
The Show of Hearts Telethon will air from 1:00pm to 5:30pm on Global BC on Saturday, February 26, 2022, sharing family stories and showcasing celebrity guests and entertainment.
This year's entertainment line-up will feature special guests, David Foster, Katharine McPhee and Colin James. Making their Show of Hearts debut will be six-time Juno Award-winning singer-songwriter, Serena Ryder, singer-songwriter, William Prince, Penticton's own spoken word poet, Shane Koyczan and Canadian violinist, Adrian Anantawan.
Returning to the stage will be hosts Chris Gailus, Sophie Lui, Kristi Gordon, Neetu Garcha, Paul Haysom and Jay Janower from Global BC as well as 980 CKNW's Jody Vance. Joining them will be Show of Hearts favourites, Howard Blank, Alvin Law and Marco Pasqua along with actor and parent advocate, Bethel Lee, singer-songwriter, Seven Taviss and Variety Youth Champions, Janelle Milne and Esabella Strickland.
In 2021, Variety supported over 4,600 kids in 80 communities around the province! Their grants provide access to: autism assessments, education, medical supplies, mental wellness, mobility equipment, occupational therapy, physiotherapy, and speech & language therapies. The annual telethon plays a humongous role in Variety's fundraising.
Last year's Show of Hearts raised $6,681,873 to benefit children with special needs province-wide. Donations can be made by calling 310-KIDS, going online, or by texting "KIDS" to 45678 to make an automatic $20 contribution.
Miss604 is the proud the proud Social Lounge sponsor of the Show of Hearts
Update! Congratulations to the winners: