A new development proposal has been launched for the Hudson's Bay Building in Downtown Vancouver on Georgia and Granville. Under the proposal, the century-old heritage exterior of the Bay Building would be retained, while introducing a one million square foot office tower, a newly reimagined retail space and a new Green Mobility transportation hub at the core of the city's central business district. The Hudson's Bay retail store would remain in downtown Vancouver as part of the new mixed-used redevelopment.
Public Engagement Events
Virtual public information meeting: February 24, 7:00pm to 8:00pm
In person, main floor, Hudson's Bay Downtown Vancouver store

Exhibition: February 23–27 from 11:00am to 6:00pm
In-person public information meetings: February 23, 12:00pm to 6:00pm & February 26, 12:00pm to 3:00pm
New Proposal for the Hudson's Bay Building in Downtown Vancouver
The building at 674 Granville Street rests on the traditional and unceded territories of the Musqueam, Squamish and Tsleil-Waututh First Nations. The Partners (Hudson's Bay Company and RioCan Real Estate Trust) are committed to working with local First Nations for their direct involvement in the project and to share in the community benefits that will flow from such a major development.
Streetworks Development, the real estate development arm of HBC Properties and Investments, is leading the revitalization of the Bay Building as well as a variety of HBC's other real estate assets.
Total retail space in the Bay Building will be about 350,000 square feet. A new 12-storey tower will be built above the existing store, providing one million square feet of new office space capable of accommodating 5,000 new employees in Vancouver's central business district. With large floorplates of up to 61,000 square feet, the scale and efficiency of this development is typical of the kind of office space sought by large tech sector tenants. A rooftop garden and internal multi-level atriums are also planned for use by tenants in the new building.
The project will benefit from the store's pre-existing, strong pedestrian traffic flows to and from TransLink's Granville SkyTrain station and the heavily-used major bus stops right outside the store.
The reconfiguration includes improved access from the building to the Granville SkyTrain station, the Vancouver-City Centre Canada Line station, local bus routes, a new underground indoor bike hub able to store up to 1,500 bicycles, and new public pedestrian walkways will provide covered access linking the Bay Building, its new office space, surrounding business, and shopping areas downtown.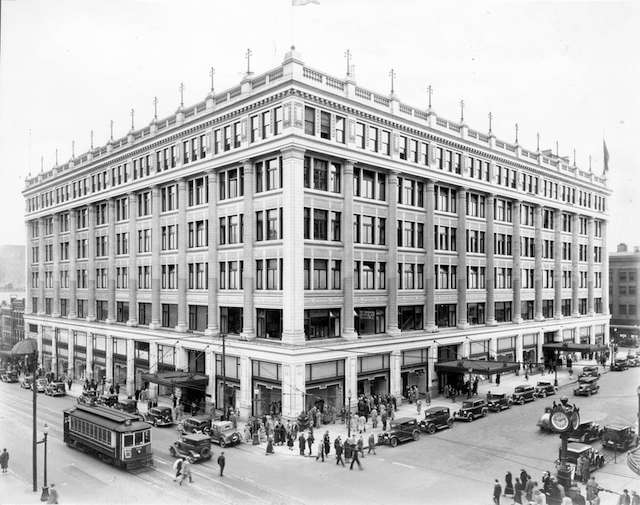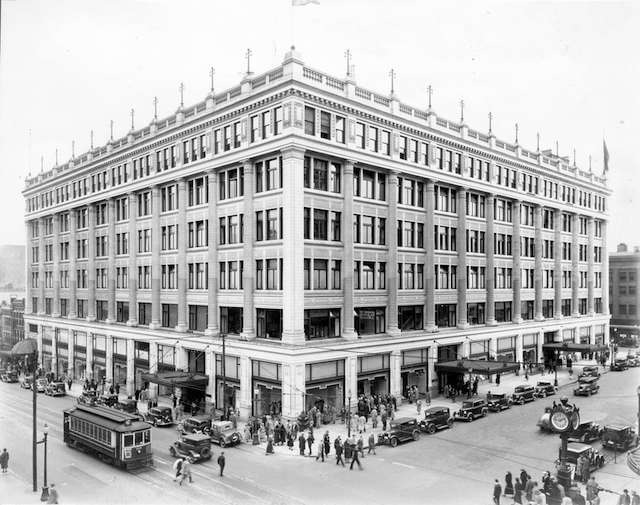 The building is listed in the Vancouver Heritage Register and features a century-old terra cotta exterior which will be preserved in respect of the importance the Bay Building has held in the history and development of downtown Vancouver.
Redevelopment plans for the Bay Building were announced today to inform local residents in advance of Streetworks Development's application for rezoning and a Heritage Revitalization Agreement to be submitted in coming weeks to the City of Vancouver. Processing this application may take up to a year, or more, and will include public engagement opportunities hosted by the city. Once this is approved, an application will be submitted for a development permit and subsequent building permit, with construction potentially starting as early as 2024.