Herstory in Focus is the Downtown Eastside Women's Centre's annual fundraising gala and this year it's taking place virtually on March 10th. The 6th annual event will include musical acts, a silent auction, performances, comedy, and more. The goal of the virtual gala is to raise $100,000 to help fun the DEWC's expanding meals program.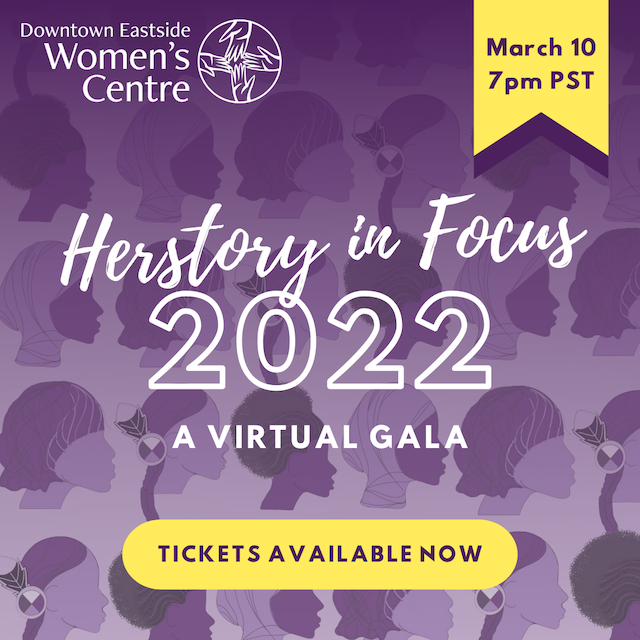 Herstory in Focus 2022
When: Thursday, March 10, 2022
Where: Live streamed from the Vancouver Art Gallery
Tickets: Available online now! Earlybird tickets ($35) are on sale until midnight February 16th.
Herstory in Focus will be hosted by Savannah Erasmus! A "vintage" comedian based in Vancouver. She was raised in Kikino Metis Settlement and Cold Lake First Nation, in Treaty 6 Territory (Northern Alberta). Her Indigenous perspective and fashion focused lens create a fresh and unique stand-up persona that audiences adore. Stay tuned for more announcements on performers and special auction items.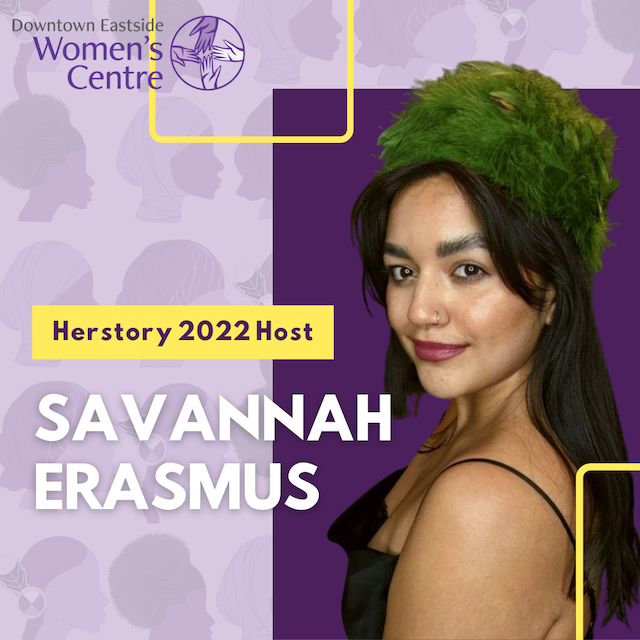 About the DEWC
Founded in 1978, DEWC is one of the few safe spaces within the Downtown Eastside exclusively for self-identified women and their children. High levels of violence, homelessness, addictions and poverty characterize the Downtown Eastside community. Women and children are particularly vulnerable to exploitation, injustice and injury. They provide practical support to over 700 women and children every day.
The number of women accessing their services has grown by 50% since provincial health and safety restrictions were first relaxed on July 1, 2021. Throughout the pandemic, they have continued to serve hundreds of meals daily from the Drop-in Centre, 24-hour Emergency Shelter, and warming and respite spaces. All of the DEWC's service sites offer safety, community, and respite from the conditions of living in extreme poverty and experiencing marginalization in the Downtown Eastside.
Meals are the biggest draw to their service sites, encouraging social interaction, and acting as a catalyst for women's access to integrated, trauma-informed programs and services offered through their agency. A woman coming into the low-barrier environment can access a hot meal without intake, and this will often lead her to benefit from other basic needs, such as a hot shower or clean clothing, or lead her a continuum of support services that may help her obtain safe housing, a treatment bed, or income supports.
Kitchen staff purchase quality meats and fish, as well as large quantities of vegetables to ensure that every meal is balanced and nutritious. They also consider special needs, providing options that take into account women living with chronic illness or women with oral health issues who require soft foods, along with a vegetarian option at every meal.
Your support and attendance will help fun the meal program. Purchase your tickets today and follow the Downtown Eastside Women's Centre on Facebook for more info.
Miss604 is a proud Media Sponsor of Herstory in Focus 2022