Join the Vancouver Heritage Foundation ("VHF") for Heritage Week from February 21-27, 2022. This year's theme 'Altogether Inclusive' examines the various ways that heritage engagement requires creativity in addition to unique solutions and actions to encourage widespread participation.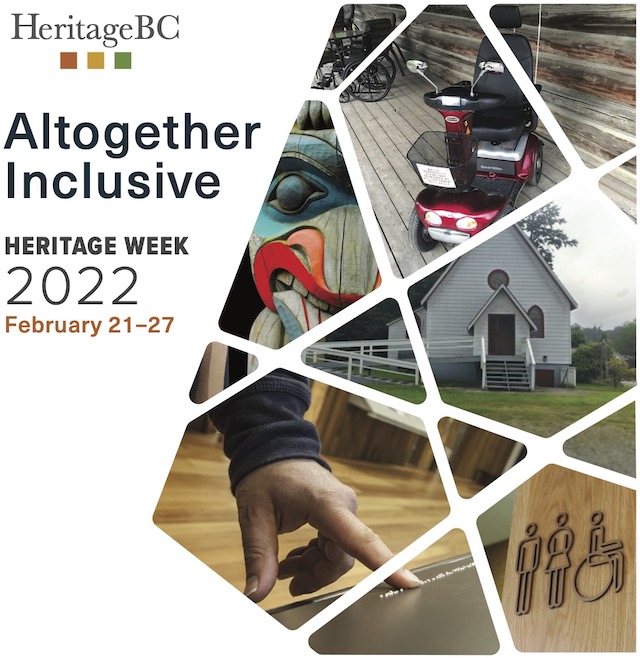 Vancouver Heritage Week 2022
Heritage Week offers a chance to explore heritage across BC and Canada and take part in programming that provides opportunities to learn and share about Vancouver's history, diverse cultural heritage and historic places. Events include:
Places That Matter Community Celebration
When: Wednesday, February 23, 2022 from 7:00pm to 8:00pm
Where: Online, Zoom
Registration: Book online by donation
Vancouver Heritage Foundation presents an evening of storytelling from the Places That Matter project, hosted virtually through Zoom. Join us for our fifth annual community celebration which will include the reading of the Heritage Week 2022 Proclamation by City of Vancouver Councillors and the following speakers:
Musqueam community members
Alysa Routtenberg (Jewish Museum and Archives of British Columbia)
Keiko Honda (Kerrisdale Community Centre and Vancouver Arts Colloquium Society)
Randy Clark (Educator and former resident of Hogan's Alley)
The Places That Matter plaque project launched in 2011 to recognize community-nominated sites that highlight some of the lesser-known people, places and events that have shaped Vancouver. A decade later, with 89 plaques installed, the Places That Matter – Community History Resource website continues to grow with personal stories and photographs submitted by community members. We invite participants, attendees and organizations to share their stories and connections to Places That Matter sites throughout 2022. Stay tuned for more plaque presentations and community celebrations.
Altogether Inclusive: A Heritage Week Virtual Stroll
When: Thursday, February 24, 2022 from 7:00pm to 8:00pm
Where: Online, Zoom
Registration: Book online for $15
Join local historian, author and seasoned walking tour guide, John Atkin, to celebrate Heritage Week as he explores some of Vancouver's unique heritage spots on this virtual stroll. This year's Heritage Week theme – altogether inclusive – explores the many ways that heritage engagement requires creativity, as well as unique solutions and actions to encourage broad participation. There will be opportunities to ask John questions live after the pre-recorded virtual stroll. If you are unable to attend at the time of the virtual event, you can still register and a recording of the event will be sent to you within 2 weeks.
"Heritage is our legacy from the past, what we live with today and we pass on to future generations. Our cultural and natural heritage are both irreplaceable sources of life and inspiration, our touchstone, our reference point, our identity." UNESCO
Related: Vancouver Heritage Foundation