Chinatown's SUM gallery presents its first curated musical performance series, Queering the Air: music exploring the many facets of the Queer experience— from darkest introspection to most radiant joy.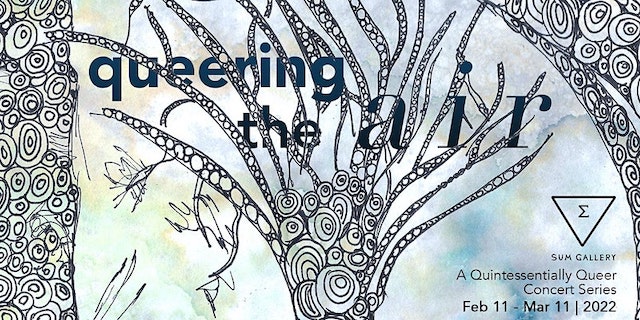 SUM gallery Presents Queering the Air
The series will launch February 11, 2022 with renowned Two-Spirit baritone Jonathon Adams in a special concert at the Bill Reid Gallery in partnership with Müzewest Concerts.
The remaining three concerts will be hosted by SUM gallery (#425 – 628 Keefer St): 
February 18, 2022 at 7:30pm
McGregor-Verdejo Duo | Vancouver flute & guitar duo present a program of queer yearning and loneliness with music by Matthew-John Knights, Rodney Sharman, Hiroki Tsurumoto, and Gabriella Yorke. 
February 25, 2022 at 7:30pm
Mignon | Mignon, a non-binary icon of German Romanticism, is brought to life through the music of Zelter, Schubert, Schumann, and Wolf, performed by soprano Sarah Jo Kirsch and pianist Tina Chang.

March 11, 2022 7:30pm
Sex Lives of Vegetables: Music of Leslie Uyeda | The scandalous, gorgeous, and profound vocal music of Leslie Uyeda, featuring soprano Heather Pawsey, clarinetist AK Coope, and pianist Rachel Kiyo Iwaasa.
Concession and regular price admission tickets are available for all concerts. Virtual access tickets are available for the February 11th performance only. In Darkness: Lute Songs of John Dowland tickets can be purchased via Müzewest Concerts' Eventbrite. Tickets to all other SUM gallery concerts are available via the SUM gallery Eventbrite.  
Follow the Queer Arts Festival/SUM gallery on Facebook, Twitter and Instagram for more info.
Related: Queer Arts Festival archives