Vancouver Island-based Puzzle Lab is set to launch a new orca-themed puzzle: Rise. Designed in collaboration with Bowen Island artist Di, $20 from every puzzle sold benefitting Raincoast Conservation Foundation efforts to raise awareness and support orca conservation in British Columbia.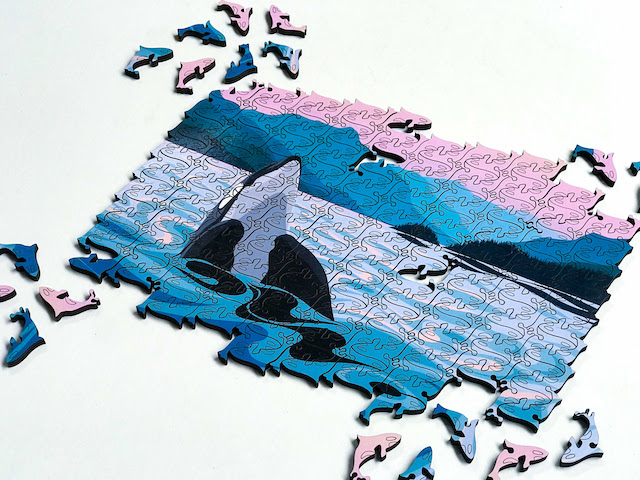 Puzzle Lab's "Rise" Puzzle to Support Orca Conservation
The Rise puzzle is unique in its design, even for the innovative Puzzle Lab. It features 206 identical orca-shaped pieces in an Escher-style tessellation pattern. The technology in Puzzle Lab draws from cofounder Andrew Robev's knowledge of parametric, computational, and generative design, involving writing custom computer algorithms to generate highly complex geometry and digital fabrication (using robotic tools such as a laser cutter, 3D printer, or CNC router). 
Composed of scientists and conservationists, Raincoast uses research, public education, and the courts to safeguard the land, waters, and wildlife of coastal British Columbia. The 74 Southern Resident Orcas (the Salish Sea/Southern Vancouver Island and Puget Sound) face extinction due to declining salmon stocks, pollution, and overfishing.
"We're honored to be able to raise money and awareness while working with a local artist who also gets paid for each puzzle sold. It's gorgeous, and also one of our most challenging puzzles yet." -Tinka Robev, Puzzle Lab
Bowen Island-based artist Di has long held an intimate connection with the West Coast and its wildlife. Her reverence for nature has led her to contribute her talents and voice to its celebration and conservation.
"I am excited to collaborate with Puzzle Lab for this Puzzle with a Purpose! It combines all the reasons I make art: celebrating the remarkable natural beauty of the Pacific Northwest, encouraging others to explore the world through the lens of creativity and art, and giving back to conservation initiatives such as Raincoast." – Di, Artist
The puzzle will launch online January 27th. Puzzle-makers are encouraged to share their support (and puzzle progress) using the following social hashtags: #PuzzleWithAPurpose #PuzzleWithAPorpoise #PuzzleLab.
Puzzle Lab was founded by Tinka Robev and Andrew Azzopardi, architects who met at the University of Waterloo before moving to Victoria, BC where they established Studio Robazzo design and branding agency in 2014. The coronavirus pandemic provided the creative outlet and opportunity for them to launch a unique puzzle company enticing people to get off their devices and into the real world. Puzzle Lab was officially launched in 2020, with the addition of partner, Sharon Parker, and is dedicated to fabricating heirloom-quality puzzles that provide a platform for talented Canadian artists.