Want to join in on the Betty White Challenge in Vancouver but don't know how? Here's what it's all about: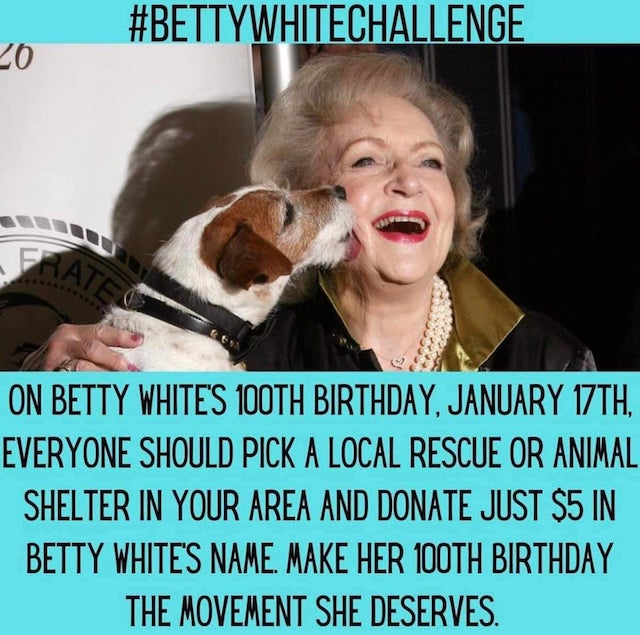 On December 31st, television legend and icon Betty White passed away just a few weeks shy of becoming a centenarian. Famous for her role as Rose Nylund in The Golden Girls (and so many other credits with Hot In Cleveland, The Mary Tyler Moore Show) White held the Guinness World Record as the longest television career by a female entertainer, spanning 80 years. A defender of diversity and inclusion, she was known for her kindness, humour, and philanthropy.
She famously loved animals and posts on social media began circulating in the New Year with ideas on how to honour the trailblazer on her 100th birthday. This launched the Betty White Challenge.
How to Join the Betty White Challenge in Vancouver
The challenge: Inspired by White's long history of animal activism and outreach, donate what you can (recommended $5) to a local animal rescue or shelter of your choice on her birthday, January 17th.
Here in BC, there are many worthy causes:
Please feel free to leave a comment with more BC organizations you would recommend
White was involved with many nonprofit organizations for decades and was the 2009 recipient of the Jane Goodall Institute Global Leadership Award for Lifetime Achievement.
Because of her ongoing interest in wildlife conservation and education, White served on the board of trustees at the nonprofit Greater Los Angeles Zoo Association (GLAZA) since 1974, but was involved as a volunteer since the Los Angeles Zoo & Botanical Gardens opened in 1966.

White had also been extremely active with Morris Animal Foundation, a nonprofit that invests in science to advance animal health. She served for 50 years as a Trustee, Trustee Emeritus and President Emeritus, and personally sponsored more than 30 health studies that improved health for dogs, cats, horses and wildlife, according to Tiffany Grunert, president and CEO of Morris Animal Foundation.

In 2010, the organization created the Betty White Wildlife Rapid Response Fund with a gift from Betty following the Deepwater Horizon oil spill, an ecological disaster in the Gulf of Mexico. The fund supported studies on the spill's impact on bottlenose dolphins.

Source: TODAY
You can read more about her lifelong work as an animal advocate in her 2012 book: Betty & Friends.