The PuSh International Performing Arts Festival ("PuSh") presents its 18th annual edition from January 20 to February 6, 2022 at various venues across the Lower Mainland and select programming online.
One of the highlights of the program is Aalaapi | ᐋᓛ from the Collectif Aalaapi | La Messe Basse from Montreal.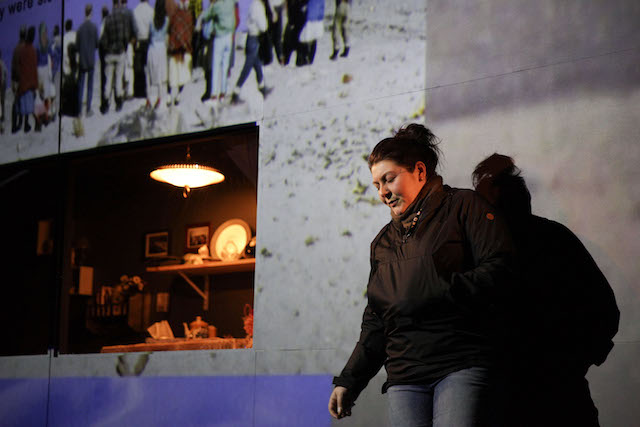 Crossing the boundaries of age, gender, and ethnicity in its collective authorship, AALAAPI | ᐋᓛᐱ enriches our lives with a nuanced understanding of contemporary Inuit experience. Combining the aesthetics of theatre and radio, the project takes us to the North. The focus is on two women living in Nunavik; over a long arc, we watch their lives play out. A radio is the centrepiece in their domestic setting, and through it come the sounds of an audio documentary. We listen along with the women, and eventually the broadcast comes under scrutiny in a process informed by ethical and political concerns.
Drawing on radio's large role in the lives of Northern societies, this work makes brilliant use of the medium's ambient quality—but never at the expense of engagement with the material itself. Collectif Aalaapi provokes us to critique the radio documentary and the ideology it engenders; the members have joined together to illuminate the politics of language and culture, and their invitation to the audience is to enlarge this union. Aalaapi has surtitles in English and French.
Gabrielle Martin, PuSh International Performing Arts Festival director of programming told the Vancouver Sun:
"It takes its title from an Inuktitut word for it to be silent to hear something beautiful. It began as a radio documentary project by eight Inuit women which developed into a work for theatre presented in Inuktitut, French and English. I think it really amplifies the diversity of contemporary Inuit experience and reminds us that active listening can be a radical act. It engages the audience in a way that really is unique to Northern communities. I was under its spell the entire time, and I think it brings voices to PuSh that maybe haven't been heard before."
Win Tickets to Aalaapi
Aalaapi | ᐋᓛ is on stage at the Waterfront Theatre January 29-30, and February 1-2, 2022. You can enter to win tickets to opening night on January 29th at 7:30pm, here's how:
I will draw one winner at random from all entries on Monday, December 20, 2021.
Update: The winner is Amy P! Amil!
2022 PuSh Festival Trailer from PuSh Festival on Vimeo.
About the 2022 PuSh Festival
PuSh is Vancouver's signature, mid-winter cultural event, taking place each January in theatres and venues across the city. PuSh delivers groundbreaking, contemporary works of theatre, dance, music, and multimedia by acclaimed local, national, and international artists.
Featuring 14 works from three countries including three world premieres and two Canadian premieres — the festival line-up is dedicated to creative risk-taking and dynamic interdisciplinary collaboration. With an emphasis on artists from across Canada this year, PuSh will also present works from the United States and the United Kingdom.
International companies/artists being presented for PuSh 2022 and Club PuSh include: Steve Lambert (USA); Joseph Toonga of Just Us Dance Theatre (UK). Canadian companies/artists include: Crow's Theatre/Cliff Cardinal; Tarragon Theatre and Black Theatre Workshop; Theatre Replacement; Joe Jack & John; LION LION; Collectif Aalaapi|La Messe Basse; Vivek Shraya and Canadian Stage; Leah Abramson; Aphotic Theatre, ITSAZOO Productions; The Talking Stick Festival; the frank theatre company; Immigrant Lessons; Music Picnic/Njo Kong Kie 楊光奇; MAYDAY; Ruby Singh, and more.
Check out the comprehensive 2022 program guide that is available online. Single tickets start at $20. Buy online or call the PuSh Festival Audience Services info line at (604) 449-6000. PuSh Passes are the best way to experience the PuSh Festival. Pass holders save 20% on single tickets and they are flexible so Passholders can book tickets online at any time.