This season you can visit Santa at Mt Seymour in Enquist Lodge. Stroll through a winter wonderland and light tunnel to experience the magic of the North Pole on the North Shore.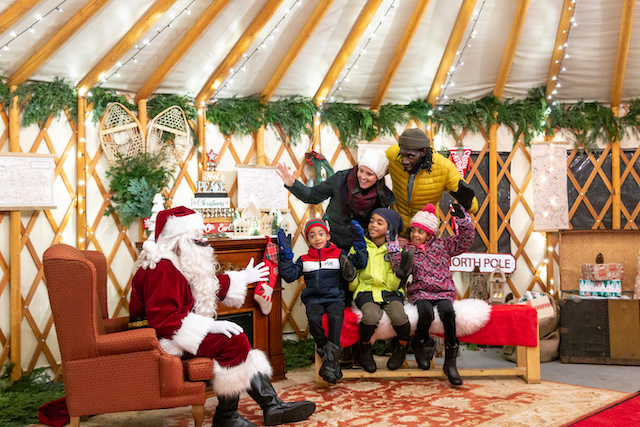 Visit Santa at Mt Seymour This Season
When: Friday to Sunday weekly until December 19 then daily December 21-24, 2021
Tickets: Book your time slot online for $20 (season pass holders) or $25 (everyone else)
Kids will be able to visit Santa Claus in his traditional nomadic yurt tent, specially decorated for the season, while adults can enjoy a special menu of Christmas treats, desserts, and decadent hot drinks from Harold's Café (open 12:00pm to 6:00pm) to warm up the insides no matter the weather.
Enquist Lodge will host a magical Christmas store selling tree decorations, cabin decor, Mt Seymour merchandise, and an array of Christmas gifts to help you find unique presents for everyone who has made this year's "nice" list. Digital photos will be emailed, and a printed photo set is also included along with a redeemable tobogganing ticket to make the most of your visit to the mountain. Christmas at Enquist Lodge includes free access to the Mt Seymour Shuttle Bus when it is in operation, and free parking. Full details and safety protocol info can be found online and you can follow Mt Seymour on Facebook for the latest updates.
Harold's café will be offering a takeout menu of warm seasonal delights headed by a selection of holiday hot chocolates, Liège Belgian Waffles and Beignets. Snow tubing and tobogganing will be available when the Mt Seymour season officially opens and you can check out the snowshoe network and access updates here.
Follow Miss604Holidays this season for the latest arts and culture activities, attraction and event news »