The TEDxSurrey team is riding the momentum from three highly successful past events and now proudly presents their first event under their new banner! Hosted in person on February 19th in Surrey, this is set to once again be the premier TEDx event in Western Canada.
This in-person event will feature 12 speakers plus energizers and entertainers, all within a fast-moving, half-day schedule. Expect to be engaged and entertained, and to have your thinking shifted on today's most important topics. You'll leave feeling inspired and equipped to make lasting changes wherever you live.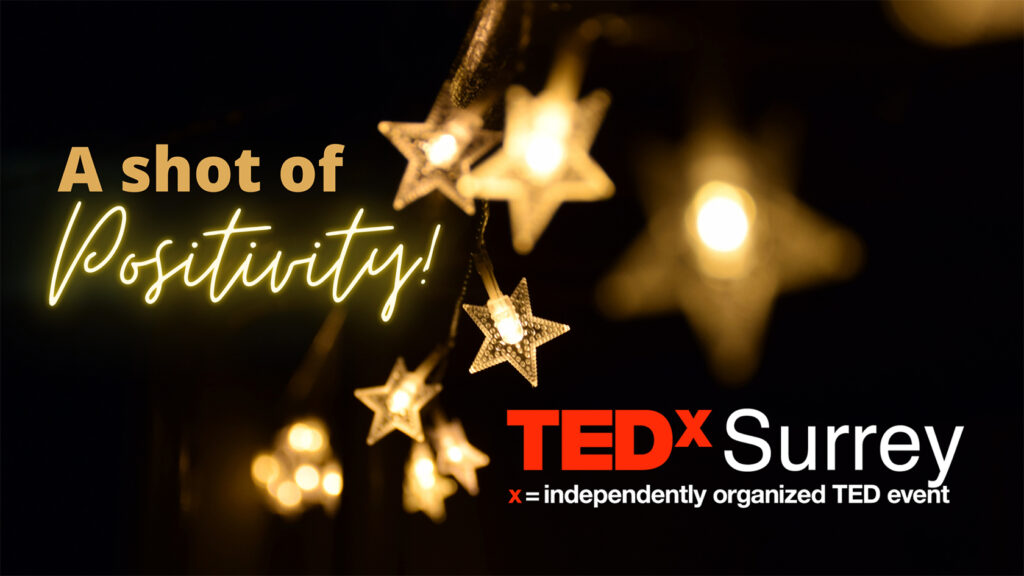 TEDxSurrey 2022 – A Shift in Thinking
When: Saturday, February 19, 2022
Where: Bell Centre for Performing Arts (6250 144 St, Surrey)
Tickets: Available online now for $69 + fees/tax

All tickets purchased before December 31 will automatically be entered to win a fun, safe, and ergonomic ENVO electric bike with a retail value of $2500!
There's also a new initiative from the speakers to give back to at risk-youth in Surrey.  In association with Pathfinder Youth Society, you can donate the value of one ticket (tax receipt included) to send a youth to attend the event.
Tickets for the live, virtual version of the event are available now.
Speaker Lineup
Ana Carrizales
Peruvian-Canadian writer, filmmaker and producer based in Vancouver. Her latest film was the recipient of the Harold Greenburg Fund and the BC Arts Council Media grant.
Denise Withers
A story coach who's helped leaders make change for 35 years through her work as an award-winning filmmaker and innovator.
Fatima Zaidi
President of her Rotary Club and member of Mayor's Taskforce on Inclusion, Diversity, and Accessibility. Zaidi's mission to create leaders who inspire change, improve lives and uplift humanity, took shape as a result of experiencing bullying in high school. She transformed this adversity into an opportunity for growth and spearheaded a national anti-bullying campaign.
Frances Litman
Award-winning professional photographer and multi-media artist who has organized some of Canada's largest zero-waste Earth Week festivals, founding a free community solutions hub: CreativelyUnited.org, and produced and hosted a popular Climate and the Arts webinar series.
Kevin Lamoureux
Faculty member at the University of Winnipeg who has served as Associate Vice President for the University of Winnipeg, Education Lead for the National Centre for Truth and Reconciliation. His most recent book contribution, for Ensouling Our Schools with Dr. Jennifer Katz, is being used by educators across Canada working to create inclusive spaces for all students.
Dr. Lara Boyd
Professor and Wall Scholar at the University of British Columbia. She is both a Neuroscientist and Physical Therapist. Dr. Boyd directs the Brain Behaviour Lab at the University of British Columbia.
Dr. Petra Zebroff
An avid student of human sexuality for over 25 years. After founding, Libida, the first women's online sexual magazine and community, Petra went on to write for popular magazines and websites such as Psychology Today and focuses on sex research and innovation to understand the areas of sexual initiation and eroticism.
Riley Moynes
Public educator, founder of a national wealth management firm, and author. One of his most recent books, The Four Phases of Retirement, became a Canadian best-seller within 12 months of publication, and is the basis of his TEDx Talk.
Dr. Robert McDermid
An intensive care physician, the former Site Medical Director of Surrey Memorial Hospital and the current chair of the Health Authority Medical Advisory Committee for Fraser Health. Dr. McDermid is a Clinical Professor at the University of British Columbia and is an author on more than 40 scientific publications and book chapters.
Dr. Sharlene Gill
A Professor of Medicine at the University of British Columbia and a Medical Oncologist specializing in gastrointestinal (GI) malignancies at BC Cancer. Dr. Gill is also actively engaged in education and research, with over 100 peer-reviewed publications and book chapters to her credit, and has presented widely at national and international cancer conferences.
Dr. Simon Donner
Simon Donner is an interdisciplinary climate scientist and professor at the University of British Columbia, where he teaches and conducts research at the intersection of climate change science and policy. Dr. Donner is a lead author on the Intergovernmental Panel on Climate Change's recent Sixth Assessment Report and is a member of the Canada's Net-Zero Advisory Body.
Suzanne Venuta
A mental health educator, advocate, consultant, writer, mentor and inspirational speaker. She does this through the lens of lived experience and has been speaking to public and professionals about living with a mental illness, her healing journey, the importance of compassion, and the power of connection for the past 16 years. Suzanne speaks to post-secondary psychology, nursing, and social work students, parents, and teachers.
For all the latest news and updates, follow TEDxSurrey on Facebook, Instagram, and Twitter.
TEDx events bring the power of TED to local communities. They're Independently organized by curious individuals looking to capture the power of the ideas around them. Operating under a license granted by TED, TEDx events feature live speakers who spark conversations and generate a shift in thinking.
Miss604 is a proud partner of TEDxSurrey