I love being a tourist in my hometown and when I recently posted about my visit to FlyOver Canada's The Real Wild West ride flight on Instagram (on until December 8th), several people messaged me to say it's one of their favourite attractions downtown! I have to say, after almost two years of the same — mostly staying home and watching movies on my iPad — this state of the art flight simulation ride really was a thrill. They have a few experiences on offer right now, so here's what you can enjoy at FlyOver Canada this season including Soar with Santa and a Breakfast with Santa.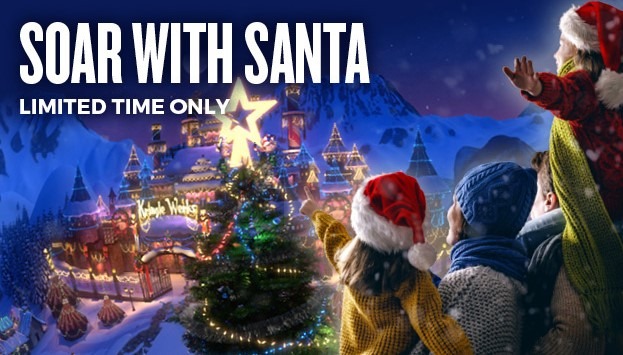 Soar with Santa at FlyOver Canada This Season
Where: FlyOver Canada, 201-999 Canada Place, Vancouver
Tickets: Advance bookings are recommended. Tickets for children are $10 off adult price (age 15 or under and at least 102 cm /40 inches tall).
Soar with Santa (December 9, 2021 through January 3, 2022) takes guests on a holiday adventure from coast to coast, and onward to the snow-dusted North Pole. Guests will have a memorable experience of soaring over dazzling landscapes with FlyOver Canada's state-of-the-art technology – including special effects such as wind, mist and scents – to replicate the feeling of flying across the country. The attraction is ideal for families, couples or groups of friends, and can be gifted as a unique holiday experience. The cinematic flight ride is enhanced by festive refreshments and treats in The Flying Whale Cafe.
Hours for the season are Monday to Friday, 12:00pm to 8:00pm; Saturday to Sunday, 10:00am to 9:00pm. From December 11th to January 3rd, special hours are 10:00am to 9:00pm, and open until 6:00pm on Christmas Eve December 24th.
Breakfast with Santa
When: December 11, 12, 18 and 19, 2021 at 8:00am to 9:00am; 9:30am to 10:30am
Head to FlyOver Canada for a morning of fun-filled flight, delicious food and a visit with Santa himself! Mingle with Kris Kringle at the Flying Whale Cafe while enjoying a breakfast buffet loaded with favourites, then take a trip over Canada and the North Pole aboard the flight ride, Soar with Santa. Cap off the festive morning with a souvenir photo, all included with admission.
There will be extensive health and safety protocols in place in accordance with provincial health regulations. This includes proof of vaccination passports for entry, (two vaccination doses required for guests 12+), in addition to mandatory mask usage.
Follow FlyOver Canada on Facebook for more info.