Come together in the spirit of the season and Shine Bright in New West from December 1, 2021 – February 1, 2022. Everyone in the community is encouraged to put up holiday lights and engage in a variety of activities to enjoy the winter in the city.
Sponsored by the Downtown New West BIA, City of New Westminster, ReDiscoverNewWest and the New West Record, you can join Shine Bright all season long while you enjoy light displays, at-home and outdoor activities, and on stage productions.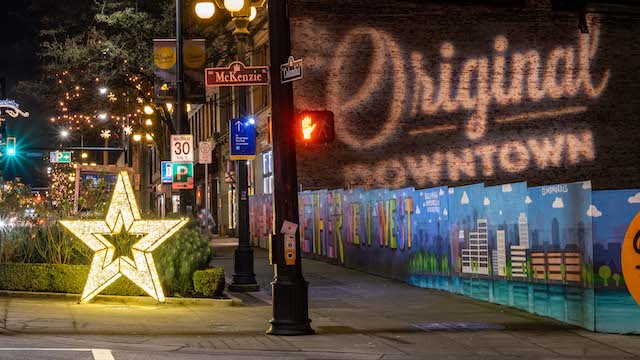 Shine Bright New West
Highlights include the following free events and activities around Downtown New Westminster:
Shine Bright Winter Solstice Party
December 21, 2021
Dance in the new season and gather with loved ones, decorate for the holidays, and enjoy good food together! This family-friendly event features light displays from ACNW Artists-in-Residence Ellie Niakan and Catherine Chan, and a dance mix from Royal City Sound. Brought to you in partnership with New Westminster Family Place and the Arts Council of New Westminster.
Shine Bright Downtown
All season + special late night shopping events
Downtown New Westminster will be illuminated with sparkling lights all season long. Come together for Shop Night where local businesses will be open late on December 9, 16, and 23. Each of those night there will be a photo booth, DJ spinning tunes, and more. Shop Mila + Paige, Found Boutique, The Refill Stop, Good Omen, Steel & Oak, and the River Market.
Shine Bright Light Tour & Contest
Vote on your favourite light displays around town by January 1, 2022. Find a map of all of the participating displays here.
Holiday Food & Craft Market
December 11-12, 2021 10:00am to 4:00pm
It's the New West Farmers Market's 2nd Annual Holiday Food and Craft Market returns to New West City Hall. This market will feature over 80 small local businesses including preserves, alcohol, produce, gifts, food trucks, and more.
Shine Bright On Stage Productions
Enhancing the full roster of activities and light displays throughout the city, the Anvil Centre will have window performances for all to enjoy along with eight separate live performances of music, dance, and magic that will take place on Level 1 and 3. Acts include local musical duo, Ed & Salve Dayo in an all-ages sing-along, Quayside voices will warm you with their pop and seasonal songs, actor Ryan Leslie Fisher will have you laughing with his Dandy show, New West Poet Laureate, Elliott Slinn and storytellers from Culture Chats will bring their poetry and stories to life!
Ticketed Performances
Enjoy Shine Bright on stage with these ticketed performances starting at $20 for adults, $10 for students in the afternoons at the Anvil Centre, and $35 for adults and $25 for students in the evenings.
Locarno Band
December 16, 2021 7:30 to 9:30pm in the Anvil Theatre
The Kerplunks
December 19, 2021 2:00pm to 3:00pm in the Anvil Ballroom
An Evening of Wonders
December 22, 2021 9:30pm at the Anvil Theatre
RupLoops
December 23, 2021 2:00pm to 3:00pm in the Anvil Theatre
Seasonal Celebration with Kellie Haines with puppets
December 29, 2021 2:00pm to 3:00pm in the Anvil Ballroom
Triology (Miles Black, Bill Coon and Jodi Proznick)
December 29, 2021 7:30pm to 9:30pm in the Anvil Ballroom
Axé Capoeira
December 30, 2021 2:00pm to 3:00pm in the Anvil Ballroom
Blackthorn with Shot of Scotch Vancouver Highland Dancers
December 30, 2021 7:30pm to 9:30pm in the Anvil Ballroom
Win a Prize Package
I have a generous prize package to give away that includes a pair of tickets to a #ShineBrightNewWest stage production of the winner's choice plus a $100 gift certificate for Angelina's Dutch Corner! Here's how you can enter to win:

[clickToTweet tweet="RT to enter to win a @TourismNewWest #ShineBrightNewWest prize package that includes $100 for @AngelinasNW and tickets to an @anvilctr show! http://ow.ly/ROs450H192x" quote=" Click to enter via Twitter" theme="style6″]

I will draw one winner at random from all entries at 12:00pm on Wednesday, December 8, 2021. UPDATE The winner is Mich Canon Simpson!