In the spirit of Dude Chilling Park, a sign declaring Barge Chilling Beach has emerged on the shores of Sunset Beach in Downtown Vancouver's West End.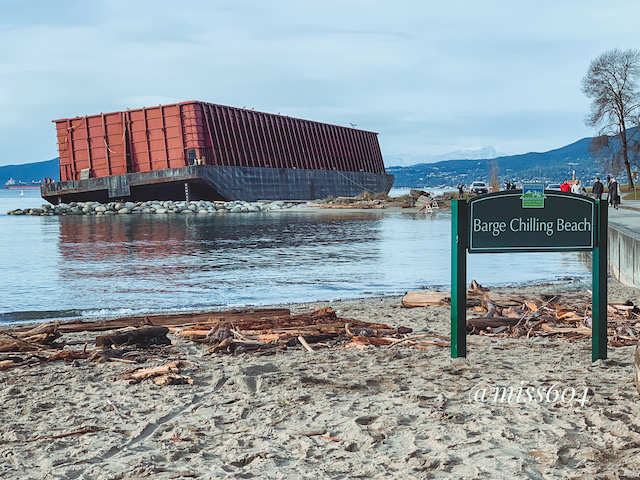 Barge Chilling Beach is Real
On November 15th, this unmoored barge wandered aimlessly through the stormy waters of English Bay. There were many fears with this runaway vessel, including how it might veer into the Burrard Bridge and cause damage, what its contents were, etc. Fortunately right before entering the False Creek channel, it became lodged on the rocks at Sunset Beach.
Barge aground in False Creek between English Bay and Sunset Beach. pic.twitter.com/h4WCYPOlqe

— False Creek Ferries (@FalseCreekFerry) November 15, 2021
"The Coast Guard told CTV News the barge owner, who has not been publicly identified, is responsible for securing it and towing it away. Crews made several attempts to pull the barge off the rocks Tuesday afternoon, but it wouldn't budge. As of Tuesday evening, the barge remained on the rocks." – CTV News
With its contents later determined not to be harmful and a steady anchor on shore, this behemoth became somewhat of a local attraction with many calling it "Barge on the Beach", a play on Vancouver's annual summer Shakespeare festival, Bard on the Beach, which takes place across the water at Vanier Park.
I myself grew fond of the barge, often checking in on the Live English Bay Cam on YouTube to get an update on its status, and often walking by to see how it fared through the King Tide and subsequent storms.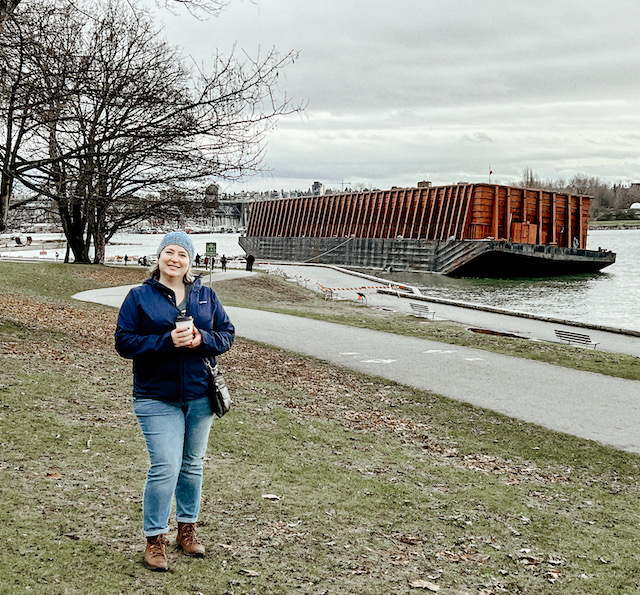 It has since become a meme – some joking it's the latest Vancouver Biennale art piece, others creating humorous reviews of the "installation" on sites like TripAdvisor. Someone even made a memorial when the appearance of a crane made it seem the barge was going to depart.
This morning the Vancouver Park Board posted a photo on social media unveiling the official sign for "Barge Chilling Park. Many thought it was a joke or super early April Fool's prank, so I had to go see for myself:
The latest update according to the city, the barge's owner has filed a recovery plan with Transport Canada but hasn't finalized a date to move it.