Each year, the Richmond Christmas Fund helps brighten the holidays for nearly 3,000 of their neighbours in need. You can support their efforts, while even doing a little gift shopping of your own, with the second annual Richmond Christmas Fund Online Auction!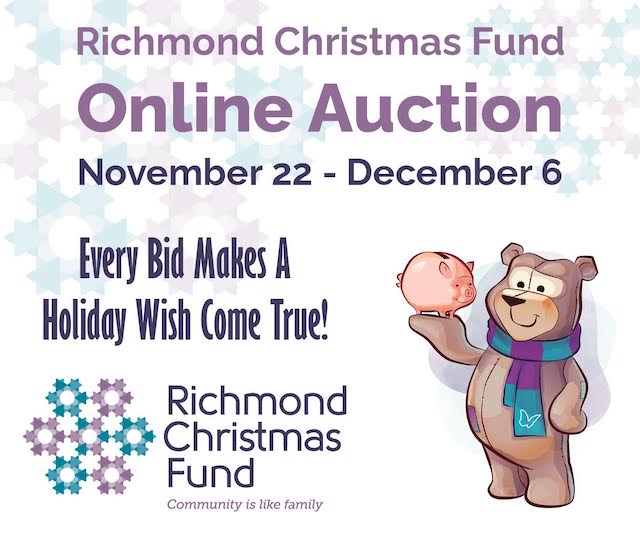 Richmond Christmas Fund Online Auction
Where: View items and place your bid online here
When: From 9:00am on November 22 to 5:00pm on December 6, 2021
The volunteer organizing committee has worked tirelessly to secure a wide selection of fabulous items, from luxury car experiences and high-end travel packages, to restaurant gift cards, bottles of wine, appliances, tools, electronics, and so much more!
If you'd simply like to donate, you can do that on the auction site as well.
Each holiday season, the Richmond Christmas Fund assists thousands of low-income residents by delivering grocery vouchers to individuals and families in need. Children 11 and under also receive toys, books, and sports equipment, while youth aged 12 to 17 are given gift cards.
The program is supported by nearly 150 volunteers, who contribute well over 2,000 hours annually. Hundreds of other Richmond residents, businesses, and community groups donate cash and toys.
The Richmond Christmas Fund Online Auction is an opportunity to do some holiday shopping, and maybe purchase a gift (or two or three) for yourself. Either way, you're very likely to get an amazing deal, and 100% certain to make a meaningful, immediate difference in your community.
For more information, follow the Christmas Fund on Twitter, Facebook, and Instagram.