The Jewish Community Centre of Greater Vancouver has announced that the 29th Annual RBC JCC Sports Dinner will take place live, in-person at the Hyatt Regency Vancouver on February 23, 2022 with keynote speaker Alex "A-Rod" Rodriguez. A virtual version of the event will also be broadcast to guests who are unable to attend in person or prefer to enjoy the event from home.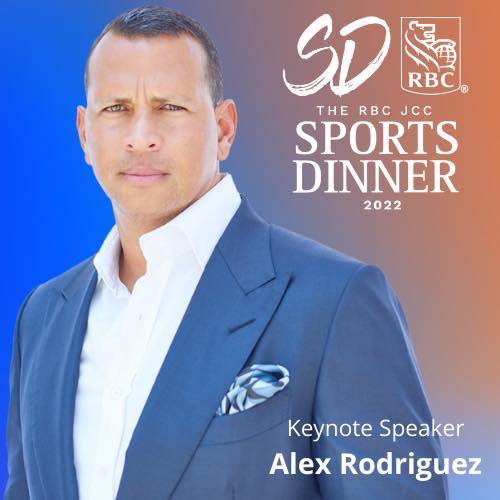 RBC JCC Sports Dinner Featuring Alex Rodriguez
Where: Hyatt Regency Hotel Vancouver (655 Burrard St, Vancouver)
When: Wednesday, February 23rd, 2022 starting at 5:00pm
Tickets: $36 for virtual tickets; Limited Live event tickets on sale starting January 17, 2022. Sponsorships are available now! 
Speaker Sponsor ZLC Financial has, once again, made it possible for organizers to bring an A-list personality to the Vancouver stage. Alex Rodriguez invests in world-class startups and partners with leading global companies across a variety of industries. While best known as one of the world's greatest athletes (a 14-time MLB All-Star and a 2009 World Series Champion with the New York Yankees), for more than 25 years Alex has led a team of experts building high-growth businesses and enhancing the value of more than 30 companies in the A-Rod Corp portfolio.
Alex is also an Emmy Award-winning MLB analyst for Fox Sports and ESPN. He's been a judge and investor on ABC's Shark Tank, mentored financially distressed ex-athletes on CNBC's Back in the Game and currently co-hosts the podcast The Corp. Alex is committed to creating opportunities for young people to succeed, and serves on the Board of Directors of the Boys and Girls Clubs of Miami-Dade.
Past speakers include: Earvin 'Magic' Johnson, Drew Brees, Joe Montana & Jerry Rice, Shaquille O'Neal, Sir Charles Barkley, 'Sugar' Ray Leonard, Tommy Lasorda and many others.
Celebrating professional and local athletes, the RBC JCC Sports Dinner raises much-needed funds to provide scholarships and programs for members of the community who wouldn't otherwise have access to these services. When the COVID crisis began the JCC quickly adapted to hold the community together, creating new and innovative programs that allowed children, youth and families to remain supported and connected. Proceeds from the dinner ensure no one is left behind, and helps open doors for a better tomorrow.
The Cadillac Raffle is Back x2
On the heels of last season's popular province-wide Cadillac Raffle and 50/50 Draw, the upcoming event features not one, but two raffles, courtesy of Vehicle Sponsor Dueck Auto Group. The Ultimate Cadillac Raffle is on now with a draw date of December 20, 2021. One lucky winner will choose between two amazing Cadillacs, the remarkable 2021 Luxury XT4 or the sleek 2021 Sport CT4 AWD. Wherever you go, you could arrive in style, but only if you get your tickets before December 20, 2021. Starting at $50 a ticket. 
The 50/50 Draw jackpot is over $20,000! The winner will go home with half pot just in time for the holidays. Tickets start at $10 for a 5-pack. The next Cadillac Raffle starts January 3, 2022 so check back for more details soon. Raffles are available to anyone over 19 in BC.
The legendary Live Auction will feature custom packages like a luxury cycling tour in Europe from Great Explorations, a dream soccer vacation to Glasgow Scotland with the Celtics FC, donated by Mike & Lisa Averbach, and a VIP weekend with the LA Chargers courtesy of South Street Development — who is also sponsoring the exceptional Silent Auction. The Silent Auction is open to the public and includes wonderfully curated sports memorabilia, travel experiences plus great wines and spirits from Legacy Liquor.
Follow the RBC JCC Sports Dinner on Facebook, Twitter, and Instagram for more information.
Miss604 is the proud Social Media Sponsor of the RBC JCC Sports Dinner
The in-person show has been carefully planned by committee members and staff currently to allow for a 50% capacity of attendance with proof of double vaccination. The recent lifting of restrictions on indoor gatherings has provided some optimism for the capacity to be increased, however the organizers are monitoring the situation and will reassess as the event date approaches.