Load the family up in the car for a magical holiday journey through Hastings Park as the PNE WinterLights drive-through holiday experience returns for 2021. You will be transported through nine enchanted lands filled with glowing lights, special characters and festive performers along the way.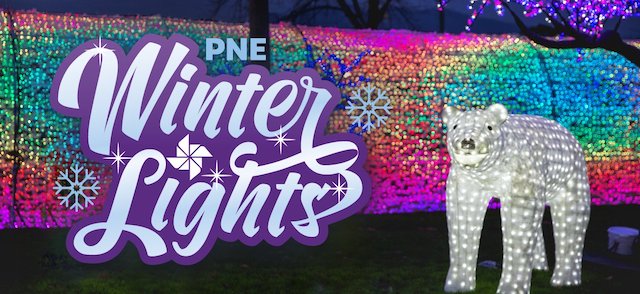 PNE WinterLights
New this year: The Snowglobe Village, another festive tunnel, and even more sparkling lights.
When: Select nights December 3-31, 2021
Where: PNE Gate 9 – east of Playland, off Bridgeway Street
Tickets: Available online now
Ticket prices depend on the date you book for:

$37 per vehicle on Dec 3, 4, 5, 8, 9, 10, 15, 16, 27, 28, 29, 30, 31;
$42 per vehicle on Dec 11, 12, 17, 18, 19, 20, 21, 22, 23, 26.
Save $5 by being one of the first 1,000 people* to purchase tickets for select nights: December 3, 4, 5, 8, 9, 10, 15, 16, 27-31. Starting at 10:00am, Monday, November 1, use promo code "WL21" to save. *Offer expires Wednesday, November 3 at 10:00am.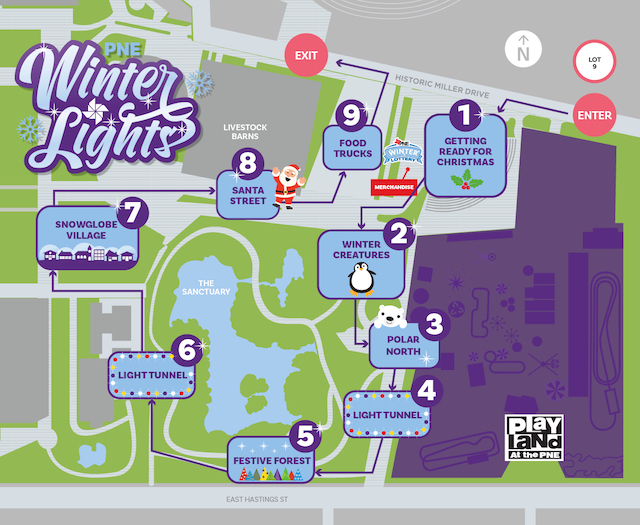 Buckle up for this safe, holiday experience that you can enjoy with your family from the warmth of your car along a two-kilometre route. Get a hot drink at the start of your journey; then stop at one of the participating food trucks at the end to get something yummy for the drive home.
The experience will vary from guest to guest depending on some of the optional portions; however, they estimate it will be approximately 30-45 minutes. For more information about PNE WinterLights, follow the event on Facebook.
No Car? No Problem!
Update: December 7, 2021
TransLink has just announced that they are operating the Reindeer Shuttle, available December 9-12, 16-23. Pick up near Hastings & Renfrew. Shuttle ticket prices are per person ($10-14 depending on date). Book tickets here.
Shuttle riders can either get off at the end of the route to access the food trucks, or be dropped off at the pick-up spot.