Massy Books is hosting a three-part reading series with local children's authors in November and the beginning of December to raise funds for ekw'i7tyl doula collective.
Massy Books Reading Series Fundraiser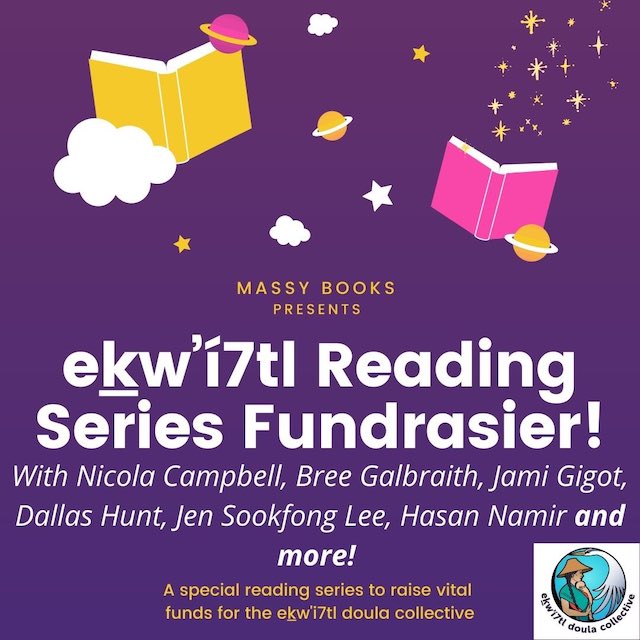 When: Saturday, November 27, 2021 at 11:00am
Where: Massy Arts Society (23 East Pender St, Vancouver)
Register: ekw'í7tl Fundraiser with Nicola Campbell, Jami Gigot & Jordan Scott
This weeks event includes readings from Nicola Campbell (Shi Shi Etko, Stand Like a Cedar, Spilexm: A Weaving of Recovery, Resilience, and Resurgence, Shinchi's Canoe, A Day With Yayah), Jami Gigot (Starboy, My Daddy Can Fly!, Imagination Vacation, Seb and the Sun, Mae and the Moon) and Jordan Scott (I Talk Like a River).

When: Wednesday, December 1, 2021 at 10:00am
Where: Massy Arts Society (23 East Pender St, Vancouver)
Register: ekw'í7tl Reading Series Fundraiser w/ Jen Sookfong Lee & Hasan Namir
This weeks event includes readings from Jen Sookfong Lee (Finding Home), Hasan Namir (The Name I Call Myself).

When: Saturday, December 4, 2021 at 10:00am
Where: Massy Arts Society (23 East Pender St, Vancouver)
Register: ekw'í7tl Reading Series Fundraiser w/ Bree Galbraith & Tiffany Stone
This weeks event includes readings from Bree Galbraith (Hold That Thought!, Wednesday Wilson Gets Down to Business, Usha and the Stolen Sun, etc.) and Tiffany Stone (Little Narhwal, Not Alone, Wood Could, Tree Song).

Your tickets = a donation so pick your price:
$25 Meet the authors, get a free book
$75 Meet the authors and get signed copies of ALL the books
$500 Sponsor a Family. Get signed books from ALL the authors from the entire series, a free Signed Julie Flett Print, AND 30% off everything you buy at Massy Books until the end of the year!
Proof of vaccination and masks are required to attend events at Massy Arts Society and Massy Books. 100% of all tickets and donations will go to the ekWi7tl collective. All books have been donated by PRH, Orca, Greystone, and Massy Books.
All attendees have the chance to win: signed copies from all of the authors at the event, 30% off at Massy Books, and a Julie Flett print.
By supporting this series and fundraiser, you are actively engaging in the work of reconciliation and directly impacting the lives of Indigenous families.
About the Cause
The Doulas for Aboriginal Families Grant Program ("DAFGP") provides funding for Indigenous families to access doula care in BC. In Vancouver, Indigenous families who live in the city and who travel to the city from rural and remote communities under the birth evacuation policy rely on the DAFGP to access doula support. However, the DAFGP recently announced that they have run out of money until the new fiscal year (April, 2022). As a result, there is no funding for families trying to access doula services between now and April.
Currently, members of the local ekw'i7tyl Indigenous doula collective are serving several families impacted by the DAFGP outage.
ekw'í7tl, pronounced ah-quay-tull, which means family in the Squamish language, works with midwives, doctors and birth workers to provide full-circle mental, emotional, physical, and spiritual support to mothers and families during pregnancy, labour, birth, postpartum care and beyond. They connect Indigenous doulas with Indigenous families for culturally relevant and holistic birth work.
Massy Books is a 100% Indigenous owned, independent book store. Their hope is that the fundraiser will raise enough to support twenty families. Follow Massy Books on Facebook, Instagram, and Twitter for information about the reading series fundraiser and more events coming up this season.