Lumière Vancouver is illuminating the city through beautiful public art this month at more locations than ever! The 8th annual late-autumn festival in the West End has expanded with light installations in Downtown Vancouver and on Granville Island. At its core is the local businesses that make the neighbourhood shine and to celebrate them, Lumière is giving away an epic prize package valued at over $400!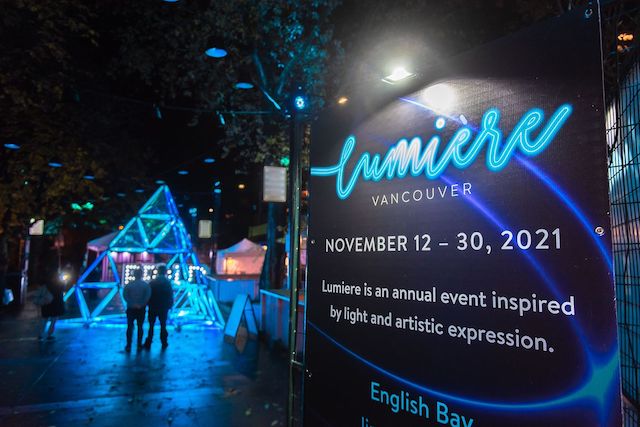 Lumière Vancouver's Staycation Contest
Here's what you can enter to win:
To enter to win, head over to the Lumière Vancouver Instagram post and tag a friend you'll be enjoying this staycation with, and follow all of the prize partners.
The giveaway is open until Friday November 26 at 11:59pm. Must be a resident of the Lower Mainland to win. The winner will be contacted directly via Instagram direct message. Good luck!
More About Lumière Vancouver
Lumière has installations in four iconic spots: English Bay, Jim Deva Plaza, Granville Island and Bentall Centre – there is no admission fee in these public spots and the displays are for all to enjoy.
Jim Deva Plaza is set to host 'Twin Harmonic Amplified Neuro-Knowledge Stimulator' (T.H.A.N.K.S.), designed to amplify feelings of gratitude. The bright colours are reminiscent of sunsets, sweet treats, and daydreams.
Bentall Centre is home to 'Parasol', one-of-a-kind mushroom-like structures that fuse nature and innovative light design to reignite onlookers' sense of wonder. Each of the five, nine-foot-tall sculptures contains 40 fins to mimic the underbelly of a mushroom. Parasol will take on a new life when animated with colourful patterns that react to music providing an exceptional visual experience for visitors enjoying the patio in the evening.
Additionally, on the Dunsmuir Patio at Bentall Centre, 'Canopy Lights' a 55 LED string light structure will allow people to see their voice translated to light patterns creating an immersive light and sound experience to interact with the canopy in a whole new way. Downtown Vancouver's third installation, 'Chromatic Blocks' on the Burrard Benches, invites guests to get lost in light and colour when physically immersing yourself inside the cubes to explore a stunning gradient visual.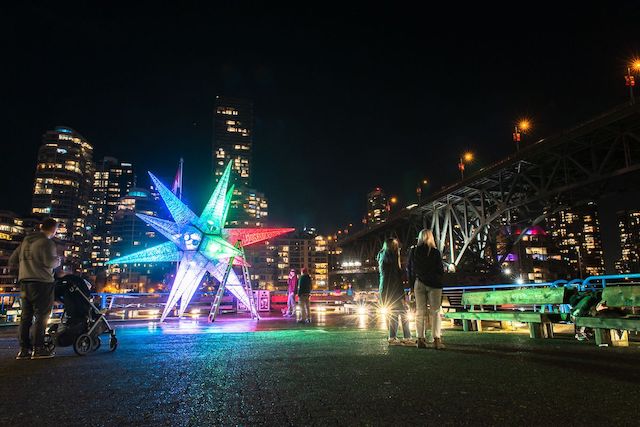 Located on Granville Island, 'A Beacon of Light', adds colour and light to the Courtyard of the Public Market. This 12-pointed, 22-foot-tall illuminated star shines bright enough to be spotted from the West End. Alongside this is the 14-foot-tall 'Alder Bay Star' which dazzles as it hangs off Granville Island's furthest point of land.
New this year in English Bay is a dazzling 12-foot-tall beaver, that will join Davie, Luna, Stanley and Eugenia. Select installations will remain on display until February 2022 to be enjoyed nightly. Enter to win the Lumière Vancouver Staycation Contest on Instagram by Nvember 26th.