The Jewish Community Centre of Greater Vancouver ("JCC") is bringing back the Chanukah: Market in person! The parking area at the JCC will transform into a bustling and festive marketplace for all to enjoy.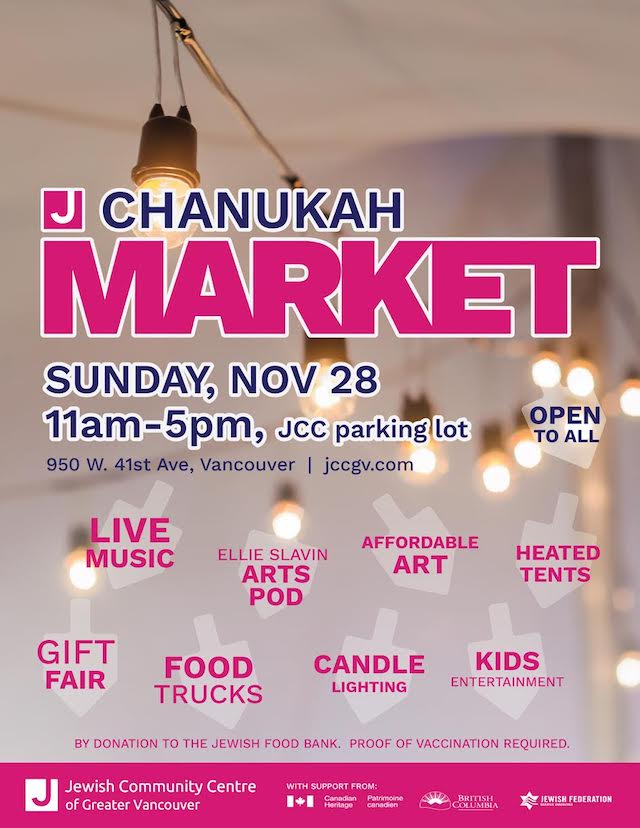 JCC Chanukah Market
"Another name for Chanukah is the Festival of Lights and we would like to bring light into the community as we come together in person."
When: Sunday, November 28, 2021 from 11:00am to 5:00pm 
Where: In the JCC Parking lot, with heated tents available (950 W 41st Ave, Vancouver)
Admission: Free with Donation to the Jewish Food Bank. Proof of Vaccination required for ages 12 & over.
Under large heated tents, market visitors can shop at arts and crafts vendors, peruse amazing affordable art, seek out that perfect gift, enjoy live, all-ages entertainment, participate in fun family activities — or just stroll, soak up the friendly ambiance and enjoy a yummy nosh from one of the food vendors on site. The day's festivities culminate in the lighting of the first candle on the menorah at sundown.
The day promises a rich feast of music and performance, including the brilliantly eclectic music of Tzimmes, singer/guitarist Anders Nerman, children's entertainer, Monika Schwartzmann, The Vancouver Jewish Folk Choir and the Klesbians plus bands, singers, dancers, and many fun surprises!
For kids and families there will be mini golf and bouncy inflatables, and hands-on art-making specially designed and delivered by the JCC Early Childhood Department.
Shop more than 20 vendors offering jewelry and other creative, useful and decorative items. Glass Sipper, Mink Chocolates, Simchalligraphy, Retrophiliac, L + S Crafts, and many more will be on site.In addition, an eleven-member arts and crafts group is presenting an exhibition and sale offering items such as Giclée prints, ceramics, wood work, glass design, photographs, textiles and more.
There will be plenty of food options as well, like Coffee Bike Vancouver, Meet2Eat, BurgerHolic and more along with special Chanukah treats, such as latkes (potato pancakes) and sufganiot (jelly donuts).
For more information, follow the JCC on Facebook, Instagram, and Twitter.