For many individuals and families, the holidays can be a particularly stressful time. If you wish to give back in a meaningful way this season, or are in need of assistance, we have put together a list of excellent Holiday Hamper and Adopt-A-Family programs available in the Metro Vancouver area.
Holiday Hampers & Adopt-A-Family Programs in Metro Vancouver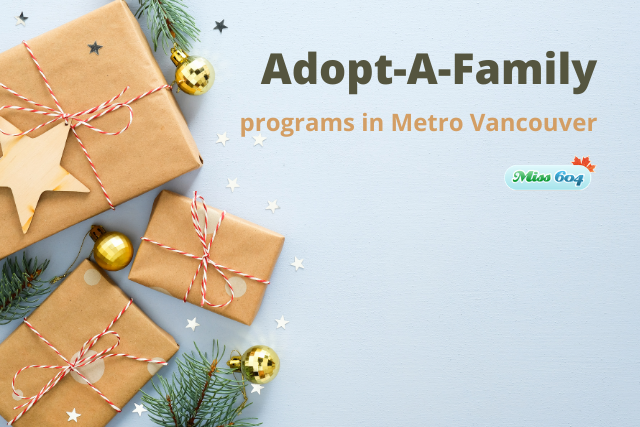 Surrey Christmas Bureau
What you provide as a sponsor: As a sponsor, you provide Christmas breakfast, lunch and dinner, as well as age appropriate gifts for the family you are matched with. Stockings for each child in the family should also be provided. Sponsors may opt to donate a grocery gift card if they wish.
The Surrey Christmas Bureau Adopt-A-Family ("AAF") program matches individuals, businesses, and other organizations with a family in need that has children under the age of 18. Each year they seek support from 1,000 sponsors so that every family and child in Surrey can celebrate Christmas.
Sponsors are encouraged to deliver their gifts and hampers while practicing social distancing, similar to last year's protocols. Delivery should be no later than December 19th 2021, unless otherwise arranged with the family. View the guidelines and complete the sponsor application form or contact the AAF program at (604) 585-9670 to participate.
YWCA
What you provide as a sponsor: Gifts and a grocery gift card (minimum of $100) based on beneficiary family sizes registered for Presents of Peace. You will receive a wish list where each family member can request $100 worth of gifts.
The Vancouver area YWCA offers the Presents of Peace campaign, which benefits single-mother-led families and youth on low income for Christmas. Create your online sponsor profile for Presents of Peace here. The YWCA Simplify the Season campaign is a similar shopping-free option available to those looking to give support. This year they are aiming to provide relief to 1,250 families and youth in need. Gifts as low as $25 dollars to provide a nutritious meal are available for donation.
Covenant House Christmas Backpack Program
What you provide as a sponsor: Purchase Backpack and Advent gifts online through the Covenant House Vancouver ("CHV") Amazon wish list of all desired items. Gifts (must be new and unopened) will be shipped directly to Covenant House.
Anyone interested can help CHV purchase Christmas items, meals and special activities for youth in need during the holidays through their Christmas campaign. Some of the most-needed items are new men's underwear, women and men's hoodies and sweatpants, backpacks, journals and notebooks, and gift cards (Tim Horton's, Subway etc.) Contact Cory Kaban at ckaban(at)covenanthousebc.org to learn more about their unique Christmas donation opportunities.
Burnaby Community Services
What you provide as a sponsor: Sponsor a Senior by providing gifts, necessities and food to local seniors in need or choose to donate gifts to children in need through the Angel Project.
With another year of ongoing challenges brought on by the COVID-19 pandemic, Burnaby Community Services anticipates great need this Christmas season for families, children, at-risk individuals and seniors with low income. The Sponsor a Senior application is now available, as is the Angel Project application. Call (604) 292-3905 to provide a direct monetary donation or learn more. Additionally, you can send a cheque to: "Burnaby Community Services" to 2055 Rosser Avenue, Burnaby, V5C 0H1, host a toy drive, donate toys for the Toy Room, volunteer your time, donate PPE or apply for a corporate sponsorship.
Family Services North Shore
What you provide as a sponsor: Holiday gift baskets of various sizes based on family or individual needs. Family Services North Shore will provide the ages of each person, along with gift suggestions to guide your shopping. They will also send an information package that explains gift basket assembly and delivery.
The Christmas Bureau supports all individuals, families, and seniors, as long as they live on the North Shore and qualify for our assistance. Gift baskets include grocery gift cards, a wrapped gift for each family member, and optional festive items such as chocolates, napkins, or candles to add extra holiday sparkle. You can also drop off new, unwrapped gifts at the North Shore Auto Mall Toy Drive on December 5th, 2021. Participants are encouraged to stay in their vehicle, but to be in the holiday spirit by dressing up and decorating the vehicle.
CityReach Care Society
What you provide as a sponsor: You can fully sponsor a family in need for $125 through their Boxes of Love program or donate in any other dollar amount.
Last year, 700 "boxes of love", filled with toys and gift cards were distributed to families in need. Volunteers entered a drive-thru set-up where they picked up the boxes, and then delivered those boxes to families around the Vancouver Metro area while following COVID-19 guidelines. Boxes of Love has the same goal for 2021 and is looking for sponsors and volunteers.
Whole Way House
What you provide as a sponsor: Register and select how many boxes you would like to donate and select your drop off location. A shopping list is available here.
Whole Way House Boxes of Hope will be delivered to over 300 low income seniors, veterans and vulnerable residents across Vancouver and in the Downtown Eastside this Christmas. Whole Way House serves vulnerable seniors and veterans who are facing marginalization, disabilities, addiction issues and/or mental health issues at the Veterans Manor in the Downtown Eastside.
The Shoebox Project
What you provide as a sponsor: A box that includes gift cards, accessories, toiletries, cough drops, reusable water bottle, journals, scarf, hat, mittens, comfort items, hand soaps, toothpaste and more. View a full list here. This shoebox drive is being facilitated by Vancouver Laser & Skincare Centre at 309-750 West Broadway
Vancouver.
Donations accepted until December 15th. The Shoebox project is a registered charity that collects and distributes gift filled shoeboxes to local woman impacted by homelessness across Canada, the U.S, and the U.K.
You can also support the Lower Mainland Christmas Bureau through their upcoming holiday toy drops or SHARE Family and Community Services through their Holiday Food for Families Program and the Holiday Toy Program. If you know of more programs in the community this season, please leave a comment and we will add it to the list.