CBC British Columbia's annual Open House and Food Bank Day returns virtually with special programming and meet and greet opportunities with your favourite journalists, hosts and special guests.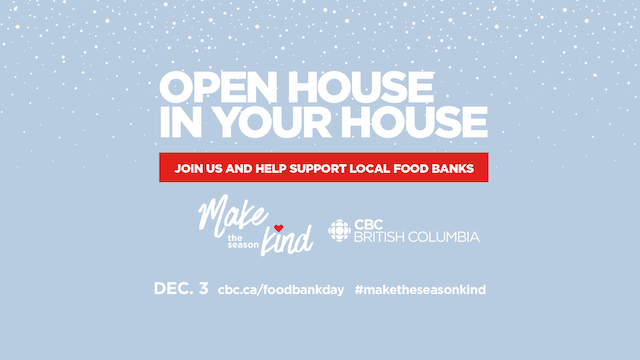 CBC Open House and Food Bank Day 2021
When: Friday, December 3, 2021 broadcasting from 5:00am to 6:00pm
Where: Online
Visiting the CBC Vancouver broadcast centre is a special holiday tradition in the community. To continue to promote public safety, the CBC Vancouver building will not be open to the public for tours or live broadcasts this year. 
The virtual event in 2020 raised over $2.7 million for Food Banks BC, and hopefully the momentum continues for 2021. You can make a donation here anytime to contribute to the cause.
CBC personalities and guests will be available to answer questions and virtually connect with the public across the province. The public can learn about the days' programming and sign up for the virtual Meet and Greets online here. The 30-40 minute Meet and Greets will feature lively, candid conversations and an interactive Q&A. Registration closes December 1 and spots are limited.
The schedule for the 2021 CBC Open House and Food Bank Day includes:
Radio One broadcasts – 5:00am to 6:00pm
The Early Edition with Stephen Quinn featuring special guests from 5:00am to 8:30am
A special edition of On The Island with Gregor Craigie for Victoria listeners from 6:00am to 8:30am
An extended and combined edition of BC Today with Michelle Eliot & North by Northwest with Sheryl MacKay from Noon to 3 p.m.
On The Coast with Gloria Macarenko featuring unique stories and guests from 3:00pm to 6:00pm
Virtual Meet and Greets available to register for from 9:00am to 3:00pm:
Beijing Winter Olympics 2022
Andi Petrillo, Canadian Sports Commentator
Patrick Chan, Former Canadian Olympic Figure Skater
Karin Larsen, CBC reporter and Olympian
Current Affairs
Angela Sterritt, CBC journalist and columnist, Reconcile This
Stephen Quinn, Host, The Early Edition
2021 Local and National News Highlights
Anita Bathe, Host, CBC Vancouver News at 6
Dan Burritt, Host, CBC Vancouver News at 11
Climate Change
Johanna Wagstaffe, Meteorologist, CBC Vancouver News
This will be the 35th year that British Columbians have been generously donating to food banks at CBC/Radio-Canada's annual Open House and Food Bank Day, raising more than $12 million for food banks in B.C. since its humble inception in 1986. Follow the tag #CBCFoodBankDay on social media for updates and info.
Follow Miss604Holidays this season for the latest arts and culture activities, attraction and event news »