In Vancouver, rain is more than just a verb and a noun. It's a mood and a season. Some days are so wet you think you'll never see sun again. You can't fight it, so try to enjoy it – and the best way to do that is from behind a window.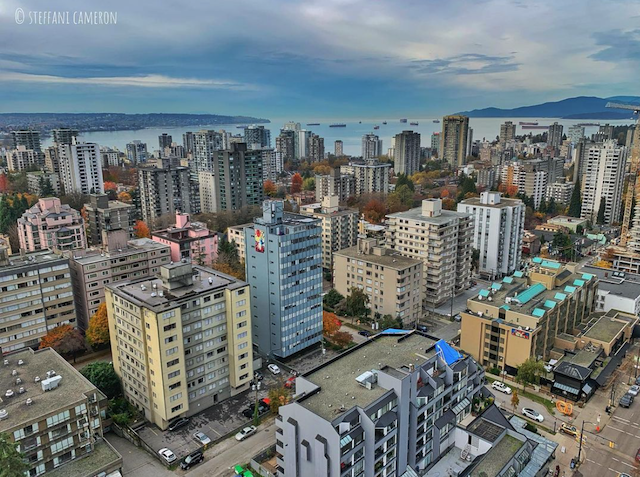 And for over 50 years, Vancouver's Blue Horizon Hotel has had some of the city's best windows for watching the world below – and any weather incoming. The 30-floor Blue Horizon Hotel has dominated Vancouver's West End skyline at 1255 Robson Street since 1967.
Blue Horizon Hotel on Robson
The long-standing independent hotel is stylish and comfortable, and has been updated in recent years. Its incredible location is well-suited to business travel, but everyone should enjoy those views – and it's close to everywhere you want to be when visiting downtown Raincouver, so it's a great place for a weekend away without costly travel out of town.
Luckily, the Blue Horizon is one of the best-kept "reasonable hotel" secrets in all of Vancouver, so everyone can indeed enjoy stunning views.
What makes the hotel's setting such a mind-boggling window-gazer's stay is it sits on the top of the Robson slope. From there, the West End tapers down in three directions, with the hotel towering high over nearly everything around it. Behind it, the high-rise core juts skyward, but even those city views are stunning on the tower's eastern side.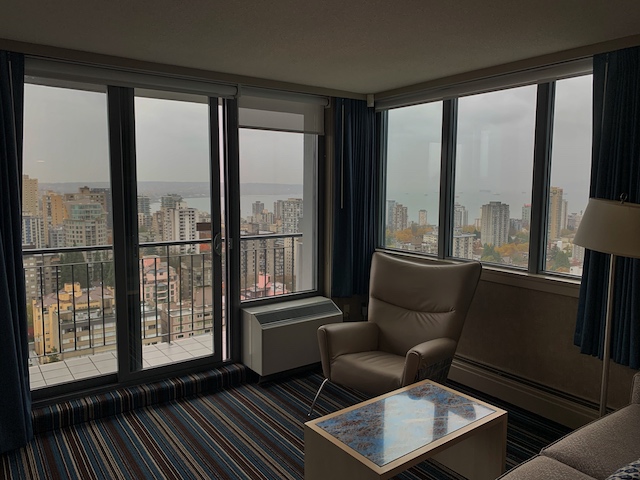 But it's the architectural design that was so revolutionary then and now. A cross-shaped tower design means every suite in the Blue Horizon gets "corner views" with two vantages of the city. There are copious windows to enjoy the vistas, and every suite comes with a balcony too.
My two-night stay involved a lot of sighs and wistful pauses near windows. The sighing began as I flew in over the city with my friends at Helijet, who heard I was coming to town. I live near the heliport in Victoria, so it's such a breeze to get there in a few minutes on a bus. But arriving in downtown Vancouver at Coal Harbour? Unbeatable experience as the helicopter swoops right over Stanley Park, all those mountains looming out the left side.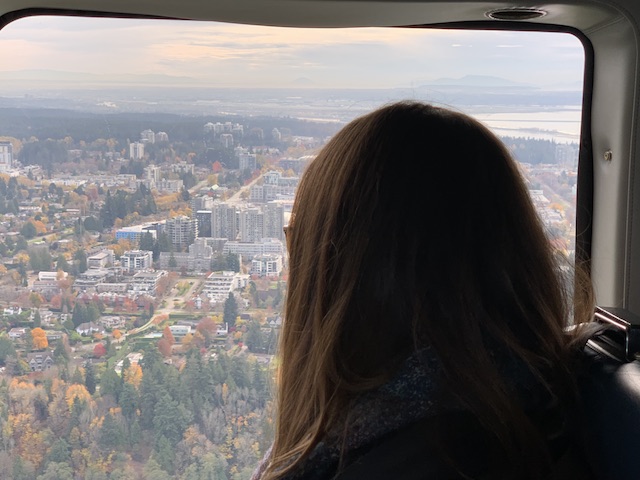 The sighing continued after my no-fuss early check-in at the hotel. Dropped my bags and was immediately awash in nostalgia. After all, Vancouver's my hometown and much of my life unfolded in those streets below me.
My suite was on the 28th floor, facing southwest. The sweeping views included English Bay. Also in the frame were parts of Stanley Park, the outer edges of the North Shore, the flickering lights of UBC among all those well-treed distant cliffs, most of the West End, water as far as the eye could see, and a whole lot of stormy skies.
Below me, streets had fall foliage in abundance still. It must be a stunning room to stay in during cherry blossom season – that's when the West End really puts on a show. Still – like most folks born in Vancouver, I secretly love when the coast suffers the Pineapple Express deluges, and having the bird's-eye view of downpours was a delight. Even at night, that wet urban landscape glistens with its lights reflecting in puddles – it's magical, for a while.
The whole West End being below me says a lot about location's convenience. For walkers, much of the downtown is reachable on foot. It's a perfect 100 "walk score" here. To go further afield, pop into the London Drugs a couple doors over and grab a day pass. It's $10.75 for all zones, even getting you on the SeaBus – a wonderful great rainy-day activity. Sail into the mist, have a pastry at Lonsdale Quay, dodge some seagulls, and come on back.
But as I was on assignment for Miss604, I met up with the blogger herself under cover on the patios of the Stanley Park Brew Pub – possibly the best urban place for a pint while a hard rain patters on crispy late-fall leaves, it turns out. Bundle up.
On a less biblical day, it'd be a nice long walk from the hotel, but when Noah's set to building an ark, it's under ten bucks for a ride with Uber.
During my stay, I dined at a few restaurants, but I also did the must-do in Vancouver, Chinese takeout. In fact, the hotel is in one of the best Lower Mainland spots to find great Asian food – from Indian and sushi to Chinese and Korean, it's all in this several-block stretch of Robson Street. Armed with my crispy ginger beef, I asked the front desk for cutlery and a plate. By the time I'd kicked off my shoes and was ready to tuck in while sighing at the cityscape, a knock on my door brought my dinnerware. Prompt service and no fuss, the Blue Horizon way.
After, I fired up the in-suite espresso machine for a pick-me-up before heading out to see friends for drinks nearby. I came prepared, but for those who underestimate Raincouver's propensity for a soaking, the hotel offers a complimentary umbrella-borrowing service.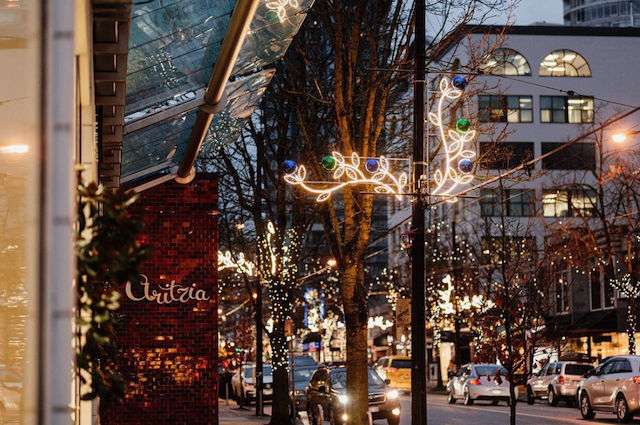 Now, let's discuss the most important factor for a great city stay: Location nap-ability. A well-situated staycation hotel gives you a city full of great things to do, but with a central enough location that you can return to the suite for at least one nap a day. (All that eating and walking and eating and eating is hard, y'all.)
On the nap-ability scale, Blue Horizon is a solid 10, perhaps an 11, because they have solar blinds for comfortable summer afternoon naps, plus blackout curtains for making the world vanish at night.
Even after a half-century, the Blue Horizon's strategic property choice and brilliant architectural design remain a jaw-dropper with those sweeping panoramas of the mountains, Burrard Inlet, and the city sprawling below.
What's more jaw-dropping is how reasonably priced the Blue Horizon remains, despite their top-tier views. That's probably because this is still locally-owned and has been popular for over a half-century. It's more of a business boutique hotel, but count on great service, comfortable rooms that are well-appointed and thoughtful, coupled with some of the best views you'll ever see of Vancouver. There's also a bright window-filled spa – undergoing an update during my stay – that has a hot tub, pool, and steam room.
For an all-weather staycation with a comfortable bed, large TV, great eateries all around you, walkable area, all the local sites, and views you'll never forget, you can't go wrong. After over a half-century in business, the Blue Horizon has proven it's a budget-friendly, popular hotel with guests who return time after time.
Their prices are already reasonable, but residents of British Columbia can mention they're from BC for approximately 5% off the nightly rates. (Identification is required upon check-in, for proof of residency). My room on the 28th floor went for $229 per night at the time of my visit.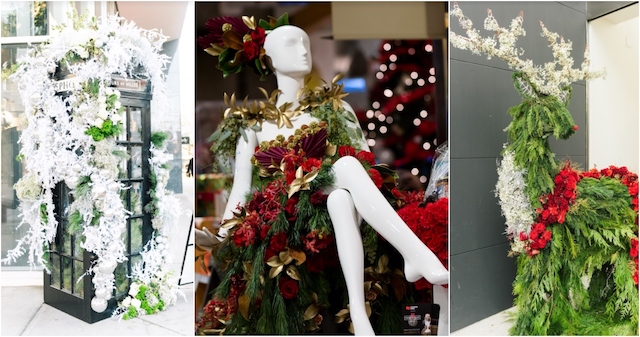 #OnRobson This Season
Fleurs de Villes Noel will be back December 10-19,2021
Shop New Gen. Market in Bute Robson Plaza November 26-27, December 11-12, 17-18 11:00am to 6:00pm
Dine out, whether you're craving festival holiday drinks, sushi, bubble tea, or pasta there's plenty of options