The VanDusen Festival of Lights and Stanley Park Bright Nights Train are set to sparkle this holiday season starting November 26, 2021.
VanDusen Festival of Lights
The 37th annual Festival of Lights event dazzles with more than one million lights decorating 15 acres of VanDusen Botanical Garden, and features themed areas, unique light features, and holiday music. While for the past 24 years, Bright Nights has delighted passengers on its holiday-themed train ride timed to music, lights and decorations.
Both cherished holiday events shifted to online virtual tours last year due to COVID-19 restrictions, but with new safety measures in place, guests can once again experience these magical winter wonderlands in person.
"We are delighted to welcome visitors back to two of Vancouver's premier and longest-running holiday events. We really appreciate all the work that staff put into bringing them to life, and it's truly the perfect way to ring in the holiday season." said Vancouver Park Board Chair Camil Dumont.
Festival of Lights tickets go on sale November 1, 2021. Tickets will only be sold online, and will specify an entry time. All guests 12 years and older will need to provide proof of full vaccination to enter. Masks are mandatory indoors at all times except for children under the age of 5, and recommended outdoors in the garden.
In order to reduce touch point features and limit gathering within the garden, some activities from previous years, such as the carousel and photos with Santa, will not be offered; however, there will be new features for guests to experience including an illuminated rose garden display, a Santa letter-writing activity for kids, and plenty of food options.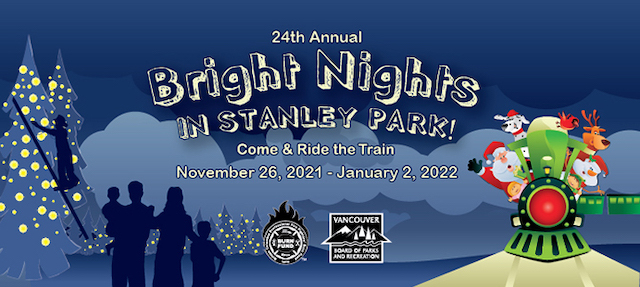 Stanley Park Bright Nights Train
Online tickets for the event are now available for purchase. Due to capacity restrictions, passengers must board the train in their specified time slot. Although proof of vaccination is not required at this time, masks are recommended. The train has been fitted with plexiglass dividers between the benches.
To limit contact, the farmyard and Santa's North Pole area will be closed. Food and beverage trucks will be on site offering touchless payment methods.
VanDusen Festival of Lights is partnering with Make-A-Wish Foundation for the 20th year. Sales from the glow star necklaces, as well as donations made in the garden's candle grotto, have raised more than $523,000 for Make-A-Wish since 2001. 
The Bright Nights Train is the single largest fundraising event for the BC Professional Fire Fighters' Burn Fund, which provides life saving, life supporting, and life enriching services to burn survivors from across the province. The Park Board has donated more than $1.5 million to the Burn Fund since the event partnership began in 1998. 
Find more holiday fun under the Miss604Holidays section of this site.