The Vancouver Podcast Festival, presented by DOXA, returns for a one-day, virtual experience on Saturday, November 20th. The focus for 2021 is on education in the form of workshops and panels, serving the local and national podcasting community. The conference-style day will feature two social/networking events, two masterclasses, and two roundtables.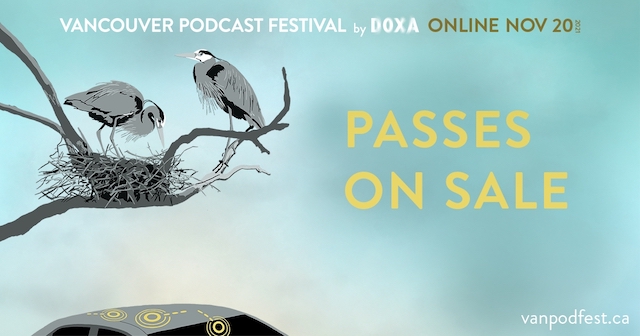 Vancouver Podcast Festival 2021
When: November 20, 2021
Where: Online
Tickets: Available now, an all access pass is $25
One-day festival features acclaimed creators, hosts, and producers including Garvia Bailey, Nana aba Duncan, and Hannah Sung (Media Girlfriends), Liv Albert (Let's Talk About Myths, Baby), Laura Palmer (Island Crime), and Paul Bae (The Black Tapes, The Big Loop).
"Our focus this year is on bringing together the local podcasting community, while also creating opportunities to learn from experienced podcasters across the country," says Hannah McGregor, Vancouver Podcast Festival programming committee member. "We've all been craving connection, so we're making sure everyone will have plenty of opportunities to interact with our fabulous presenters, and each other."
Vancouver Podcast Festival highlights include:
Masterclass: Why We Started A Podcast Company In A Pandemic with Media Girlfriends
What does it mean to bet on yourself? That's what Hannah Sung, Garvia Bailey, and Nana aba Duncan did when they started Media Girlfriends, a podcast production company led by women of colour working towards more inclusion, diversity and perspectives in media. Between the co-founders, they have half a century of award-winning journalism and storytelling excellence with CBC, The Globe and Mail, Hot Docs, The Walrus Lab, Huffington Post, MuchMusic, RBC, Historica Canada and more. This masterclass is a unique opportunity to hear Media Girlfriends discuss their origin story, share insights, and answer questions about radically reimagining new futures in media.

Masterclass: Building An Audience for Your Indie Podcast
With Liv Albert (Let's Talk About Myths, Baby) and Laura Palmer (Island Crime).
So you've started a podcast, and now you need to figure out how to build an audience. Learn about the approaches that actually work from BC-based indie podcasters Liv Albert and Laura Palmer, who have turned their passion projects into successful shows with massive fan-bases.
Panel: Podcasting Climate Change (free to the public)
The events of this summer (heat, fires, floods, storms) have brought home the reality of climate change like never before and the urgency to make media addressing the crisis couldn't feel greater. But how do we talk about the climate emergency in ways that move us away from despair and disaster coverage? How can podcasts shift the conversation in ways the mainstream media cannot or refuses to do? How do we talk about climate justice, Indigenous sovereignty, and de-colonizing media? Hosted by Below The Radar's Am Johal.
Panel: The Expanding Universe of Podcasting with Kelly&Kelly
Adaptations of podcasts continue to explode — developing into scripts, movies, and digital series. We've watched the first waves of Hollywood adaptations (Homecoming, Dirty John, The Shrink Next Door) but what does development look like for our local podcasting scene? How is the world of IP development, podcast creation and adaptation evolving — and what should creators know? Join Kelly&Kelly's Lauren Bercovitch and special guests Paul Bae and Allison Brough for an in-depth panel conversation.
For podcast creators, fans, businesses, and other attendees looking to connect further with the community, the Vancouver Podcast Festival will kick off the day-long program with a VanPodFest Virtual Welcome and end the day with the VanPodFest Virtual Happy Hour hosted by Hannah McGregor (Witch, Please and Secret Feminist Agenda) and Andrea Warner (Pop This!). These events will provide a fun online hangout opportunity for attendees and guests to get to know each other. 
Follow the Vancouver Podcast Festival on Facebook for more information.