Dress for Success Vancouver will host their 9th annual Success Luncheon on Wednesday, November 3rd at the JW Marriott Parq Vancouver, in partnership with Boughton Law. The theme of the Luncheon is 'Uplift.' After a successful virtual event last year, the 2021 event will be a hybrid in-person and virtual event, offering an at-home experience as well as welcoming guests at the Parq.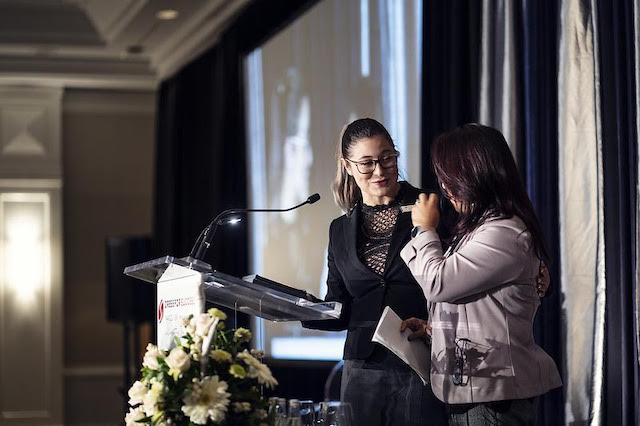 The Success Luncheon
When: Wednesday November 3, 2021 from 11:00am to 1:30pm
Where: JW Marriott Parq Vancouver (39 Smithe St, Vancouver)
Tickets: Individual tickets available for $200 (virtual or in person); Tables of 10 available for $2,000
This annual Luncheon celebrates the Dress for Success Vancouver community of sponsors, supporters, ambassadors and champions. The event will feature Eileen Park Robertson, Dress for Success Vancouver Client Ambassador Vivian Liu, host Angela Sterritt and Dress for Success Vancouver Executive Director and Chair of the Dress for Success Canada Foundation, Amy Robichaud. Vivian will be awarded the Inspiration Award, acknowledging her journey and achievements with the support of Dress for Success Vancouver programs.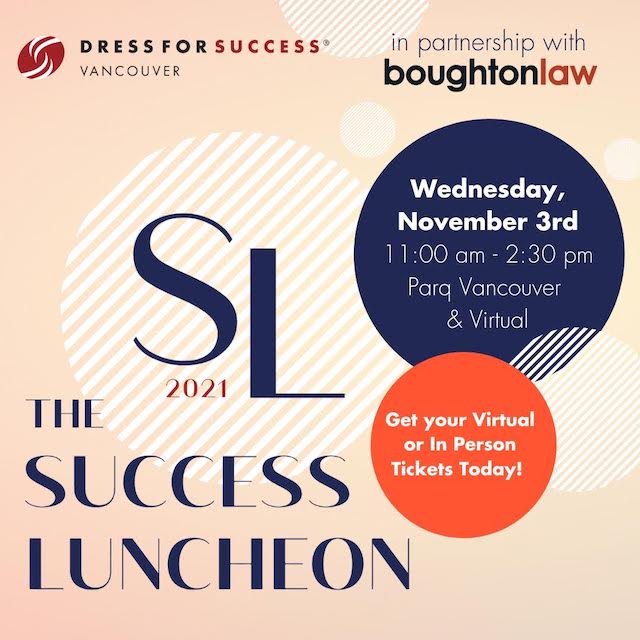 This year's featured guest is Eileen Park Robertson, the founder of Anecdotia, a production agency focused exclusively on racial, social, and climate justice storytelling. As the daughter of Korean immigrants who overcame poverty, domestic violence, and racialized trauma, she is a proud ambassador and advocate for racial justice. She will share her experience standing in solidarity with marginalized communities, fighting for, educating, and calling for systemic change in culture, media, and government.
We will also hear from host Angela Sterritt, an award-winning CBC journalist from the Gitxsan Nation, whose column 'Reconcile This' tackles the tensions between Indigenous people and institutions in BC. And, Inspiration Award Winner, Vivian Liu, will share her story of overcoming challenges to get to Canada and how Dress for Success Vancouver inspired her journey towards becoming a licensed social worker.
"The Success Luncheon is an exciting opportunity to bring together corporate and individual champions and feature the work of our staff and volunteers, while celebrating the women we have empowered into financial independence," says Amy Robichaud, Dress for Success Vancouver Executive Director. "After the setbacks and strife that we and our clients have persevered through over the last 18 months, the 'Uplift' theme feels perfect. We are coming together, virtually and in-person, to make possible our continued support of resilient women who lift us up and allow us to lift others. On November 3, we celebrate our community."
For the first time ever, the event will feature a Boutique Market shopping experience featuring jewelry, luxury fashion, home goods and gifts. In addition to the featured guest and award presentation, guests will be invited to try their luck with the wall of wine, take an updated headshot, and purchase raffle tickets.
Since March 2020, throughout the pandemic, Dress for Success Vancouver has served 1,758 women. The organization has changed the lives of thousands and contributed over $1 billion to the economic wellbeing of our city and province.