The #BuyBasin Festival is back! It features 100 entrepreneurs, businesses and entertainers from the Columbia Basin area live on social media promoting their products and services through storytelling. If you're looking to shop local and support local now, and for the upcoming holiday season, this is your one-stop shop for finding amazing gifts, products, and entertainment.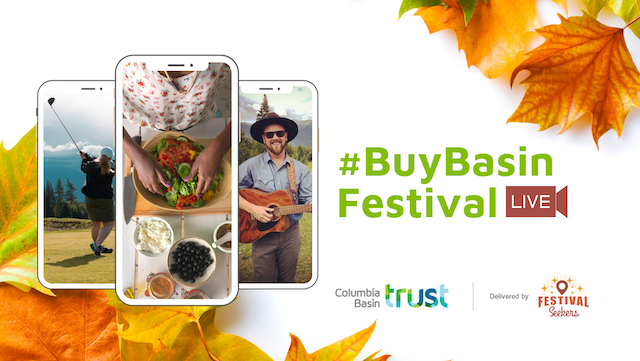 The #BuyBasin Festival is Back – Watch Live Online
When: October 18 to November 10, 2021
Where: On Facebook Live and Instagram Live
Admission: FREE! Browse the schedule, click and watch a business go live.
"Buying locally is extremely important when it comes to supporting Basin businesses and entrepreneurs. There is a diverse range of products and services available to people living in the Basin, many of which will be featured during the #BuyBasin Festival," said Katie Kendall, Senior Manager of Special Initiatives with Columbia Basin Trust.

"By spending dollars in the region, shoppers can purchase unique, local items while helping businesses adapt to changes brought on by the pandemic so they can remain stable over the long term, while also employing more local residents."
Five days a week, up to six businesses will go live on social media to reveal expert tips, demonstrate their products and provide behind-the-scenes access—alongside performances from a range of entertainers. Over the four-week festival, about 100 businesses will highlight their offerings.
Tune in to see Lisa from Metalicart in Pass Creek craft custom pieces with a hammer and anvil in her forge. And see how Rob and Isabelle from Little Piece of Paradise Farm in Winlaw make their hand-harvested, small batch, organic teas. Don't forget to watch the live entertainment! Stay tuned for the music and performer lineup.
In addition to showcasing the unique products and services available locally, the #BuyBasin Festival also strengthens local businesses by teaching them how to be effective online and through social media. To participate in the event, each business is trained on how to go live on social media, build social media strategies and tell their unique story online.
In spring 2021, the festival featured 112 local business owners, entrepreneurs and artists, resulting in increased awareness of their goods and services and additional sales.
Share a Video, Enter to Win
The festival is presented by the Columbia Basin Trust, Basin Business Advisors and FestivalSeekers. FestivalSeekers will be featuring all the videos on their Facebook and Instagram pages. Share a video from the #BuyBasin Festival and you'll be entered to win $50 to spend at your favourite local businesses. Every video you share is another chance to win!