It's a bright spot on those dark and dreary winter nights in Downtown Vancouver. The Lights of Hope display at St. Paul's Hospital will shine nightly throughout the holiday season, with hundreds of donors recognized for their support with shining stars and more than 100,000 sparkling lights illuminating Burrard Street.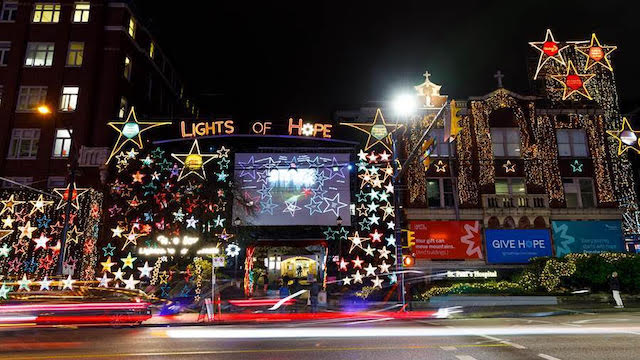 Lights of Hope at St. Paul's Hospital
When: Starting November 18, 2021, open all season long
Where: 178 – 1081 Burrard Street, Vancouver
New for 2021 is a Selfie Station at the display – it's the perfect spot for this year's holiday photo with friends and family. Tag @helpstpauls to show your support. Limited edition Hope at Home star lanterns are once again available to purchase and hang in your window at home, symbolizing well wishes and support for patients and residents. Be sure to check the website before you visit for the latest information on how to enjoy the lights safely in accordance with Provincial Health Office guidelines.
Donors to St. Paul's Foundation have an impact on every patient, resident, visitor, and department, and support the work of St. Paul's Hospital, Holy Family Hospital, Mount Saint Joseph Hospital, St. Vincent's: Brock Fahrni, St. Vincent's: Honoria Conway-Heather, St. Vincent's: Langara, and Youville Residence.
Your donations help make it possible to save lives, to provide warm clothing to patients in need, to fund research initiatives that change the way we diagnose and treat disease. Gifts to Lights of Hope enables St. Paul's Foundation to meet the greatest needs of patients and residents. Give hope for today and tomorrow by making a donation online.