On October 30th, the Canuck Place Children's Hospice Gift of Time Gala, presented by Nicola Wealth, returns for an inspiring evening and engaging gala in support of children and families across BC and the Yukon. Here are a few ways you can support this event, and Canuck Place.

The 2021 Gift of Time will feature both an exclusive in-person experience and an engaging virtual broadcast.
Get Your Virtual Tickets
When: October 30, 2021 at 8:00pm
Where: Online/virtual
Tickets: Register online now, by donation.

Registration for the Virtual Event is by donation and all gifts over $10 will be eligible for a tax receipt.
Auction
Get a head start on bidding with the Gift of Time auction when you register. There are vacation packages, private dinners, show tickets, exclusive experiences, artwork and so much more – over 900 items – all for a great cause.
Hear from a Canuck Place Family
Sharon Bulger will share her Canuck Place story during the evening program. I am always so moved when I hear family stories – their strength and love is incredible.
Live Entertainment
Attendees can enjoy a performance from Goh Ballet (live and online) and Langley Ukulele Orchestra (live). The orchestra is celebrating 40 years of music this year!
Hospitality Partners
Have you checked out the amazing month-long promotions being run by Gift of Time Hospitality Partners? They have each developed a special menu item in support of Gift of Time with a portion of sales being donated back to Canuck Place until October 31st. It might be too late to get it for the gala but it isn't too late to still show your support:
Marquis Wine Cellars

Order from their exquisitely curated Gift of Time wine list you'll enjoy free shipping to anywhere in BC!

The Bar Cart by Lavish Liquid

Their "Home Away from Home" cocktail kit recipe was developed in honour of the families who spend time at Canuck Place.

Legends Haul

Once again Legends Haul is offering a delicious cheese or veggie charcuterie board in support of Canuck Place.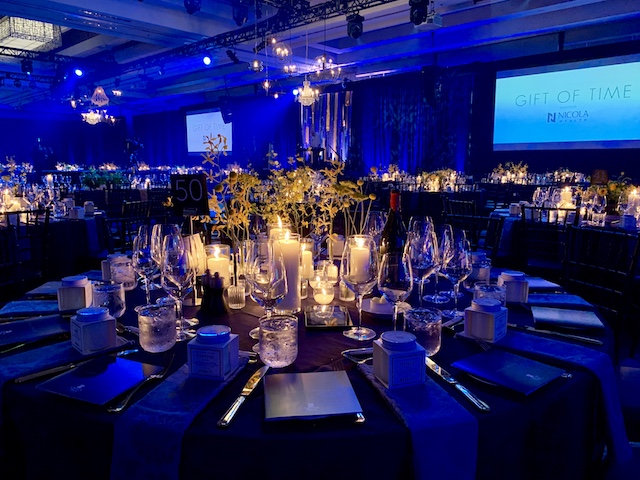 Your support of Gift of Time will give short lives the gift of great days.
If you are unable to attend, you can definitely still support the cause with a donation.
Gift of Time Gala
Over the past 16 years, the Gift of Time Gala has raised over $14.5 million to support care at Canuck Place Children's Hospice. Your support will provide critical care to over 800 children living with life-threatening illnesses and the families who love them. When children and their families come to Canuck Place, the end of the story is already known. But the journey to get there has yet to be written.
Miss604 is a proud sponsor of the Gift of Time since 2013