Boarder X at the Museum of Vancouver, a traveling exhibition which opened on October 1st, reveals skateboarding, snowboarding, and surfing as vehicles that challenge conformity and status quo.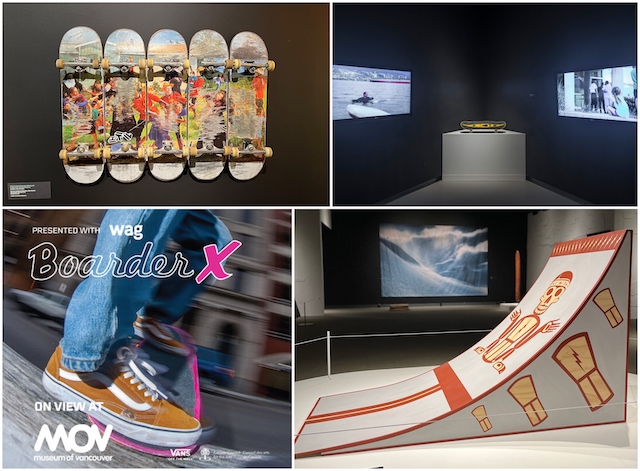 Boarder X at the Museum of Vancouver
When: On view at MOV until October 1, 2022.
Where: Museum of Vancouver (1100 Chestnut St, Vancouver)
Admission: Purchase online in advance or on site
Originally exhibited at the Winnipeg Art Gallery in 2016, Boarder X features work by contemporary artists from Indigenous nations across Canada including Amanda Strong, Bracken Hanuse Corlett, Jordan Bennett, Meagan Musseau, Roger Crait, Steven Davies, Mark Igloliorte, Mason Mashon, Meghann O'Brien, Colonialism Skateboards in collaboration with Kent Monkman, and Les Ramsay.
"A museum needs people to be relevant. The Boarder X exhibition provides a wonderful opportunity for MOV to connect with Indigenous, and other youth, within the city of Vancouver. We were so pleased to have the opportunity to include a mini half pipe in the gallery space, where we can use it year-round for community engagement and add another level of animation to the gallery space." – Sharon Fortney, Curator of Indigenous Culture and Engagement, Museum of Vancouver
Included from the MOV collections are works by contemporary Indigenous artists K.C. Hall, Olivia George, Skokaylem Zac George, and Takeover Skateboarding as well as older works by unknown Indigenous artists.
The exhibition, which recently was recognized for outstanding achievement by the Canadian Museums Association ("CMA"), reflects cultural, political, environmental, and social perspectives related to the landscapes and territories we occupy. Examining contested spaces, political borders, hybrid identities, and traditional lands, the artwork draws parallels to urban areas prohibiting skateboarding, ski runs unwelcome to snowboarders, and surfers' constant search for uncrowded waves.
Boarder X also showcases how art can be inclusive and transformative, by bridging the present – the passion that many Indigenous youth have for skateboarding, surfing, and snowboarding – with the past, which weaves together paintings, carvings, photography, video and textiles that shine a spotlight on cultural, political, and environmental issues.
Through financial support from Vans Canada, MOV was able to build 2 quarter pipes within the exhibition space. This mini ramp with be activated throughout the year for workshops, and public engagement events. MOV is partnering with local community groups, Nations Skate Youth and Takeover Skateboarding, to create opportunities for public programming and youth involvement and engagement within the exhibition. Once the exhibition closes the 2 quarter pipes will be donated to a community group for ongoing use.
Watch the Exhibition Opening Online
For more information on the exhibition and to book tickets, visit the Museum of Vancouver online.