The Bloom Group is celebrating 60 years of providing housing, health and social services to those in need in Vancouver with an online virtual event, 60 Years in Bloom, on October 21st.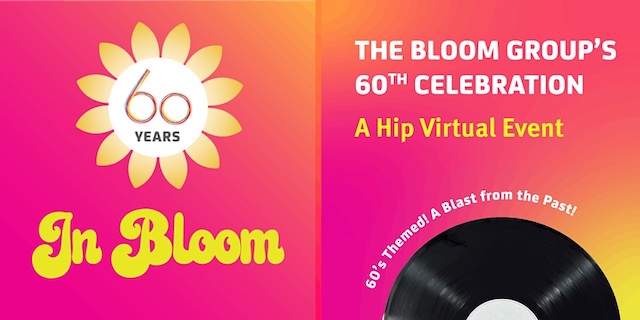 60 Years in Bloom
When: Thursday, October 21, 2021 7:00pm to 8:00pm, Pre-event: 6:30pm
Where: Online
Tickets: $60, available online now
This interactive virtual event features an exciting line up of engaging activities: Online games, silent auction, sixties costume contest, video stories, prizes, music by DiverCity, and more. The evening's host will be Am Johal, and there will be opening remarks from Hon. Melanie Mark, MLA for Vancouver-Mount Pleasant.
The silent auction is on now, closing October 25, 2021, featuring an exciting array of products and services from local businesses and artisans.
100% of funds raised will support The Bloom Group's "House to Home Campaign" to provide essentials in making a home: renovations, furniture, medical equipment, gardens and a transition fund.
Since 1961, The Bloom Group has led many of our community's most progressive social services to reduce homelessness, provide end-of-life care for individuals with mental health challenges and addictions, ensure women-led families in crisis can stay together as they rebuild their lives, and much more. Their 'low-barrier' services are inclusive and available to all individuals in need, regardless of their circumstances, and without conditions.
I first learned about the Bloom Group's work when I was a judge and sponsor of the Yule Duel caroling-for-a-cause event in Downtown Vancouver (2016-2019). Follow The Bloom Group on Facebook for more info and get your tickets to 60 Years in Bloom online here.