Megaphone Magazine has launched its 2022 Hope in Shadows calendar, highlighting the lives of low-income photographers. Hope in Shadows is a photography project that shares the stories of people experiencing poverty and homelessness through their own lens, and in its 19-year history, has put more than $1 million directly into the pockets of low-income vendors in BC — helping them buy "extras" such as healthy food, warm clothing, or items for their grandchildren.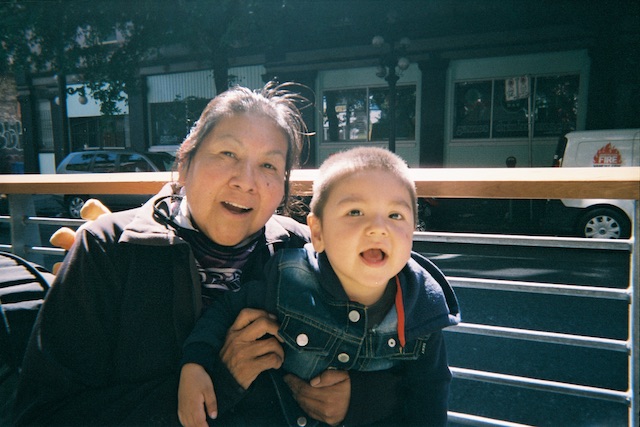 The Hope in Shadows 2022 calendar features 13 strikingly beautiful photographs — along with accompanying stories — captured by folks from the Megaphone community. New this year, the first-ever limited set of 13 Hope in Shadows notecards will also feature the winning photos.
The project challenges the stigma around poverty by making space for people marginalized by society to share their own views. Street vendors who sell the calendar participate in a photography contest hosted by Megaphone each spring. They are given a single-use, disposable camera and five days to go out into their communities and take pictures of their lives — capturing images around a different theme each year.
For the 2022 project, the theme is "Play."
Participants flooded the Megaphone office with more than 1,500 photographs, including those of a cheerful and charming guitar player who connects people with music, a gifted seamstress who is keeping an Indigenous tradition alive, a street singer whose powerful voice will stop you in your tracks, and so many more.
Those images were pared down to the top 30 photos, selected by a community jury and public vote, and then 13 winning photographs were chosen for the 2022 calendar.
The winning photo and cover of the 2022 calendar was taken by vendor Priscillia Mays Tait (proud Babine, Gitsxan, and mostly Wet'suwet'en mother). Entitled Thunderchild, it's a candid shot of Cree grandmother Frances and her grandson Kayden laughing together while they sit at the outdoor patio of the Downtown Eastside Women's Centre ("DEWC").
"It's clear from the photo how precious this young 'Thunderchild' is to his grandmother," Tait says of her photo. "I have seen many Indigenous grandmothers raising their grandchildren in the Downtown Eastside, and it's a good thing there are places like the DEWC to serve their needs, and those of other women and children."
Julia Aoki, Megaphone's executive director, says the community shows up in force every year to express themselves through photography, and share their stories in Hope in Shadows.
"It's a privilege to experience these stories, which express so much striking beauty, joy, and pride," Aoki says. "Hope in Shadows photographers and vendors are doing the crucial work of sharing perspectives and experiences that might otherwise be overlooked. The stories in the calendar are truly enriching."
Megaphone street vendors in Vancouver are currently selling the calendar and notecards. You can find and pay vendors directly with their smartphone using the Megaphone App, available for free download from the iTunes and Google Play stores.
You can also purchase the calendar and notecards online and receive it via mail or in-person pick-up through Megaphone's online store.
About Megaphone Magazine
Megaphone offers employment and empowerment to people experiencing poverty. Megaphone publishes a monthly magazine and an annual calendar that are sold on the streets of Vancouver and Victoria by homeless and low-income vendors. Vendors buy each magazine for 75 cents and sell it for $2, and purchase each calendar for $10 and sell it for $20. They keep the profit. By selling Megaphone and Hope in Shadows, people experiencing poverty, homelessness, and other barriers to employment can earn income through meaningful, dignified work.
Miss604's Rebecca Bollwitt has been a proud contributor to Megaphone since April, 2020.