Variety – the Children's Charity and Global BC have announced that that this year's Variety Week will take place from Monday, October 18 to Friday, October 22, 2021. Throughout the week, Global BC will be showcasing the work that Variety does to help children with special needs and their families across the various communities in BC.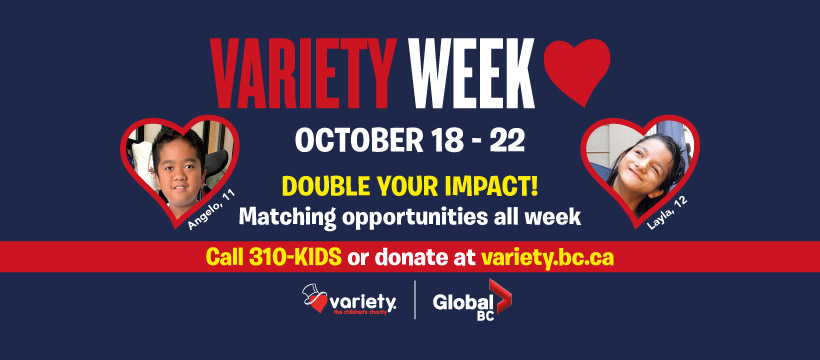 Variety Week 2021 on Global
During every newscast including Global News Morning and Global News Hour at 6, viewers will meet children who Variety has supported while getting to see firsthand how their lives have been impacted because of Variety's help.
"With kids heading back to school during this especially challenging time, we're seeing an influx of applications," said Cally Wesson, Variety BC CEO. "Whether we're helping kids with tuition so they can attend a specialized school or one-on-one tutoring so they can learn at a pace for them or even counselling for mental wellness support, the need is greater than ever so I'm hoping British Columbians will once again open their hearts and come together so that every child needing our help receives our help."
"Variety BC is where families go for the critical funding they need. It's the incredible support from our audience for Variety Week on Global BC that helps to support BC's most vulnerable children and their families," said Bhupinder Hundal, News Director & Station Manager, Global BC
Viewers will also learn about autism assessments and how for the first time in Variety's 55-year history, they've begun funding private autism assessments. Additionally, Variety will be presenting a total of five Sunshine Family Vans … one in each health region across the province.
Last year's campaign raised $2,624,487. Donations can be made by calling toll-free at 310-KIDS as well as at variety.bc.ca or by texting "KIDS" to 45678 to make an automatic $20 contribution.
Miss604 is proud to be a Telethon Committee Member at Variety BC