Urban Ink's 2021-22 season has been announced, featuring a dynamic hybrid program adapting to the ever-changing world with digital and in-person performances. Urban Ink's mission is to uplift Indigenous and diverse artists through storytelling and performance, and create exciting opportunities that propel works in a new expanded direction.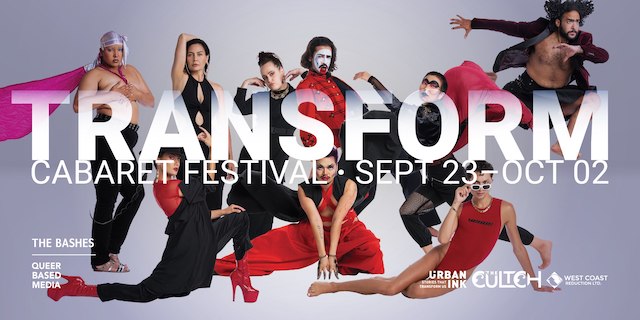 Urban Ink's 2021-22 Season
The season kicks off with the return of TRANSFORM Cabaret Festival, an Urban Ink & The Cultch partnership scheduled from September 23 to October 2, 2021. Groundbreaking in every way, the TRANSFORM Cabaret Festival consists of seven explosive days of bold, uncompromising, political, and interactive performances in a hybrid format taking it to the next level.
The festival is a platform for IBPOC artists to share their stories, featuring local and international Indigenous and non-Indigenous artists in a variety of styles including theatre, music, drag, burlesque, circus, comedy, and everything in between.
Each show has a line-up of extraordinary collaborating artists that range from Sido Adamson and Cris Derksen's circus mixed with Indigenous classical music, to The Candy Show with special guests Canadian rockstar Tom Wilson, Whose Line Is It Anyway? comic Colin Mochrie and the legendary Buffy Sainte-Marie, plus family fun with critically acclaimed cabaret star Le Gateau Chocolat and so much more.
Urban Ink at VIFF
Urban Ink's 20th anniversary in 2020 is being acknowledged through a celebratory 90-minute documentary film, Stories That Transform Us, to be featured at VIFF on October 6 at 8:30pm. Telling the story of Urban Ink's foundation and how it evolved over the years, the film looks back on the depth and scope of the company's history through past productions with re-imagined creative shorts of some diverse theatrical works produced since its inception. Stories That Transform Us is much more than simply a look at Urban Ink's history; it's a reflection of a time in history when diverse voices and their stories were not heard.
Next in this innovative season, Urban Ink is making their cutting-edge, award-winning Canadian musical, Les Filles du Roi, by Corey Payette and Julie McIsaac, into a gorgeous trilingual musical film written in English, French and Kanien'kéha (Mohawk) to be screened at The Cultch in January 2022. A deeply moving and unique work, it's a perfect vehicle that uncovers a perspective different from the one told by Settler culture, one that redefines the Canadian narrative.
Another film, Terror/Forming, written, and directed by Rylan Friday, a multi-disciplinary writer, director, curator and producer from Cote First Nation, Saskatchewan is in production. Shot in one continuous take over the course of one evening, Parker, along with his boyfriend, Darren, are on a weekend trip at a cabin. As the night progresses, the pair encounters some disturbing and unexplained events. This film will show anxiety and tension bubbling to the surface as the situation escalates into chaos, with unnerving and authentic performances inspired by the Mumblegore genre that will leave the viewer wanting more and feeling the terror form in the pits of their stomach.
Artists in Development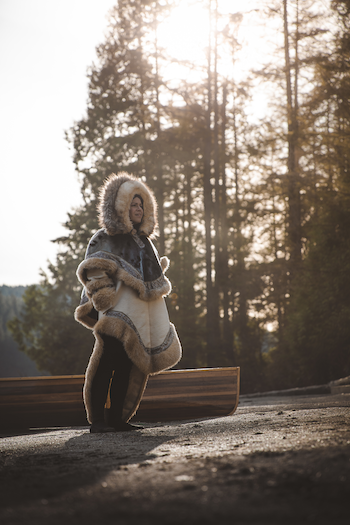 Cheyenne Scott is continuing work on her new play, Wolf Cull, which explores personal discoveries made by a group of five Indigenous womxn on a hunt.
Another unique voice is Homecoming by Kamila Sediego. A first generation Filipino Canadian, Sediego centres her play on stories of the Filipino-diaspora and an attempt to understand and give reverence to her roots, identity, and her parents.
Khari Wendell McClelland, a talented musician and evolving artist originally from Detroit, has a new work, Confluence in development. Set in the future, the musical is a story between Indigenous and black communities. His song writing crosses genres and generations, invoking the spirit of his ancestors who straddled the United States-Canada border in efforts to escape slavery and discrimination.
And commissioned by The Musical Stage Company and The Aubrey & Marla Dan Fund for New Musicals, is the continued development of Rebellion, a new work with book, music and lyrics by Corey Payette.
The final work in development for the season is A Conversation with Burnt Cork by Monice Peter. The play explores deep-seated questions about race, racism and what was acceptable in the all too misunderstood art form of Blackface. It also explores how the present artistic generation can learn and honour those artists that came before.
To honour Sedna, the musical production that was postponed from last season, Urban Ink will present Guide My Way: A celebration of the music from Sedna. This concert provides an opportunity to celebrate some of its music and showcase an array of beloved Indigenous and diverse music performers.
For more information about the season and to purchase tickets visit Urban Ink online and follow on Facebook for updates.