The schedule for the 40th annual Vancouver International Film Festival ("VIFF"), running October 1-11, 2021, was announced this week and the premieres of six National Film Board of Canada ("NFB") documentary and animated works are included in the lineup.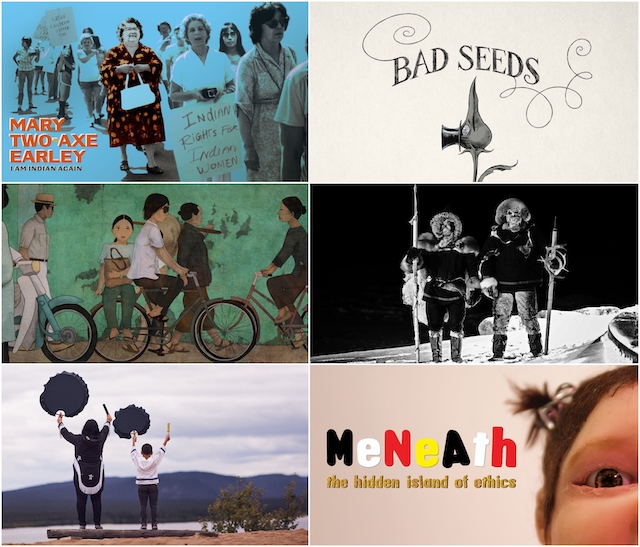 NFB Film Premieres at VIFF
The festival is presenting a strong selection of works by Indigenous creators, with Courtney Montour's short doc Mary Two-Axe Earley: I Am Indian Again, Terril Calder's animated Meneath: The Hidden Island of Ethics, as well as two new works from the NFB's Labrador Documentary Project: Ossie Michelin's Evan's Drum and Jennie Williams' Nalujuk Night.
There's also award-winning NFB co-produced animation, with Claude Cloutier's latest, Bad Seeds (Mauvaises herbes) (L'Unité centrale/NFB), and Sandra Desmazières' Flowing Home (Nhu môt dòng song) (Les Films de l'Arlequin/NFB).
View the full VIFF lineup here to purchase streaming or in-person tickets.
Mary Two-Axe Earley: I Am Indian Again by Courtney Montour (34 min)
Screening: Oct 1, 4, 5
Sharing the powerful story of Mary Two-Axe Earley, who fought for more than two decades to challenge sex discrimination against First Nations women embedded in Canada's Indian Act, and became a key figure in Canada's women's rights movement. Using never-before-seen archival footage and audio recordings, Mohawk filmmaker Courtney Montour engages in a deeply personal conversation with the late Mohawk woman, who challenged sexist and genocidal government policies that stripped First Nations women and children of their Indian status when they married non-Indian men.
Montour speaks with the late Cree activist Nellie Carlson, Mary's lifelong friend and co-founder of Indian Rights for Indian Women, and meets with Edmonton's Jodi Calahoo Stonehouse and her daughter in Mary's kitchen in Kahnawà:ke to honour the legacy of a woman who galvanized a national network of allies to help restore Indian status to thousands of First Nations women and children.
Labrador Documentary Project
The Labrador Documentary Project supports Indigenous storytelling by working with first-time Labrador Inuit filmmakers to create and distribute Inuit stories from Inuit perspectives. Two titles have been selected to VIFF:
Nalujuk Night by Jennie Williams(13 min)
Inuk filmmaker Jennie Williams plunges audiences directly into the action in this bone-chilling black-and-white short documentary about a winter night like no other. Every January 6, from the dark of the Nunatsiavut night, the Nalujuit appear on the sea ice. They walk on two legs, yet their faces are animalistic, skeletal and otherworldly as they approach their destination: the Inuit community of Nain.
Evan's Drum by Ossie Michelin(14 min)
Screening: October 1, 7, 8
A Montreal-based Inuk freelance journalist from North West River, Labrador, Ossie Michelin follows a young boy and his mother, who share a passion for Inuit drum dancing in Happy Valley–Goose Bay. After generations of silence, the rhythm of the traditional Inuit drum has returned to Labrador, and seven-year-old Evan is part of the new generation that will keep its heartbeat strong.
Animated Shorts
Meneath:The Hidden Island of Ethics by Terril Calder (19 min 22 s)
Screening: October 1, 9, 10
Diving deeply into the innate contrast between the Seven Deadly Sins and the Seven Sacred Teachings, as embodied in the life of a precocious Métis baby. Convinced she's soiled and destined for Hell, Baby Girl receives teachings that fill her with strength and pride, and affirm a path towards healing.
Born in Fort Frances, Ontario, and now based in Toronto, Métis artist Terril Calder's Meneath ("island" in Anishinaabemowin) is a darkly beautiful stop-motion tour de force, unearthing a hauntingly familiar world that illuminates the bias of colonial systems. The film comes to VIFF following its world premiere at the Toronto International Film Festival, part of a tour of Canadian and international festivals.
Bad Seeds (Mauvaises herbes) by Claude Cloutier (6 min 22 s)
Co-produced by L'Unité centrale and the NFB
Screening: Oct 1, 5, 6
Winnerofthe Genie Award for Best Animation for Sleeping Betty(2007) and director of the acclaimed Carface (2015), veteran animator Claude Cloutier takes us to a bizarre world populated by carnivorous plants that can change shapes the way a chameleon changes colours. Bad Seeds deftly connects growth with rivalry and evolution with competition, crafting an increasingly shocking duel that's peppered with allusions to the western, the Cold War, board games and much more.
Flowing Home (Nhu môt dòng sông) by Sandra Desmazières (15 min)
Co-produced by Les Films de l'Arlequin and the NFB
The child of a Vietnamese mother and French father, Sandra Desmazières has crafted an award-winning animated short about two sisters who are separated by war for nearly 20 years. The letters they exchange are their only way to connect as Thao and Sao Maï write about their everyday lives, their memories, war and its ghosts.
About VIFF
VIFF celebrates its 40th edition with a vibrant festival program that includes more than 110 feature films, 77 shorts, and 20 events. All films will be presented in-cinema, in strict compliance with provincial COVID-19 health and safety protocols, and select titles will be available for streaming across the province and Canada-wide on the festival's online streaming platform, VIFF Connect.