This October, visitors will see Burnaby Village Museum transformed into a magical world bathed in breathtaking colour, with talking crows and photo-bombing ghouls as part of Eerie Illusions, a Halloween event unlike anything else in Metro Vancouver.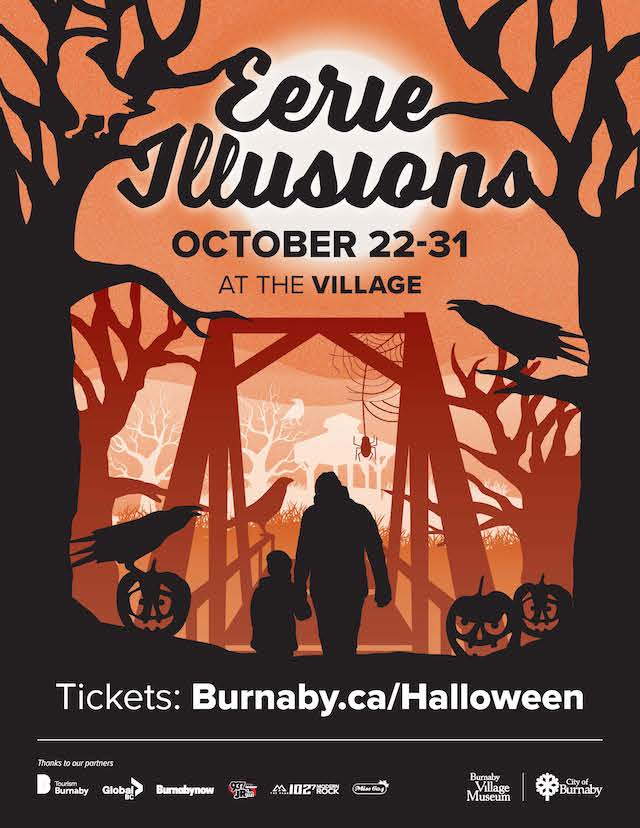 Halloween at Burnaby Village Museum
Where: Burnaby Village Museum (6501 Deer Lake Ave, Burnaby)
When: October 22-31, 2021

October 22-23, 5:00pm to 11:00pm; October 24-28, 6:00pm to 10:00pm; October 29-31, 5:00pm to 11:00pm

Admission: Adults $10; Children $5 (2-12 years); Free for children under 2 years

Online bookings will be available starting Monday, September 27, 2021 at 10:00am
Using state-of-the-art lighting, projections, soundscapes and special effects, Eerie Illusions will amaze and astound visitors of all ages, and showcase Burnaby Village Museum as it has never been seen before.
"We are so thrilled to bring people together to experience this one-of-a-kind Halloween celebration in Burnaby this year," said Mayor Mike Hurley. "Halloween is a wonderful time to connect with the community and make memories with friends, family and loved ones, and Eerie Illusions will quickly become a beloved Burnaby tradition."
The fun starts when two eager children discover a book of magical spells, unleashing a torrent of enchantments throughout the Village. As the children work to set things right, the Village is overrun with unruly spirits, chatty crows and portals to different dimensions and times. Visitors will encounter unique displays, activations and surprises as they explore the Village on a quest to return things to normal.
From scavenger hunts to holiday events and everything in between — there is always something to see and do at Burnaby Village Museum's 10-acre site at Deer Lake Park. This family friendly Halloween experience is suitable for all ages. It will likely sell out so make sure you book your tickets as soon as possible.
Miss604 is a proud media partner of Eerie Illusions at Burnaby Village Museum