The DTES Heart of the City Festival is back for the 18th year! From Wednesday October 27 to Sunday November 7, 2021 enjoy over 100 events throughout the Downtown Eastside and online.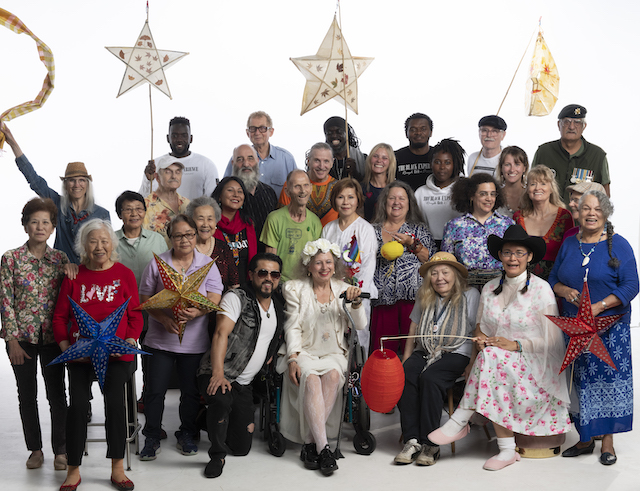 Heart of the City Festival
The 2021 Festival features twelve days of live and online events, including music, stories, poetry, theatre, ceremony, films, readings, forums, workshops, discussions, art talks, history talks, and visual art exhibitions; including the Art in the Streets program with surprise pop-up music and spoken word activities on sidewalks and small plazas throughout the historic district. 
As the Downtown Eastside community starts to emerge from the pandemic, the Festival is excited to reconnect with our over sixty community partners, including UBC Learning Exchange, Firehall Arts Centre, City Opera, KW Studios, and many more.
This year's festival theme, Stories We Need to Hear, resonates today as the community grapples with the dramatic impact of the pandemic, ongoing displacement, the fentanyl crisis, and the reality of bigotry and systemic racism.
In the words of late DTES poet Sandy Cameron, "When we tell our stories we draw our own maps, and question the maps of the powerful. Each of us has something to tell, something to teach." We take strength from the compelling lived wisdom and creativity of Downtown Eastside-involved artists and residents who illuminate the community's diverse and rich traditions, knowledge systems, ancestral languages, cultural roots and stories.
Featured Events
We Live Here (Free Event)
When: Wednesday October 27 to Friday October 29, 8:00pm
Where: Jack Chow Insurance parking lot, 500 blk Carrall at E. Pender
We Live Here is a dramatic, large-scale video project created by thirty Downtown Eastside visual artists working with a curatorial team of Jerry Whitehead, Wendy Peeters and Jared Sharpe. The participating artists took inspiration from the phrase "we live here" to create new artwork while an overhead video camera captured the process. Each night, a different group of artists will be displayed in a twenty minute looping video presentation that is projected from the Jack Chow Insurance parking lot onto the side of a local heritage building. We Live Here is sponsored by the Portland Hotel Society. A Radix Theatre production.
50 Years of Creative Collaboration: Terry Hunter & Savannah Walling (Free Event)
When: Wednesday October 27 to Sunday November 7
Where: Exhibit in the Carnegie 3rd floor Gallery
Terry Hunter (Nang Gulgaa) and Savannah Walling (hl Gat'saa), co-founders of Vancouver Moving Theatre (1983) and Downtown Eastside Heart of the City Festival (2004) invite you to attend two events that celebrate the 50th Anniversary of their creative and collaborative journey: a 50-year retrospective photo exhibit; and an online conversation and photo sharing with special guests. These events highlight Terry and Savannah's journey from Simon Fraser University's non-credit arts program (1971), to the avant-garde collective Terminal City Dance (1976-1983), to touring to over 40 national and international festivals (1983-2002), to the birth of their son Montana (1990), and living in and working on Coast Salish homelands with the Downtown Eastside community (1976 to today).  
#whatnow
When: Thursday October 28 to Sunday October 31, Wednesday November 3 to Sunday November 7
Where: Russian Hall, 600 Campbell
Tickets available via Alley Theatre
#whatnow is a multi-perspective documentary theatre and dance creation about the #metoo movement produced by Alley Theatre in partnership with Good Night Out Vancouver. Hours of audio interviews, real life stories and reflections come to life through "headphone verbatim", as recordings are played through earphones to actors, who repeat what they hear.
Walking tours in Chinatown
When: Saturday October 30, 10:00am
Limited capacity, registration info on Festival website early October
Tickets: $10 / low income pay what you can
Chinatown Historic Laneways, with John Atkin. Join local historian and walking encyclopedia John Atkin on this walk that explores the fascinating historic laneways of Chinatown. From the unique BC Hydro H-frame structures now under threat of removal, to the historic shops, markets and businesses like the legendary Green and Orange Door cafes, John will open your eyes to the importance of the laneways of Chinatown and their vital place in the City of Vancouver's initiatives towards Chinatown World Heritage Site.
When: Sunday October 31, 10:30am
Limited capacity, registration info on Festival website early October
Tickets: $10 / low-income pay what you can
Chinatown Ghosts: Ancestors All Around Us, led by Youth Collaborative for Chinatown 青心在唐人街. Ancestors are all around us in Chinatown. In this tour, learn to see and hear their stories and teachings in the everyday shops and spaces of the neighbourhood, including how the living maintain relationships with those deceased.
Merlin Cosmos: Magic – It's Personal (Free Event)
When: Saturday October 30, 7:00pm
Where: Pre-recorded at the Firehall Arts Centre, presented online, followed by live Q&A
Merlin's approach to magic is as a storyteller in the style of a stand-up comic. Usually we expect magicians to focus on the effect of magic as a source of mystery and wonder. For Merlin, magic is personal and a large part of his view of the world. That is what makes his magic unique. Much of the magic and stories have been developed during Merlin's time living in the Downtown Eastside and are presented in a light-hearted fashion with an emphasis on fun. For this performance, you will be encouraged to participate. Grab a deck of cards for a magic trick you can do at home. All ages can enjoy together. Guaranteed to be fun!
Hearts Beat 2021 (Free Event)
When: Tuesday November 2, 12:00pm
Where: Live stream, registration info on Festival website early October
Listen to and feel the Hearts Beat, a musical exploration of the shared traditions of drums, dance and song between Indigenous and Irish cultures. This afternoon of entertainment fosters intercultural learning, sparks new connections, and inspires our hearts and minds. A collaboration between Carnegie Community Centre Indigenous Programs, UBC Learning Exchange, Irish Consulate in Vancouver, and Carnegie Community Centre Association.
Indigenous Journeys: Solos by Three Women (Free Event)
When: Wednesday November 3, 7:00pm
Where: Pre-recorded at the Firehall Arts Centre, presented online, followed by live Q&A
Three new powerful solos by three extraordinary Downtown Eastside involved women profiling their creative and personal experiences. Chemukh's Dream is written and performed by Priscillia Mays Tait (Gitxsan/Wet'suwet'en) (20 min). Priscillia tells us the magical story of "Chemukh's Dream" where Chemukh, Annie Sue and the crew travel to the heavens above, meet a special relative and explore the universe. 
Tell Us When They Came is written and performed by Kat Zu'comulwat Norris (Lyackson First Nation) and directed by Sam Bob (20 min). Kat's powerful voice takes us on a journey of Indigenous strength, grief, joy and resilience through her own life experience. The dance within the dance is the dance, a work-in-progress written and performed by Gunargie O'Sullivan aka ga'axstasalas (Kwakuilth Nation) (17 min), is an emotional journey with narration and movement that tells how loss of culture, family and land can lead to addictions, and how culture, family and land can also lead us out of addiction to points of recovery.
Openings: A Cultural Sharing
When: Wednesday November 3 to Saturday November 6, 7:30pm
Where: Firehall Arts Centre, 280 East Cordova
Tickets: Available at the door or online through Firehall Arts Centre
Join storyteller Rosemary Georgeson (Coast Salish/Sahtu Dene) and Firehall Artistic Producer Donna Spencer as they host cultural sharings about resilience, hope and humour by Indigenous Elders, Knowledge-Keepers and artists from different nations. Following on the success of the last November 2020 "In the Beginning" cultural sharing, Openings is a four evening discussion series that looks at powerful female voices in the arts, canoe power, and Indigenous humour. A Firehall Arts Centre and Vancouver Moving Theatre co-production.
Grace Eiko Thomson: Chiru Sakura (Falling Cherry Blossoms)
When: Thursday November 4, 7:00pm
Where: Massy Arts Gallery, 23 East Pender
Tickets: Free with limited capacity. Registration info on Festival website early October
Esteemed elder and activist Grace Eiko Thomson reads and talks about her book Chiru Sakura (Falling Cherry Blossoms), which chronicles her and her mother's journey through racism, and Grace's life-long advocacy for the rights of Canadians of Japanese ancestry. With host John Endo Greenaway, artist and editor (The Bulletin). 
Honouring Our Grandmothers Healing Journey Launch (Free Events)
When: November 5-7
Where: Oppenheimer Park and Strathcona Park
Further We Rise Collective with Sacred Rock launch the two-year project Honouring Our Grandmothers Healing Journey with three days of ceremony, teachings, storytelling and art respecting Mother Earth, including a day with the 7th Annual Wild Salmon Caravan. We are honouring Grandmothers who travelled to the Downtown Eastside; grandmas who've passed on; and grandmas who are with us now and their roles in caring for us all.
On November 6, join the Wild Salmon Caravan cedar planting ceremony and events that honour our Grandmothers' role of caring for all our relations: the land, water, wild salmon, people, plants and animals that provide us with food. The launch is produced by Further We Rise Collective/Sacred Rock in partnership with the Working Group on Indigenous Food Sovereignty and Vancouver Parks Board (Wild Salmon Caravan) and Vancouver Moving Theatre/DTES Heart of the City Festival. For full event details, visit the Festival website. 
Fighting for Space: Drug Users' Response to the Overdose Crisis (Free Event)
When: Saturday November 6, 1:00pm
Where: Online presentation and conversation
Author and award-winning journalist Travis Lupick shares stories from his book "Fighting for Space: How a Group of Drug Users Transformed One City's Struggle with Addiction" (Arsenal Pulp Press, 2018), and brings the narrative to the current day with his recent book Light Up the Night: America's Drug Overdose Crisis and the Drug Users Fighting for Survival (New Press, 2021). Joining Travis in conversation is Ann Livingston, a leader in the movement for harm-reduction and co-founder of VANDU, and Eris Nyx, artist, producer, iconoclast, and activist for safe drug use and decriminalization.
For more information, follow the Heart of the City Festival on Facebook and Twitter.
The mandate of the Festival is to promote, present and facilitate the development of artists, art forms, diverse cultural traditions, history, activism, people and great stories about Vancouver's Downtown Eastside District's historic neighbourhoods on Coast Salish homelands, including Chinatown, Gastown, Hastings Street corridor, Strathcona and Powell Street. The festival involves professional, community, emerging and student artists, and lovers of the arts.