I still remember my first Kiixin experience (while on assignment with ZenSeekers) in 2018, in fact I can still feel it with all of my senses, from 250km away. The walk through the lush coastal rainforest, following guides from the Huu-ay-aht First Nations, the scent of sun-kissed cedar washed over by a wave of crisp sea air as we approached the beach. The beat of our guide Wishkii's drum, the song he sang, and the story of the 5,500+ year old Kiixin National Historic Site all around us. The house posts that remain, the whale bones embedded in the earth that add even more to the story. It's a spiritual feeling that's stayed with me for over three years. Now, imagine how significant this place must be to Huu-ay-aht, and how fortunate we are that they have graciously opened it up to visitors.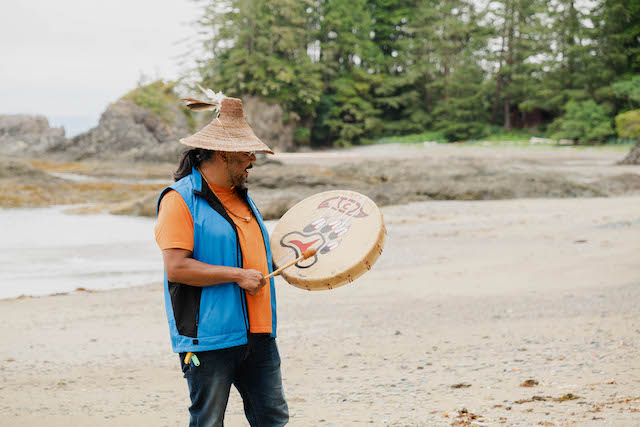 Tour An Ancient First Nations Village Site
Kiixin National Historic site is located on Vancouver Island's west coast, just outside of Bamfield within Huu-ay-aht First Nations traditional lands. Read more in this interview with Wishkii that Jaiden George wrote for ZenSeekers.
"Kiixin is our National Historic Site, and one of the main reasons why it was designated that is because it's the only place on the South Coast of British Columbia where you can see actual remnants of traditional longhouses," Wishkii told ZenSeekers. "It's truly a chance to go on a journey with the ancestors, a journey through time."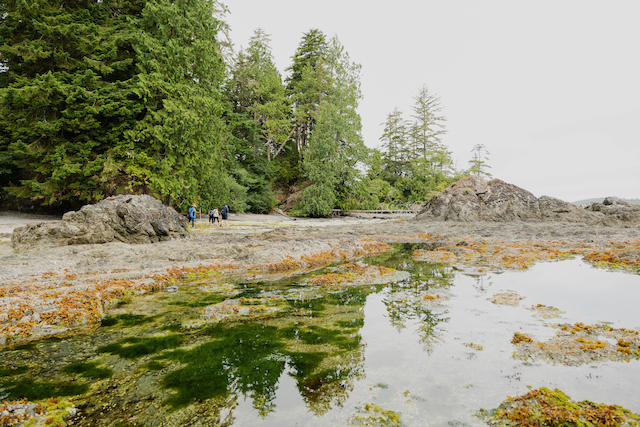 Wishkii is a desginated speaker for the hereditary Chief and is one of several guides for Kiixin Tours. "On the tour I get the chance to talk about Huu-ay-aht's history and culture and most importantly the family of our chief and my own family's history. It's an opportunity for me to share that and talk about that on a regular basis."
Four hour tours are offered daily and several times on weekends. It's so much more than a walking tour to a beautiful place. There is so much meaning behind in this forest and on these shores.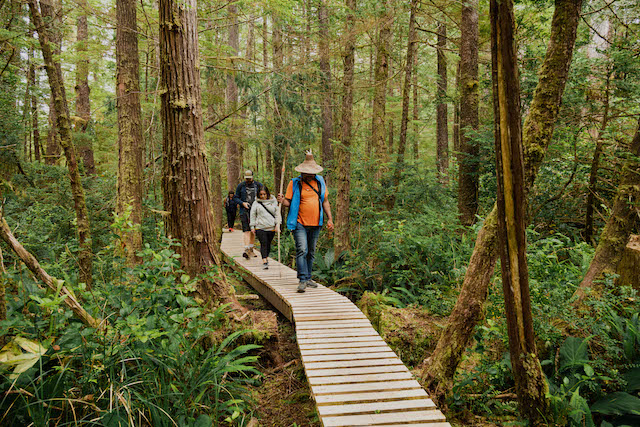 "Kiixin provides a link to the past and gives us an opportunity to look at where we're at now, and plan for the future so that we can make our world a much better place, an educated place." Wishkii says Huu-ay-aht means resiliency; Through disasters, hunger, famine, war, and colonialism. "I believe in learning and unlearning both at the same time, because we were always taught from a certain perspective – a colonial perspective – of the history of this land but now we have an opportunity where we can see beyond those 150 plus years that our village is ancient and that there's a tremendous amount of history."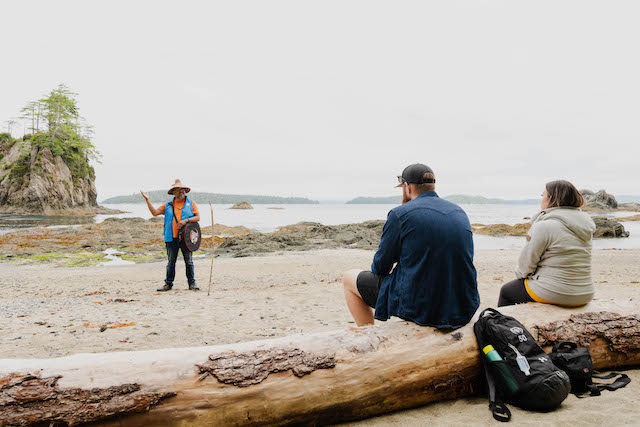 Kiixin gives visitors the opportunity to see a full circle of connectivity, the past, present and the future of Huu-ay-aht.
"Even the hike in itself, you get a chance to see how connected we are to Mother Nature and as we get into the village site you get to see how connected we are to even the cosmos." The Kiixin logo features three stars which reflect this continuous presence and connection. "Having that Huu-ay-aht perspective and that view, that vantage point, shared with the world helps in the reconciliation piece of where we are, modern day."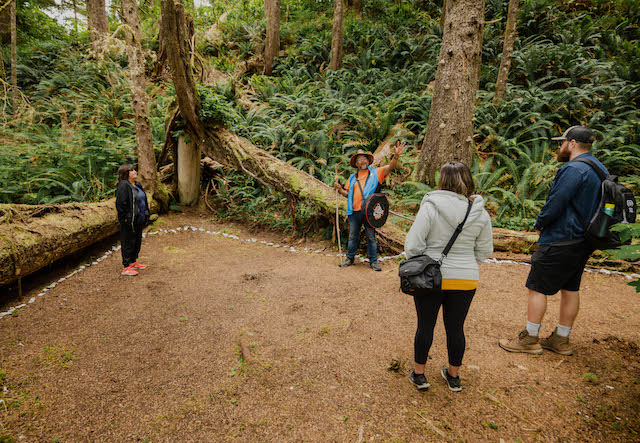 On the tour you'll visit the ancient village site, which is 5,500 plus years old — 5,500 being the earliest confirmed date but it's believed to be much older. You'll see remnants of the village including standing posts from the Whaling House.
There is a nearby village, where Huu-ay-aht have modern structures, and they felt it was important to preserve the historic site as it was, to maintain that link to the past. "It's very important to the continuum of Huu-ay-aht," Wishkii says. "To always look at: Where have I been, where am I now, and where do I want to be? Moving into the future."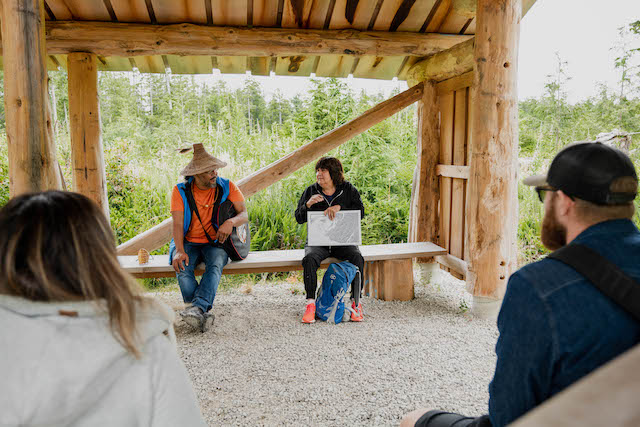 The Kiixin National Historic site plays a role in cultural tourism, and the sharing of Huu-ay-aht culture for all. It also benefits the community, as when you visit you can support Indigenous owned-and-operated businesses, from accommodations to shops. Wishkii believes that it's another way that demonstrates how everything is connected.
Book your 2021 tour now until mid-September or plan ahead for next season.
When You Go
Getting to Kiixin can be done in two ways:
Driving out of Port Alberni, noting that it is an approximately 1.5-hour drive along an active gravel logging road. A vehicle with good tires and ideally 4X4 is recommended.
Float plane via Pacific Sea Planes
Accommodations located within Bamfield are less than 10 mins from the Kiixin National Historic Site include Huu-ay-aht First Nations group of businesses:
Kiixin Tours are approximately four hours in length, offered daily and multiple times on the weekend. Day tours are by donation (don't forget to tip your guide) while the evening tours are $30 per person / $50 per couple. Book online here.