The other day when my SPUD Vancouver grocery order arrived I received an email receipt and I noticed in the bottom left it told me how far my organic products traveled to get to SPUD's warehouse: it was 28km. The average distance that products are transported to a typical grocery store in Canada is 2502km. That made me feel pretty good, as did all the plant-based products inside my SPUD bin!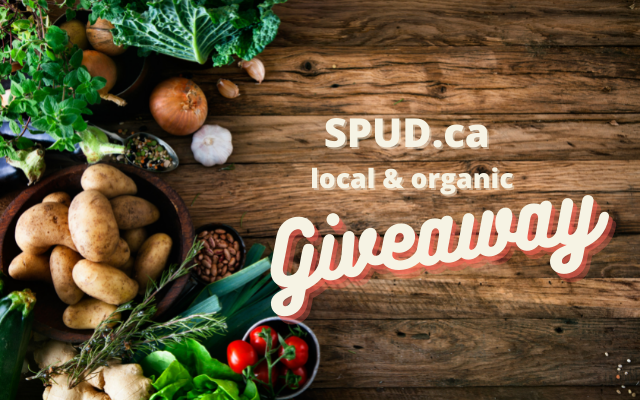 SPUD Local and Organic Grocery
It is estimated that we currently put almost 10 kcal of fossil fuel energy into our food system for every 1 kcal of energy we get from our food. Food grown closer to home is fresher, produces fewer transportation emissions, and supports local farmers. As the distance food travels decreases, so does the need for processing and refrigeration to reduce spoilage. Organic, local good is good for us, and good for the planet!
Here are some tips from SPUD that can help us make decisions that are good for the planet:
1. Buy organic
Organic products have less pesticides and they're fresher, GMO-free, and better for the environment. Look for dairy products labeled 'pasture raised' or '100% grass fed' and for pork, chicken or eggs with a 'certified organic' label. Swapping conventionally raised chicken breasts for organic chicken is a simple way to get started. Check out the large variety of organic meats at SPUD.
2. Buy local
Local food reduces food miles—this helps to alleviate our dependence on fossil fuels, reduce air pollution, and cut back on greenhouse gas emissions. Go support your local community and your environment! Learn more about local, organic, and certified farmers that SPUD sources from and supports.
3. Opt for plant–based meals
Minor changes like reducing meals with meat gradually, or having a meat-free day each week, can be simple (and effective!) options for doing your part. There are some great plant-based proteins such as quinoa, soy, seitan, walnut, and amaranth that can provide a rich source of protein and other nutrients without harming the environment. Check out the range of plant-based options they offer.
Enter to Win
I'm giving away a SPUD bin loaded with $150 of plant-based goodies! Here's how you can enter to win:
Leave a comment on this post (1 entry)
Like/comment on this post on Facebook (1 entry)
Copy/paste the text below on Twitter for a bonus entry
[clickToTweet tweet="RT to enter to win a SPUD bin loaded with $150 of plant-based goodies @SPUDVancouver http://ow.ly/zkuz50FSJZ3″ quote=" Click to enter via Twitter" theme="style6″]

I will draw one winner from all entries at 12:00pm on Tuesday, August 24, 2021.
For Miss604 Readers/Followers
Not a SPUD customer? Check out with promo code MISS604 and you'll get $15 off your first order when you spend $50 or more. Already a SPUD customer? Use the same code for $5 off your next order over $50. Valid for all locations, August, 2021.
UPDATE The winner is Mary!