As we travel about the province this summer, what better way to eat and shop local than to visit a market? Now it's easier than ever to plan your next shopping trip with the new BC Farmers Market Trail app and website tool from the BC Association of Farmers Markets ("BCAFM"). This is the definitive guide to farmers markets across the province, giving you access to the freshest, local, healthy foods and handmade artisan goods.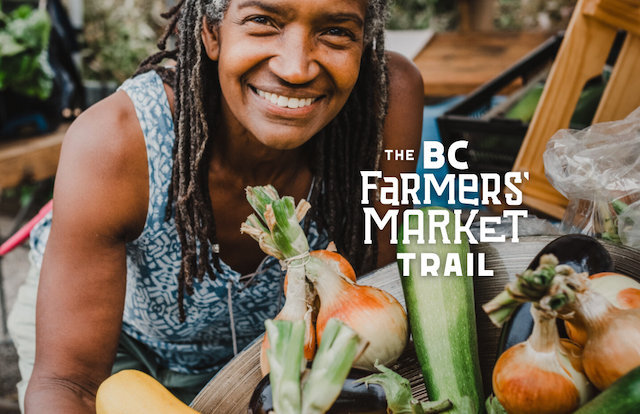 BC Farmers Market Trail
This free, mobile-friendly website featuring a farmers market finder quickly directs shoppers to fresh local food and goods available in both big city and small town BC. It's the most convenient way for locals and travellers to enhance their travel experience, reconnect with communities around the province, and support local businesses across 145+ farmers markets within BC.
BC farmers markets are the perfect venues to support and connect with local growers, makers, and bakers, while celebrating the specialties of each community.
This year, the Trail will be enhanced with 5 additional featured regions that host diverse vendors across the province including MJ's Caribbean Cuisine in Vancouver City, Takhar Berry Farms in Fraser Valley, A Sweet Romance Bakery in Thompson Okanagan, Nunachi from Metro Vancouver and Whistler Harvest in Sea to Sky. On top of the in-person farmers markets on the Trail, some online market stores are also included – it's never been easier to find hidden gems in BC's food scene while supporting local communities.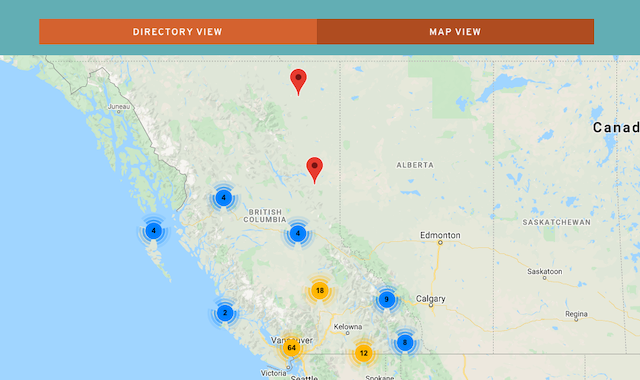 "Throughout COVID, farmers markets across the province have continued to operate and heroically stepped up to support the safety of customers, vendors and market organizers," says Heather O'Hara, Executive Director at BCAFM. "It's more clear now than ever that in order for our local economy to thrive, we need farmers and small businesses to survive and the public to support these local businesses. The BC Farmers Market Trail website makes it easy for the public to find and support local farmers and artisans, and explore BC all at the same time!"
BC farmers markets contribute over $150 million to our local economy annually. Like most industries, the past year has affected usual market operations, and local farmers and entrepreneurs have heroically adapted to support the safety of shoppers while providing the freshest, local, in-season foods. In light of the pandemic, supporting our local farmers and small businesses is more important than ever, and the Trail makes it easy for locals and tourists to shop and have fun at the same time.
By visiting BC farmers markets, you can enjoy fresh air while shopping outdoors, rediscover regional flavours across BC as they explore the unique, supernatural landscapes and communities that surround farmers markets, and directly invest in 4,000+ local farmers and entrepreneurs.
Follow along this farmers market season on Facebook and Instagram.
Hitting the Road- Honda Insight Touring Hybrid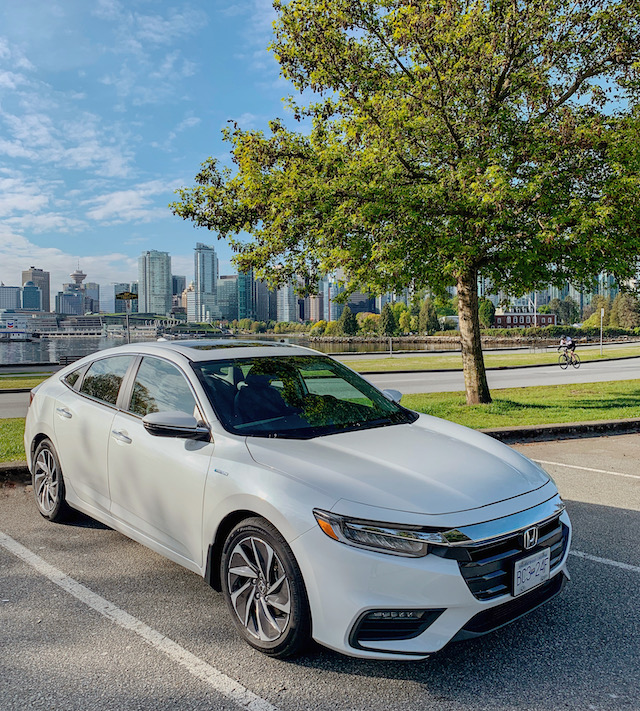 Miss604 is a media partner of Honda Canada
I love walking to my local market however, having access to amazing wheels like the Honda Insight Touring was a bonus recently. Not only can I leave my Downtown bubble, this hybrid is spacious, it's got pickup on the highway, and I love watching the battery charge as I drive. From the Salt Spring Island to Osoyoos, Prince George and beyond.
It's compact without being cramped, and the interior comforts, like the 8-inch touchscreen with Apple CarPlay and Android Auto are great to have. Better yet, the battery doesn't take away from trunk space at all so I can load up on tons of farmers market goodies (and more). For its fuel economy, comfort and style, it's quickly becoming one of my favourites in the Honda Canada fleet!
Check out my Instagram Reels for more views of the Insight.