This month there will be a series of pop-up concerts in Mount Pleasant Park (West 16th Avenue at Ontario Street in Vancouver) hosted by Music on Main. Admission is free and each concert starts at 6:30pm, just bring a chair and enjoy wonderful music in the open air, from talented local musicians.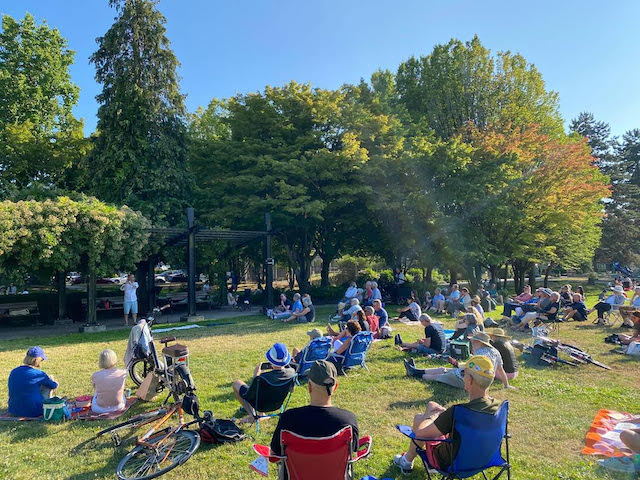 Pop-Up Concerts in Mount Pleasant Park
Monday, August 9, 2021
Saxophilia Saxophone Quartet
featuring: Julia Nolan, soprano saxophone; Kris Covlin, alto saxophone; David Branter, tenor saxophone; Colin MacDonald, baritone saxophone
Tuesday, August 10, 2021
Microcosmos String Quartet
featuring: Marc Destrubé, violin; Andrea Siradze, violin; Tawnya Popoff, viola; Rebecca Wenham, cello
Wednesday, August 11, 2021
Jennie Press, violin; Emilie Grimes, viola; Olivia Blander, cello
Thursday, August 12, 2021
Saina Khaledi, santour, and Ali Sajjadi, oud
Friday, August 13, 2021
Mark Takeshi McGregor, flute, and Adrian Verdejo, guitarist
Tuesday, August 17, 2021
Infamy Too!
featuring: Julia Chien and Aaron Graham, percussion
Thursday, August 19, 2021
Rebecca Wenham, cello
Thursday, August 26, 2021
Terry Riley's In C with the Music on Main All-Star Band
Tuesday, August 31, 2021
J.S. Bach's Goldberg Variations with Rachel Kiyo Iwaasa, piano
All ages are welcome.
To help everyone feel as comfortable and welcome as possible, organizers encourage audience members to stay 6-feet apart from people outside their own social circles. Follow Music on Main for more info.
Related: The Kessler Academy 2021