It's back! The annual, free, Monstercat Compound block party returns to Railtown on September 18, 2021.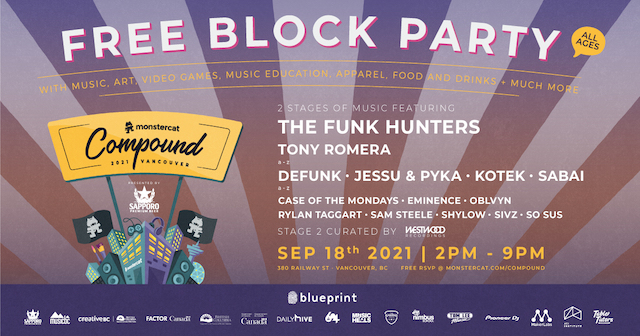 Monstercat Compound 2021
When: Saturday, September 18, 2021 2:00pm to 9:00pm
Where: Monstercat HQ (380 Railway Street, Vancouver)
Admission: Free, RSVP online here. Premium passes are also available for $25.
Festivities will include live electronic music on two stages, with performances from some of Canada's top names in electronic music including The Funk Hunters, Tony Romera, and more.
The event will also include live art, video games, music education, merch, food trucks and much more. Compound welcomes fans, families alike, offering something for every Vancouverite.
Shop
Stock up on Monstercat apparel and accessories. The Merch Team will be on-site again with a jam-packed booth brimming with awesome items. The Shop booth will feature a huge sample sale featuring a choice selection of products released throughout the last 2 years, including some previously sold out items. Monstercat will have men's, women's, and unisex pieces available for purchase. You can also expect on-site heat printing of some classic Monstercat designs. For the first time ever, you'll be able to pick your placements and build your own customized piece.
Art
Compound is so much more than just two stages of awesome music. This year they are expanding the live art element of their event by welcoming a lineup of Vancouver-based artists.
Monstercat is a Canadian independent electronic music record label based in Vancouver and founded in 2011.