Join Megaphone Magazine on September 22nd for the annual Megaphone Breakfast Fundraiser! This will be a hybrid in-person and online event that will look slightly different to previous breakfasts but will still bring you the same heart-warming, inspirational and meaningful connection to vendors that make the event so special.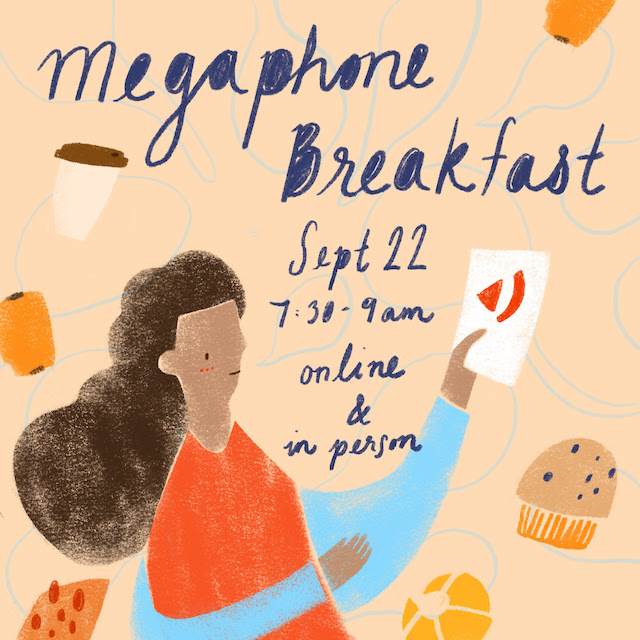 Megaphone Breakfast Fundraiser
When: Wednesday, September 22, 2021 from 7:30am to 9:00am
Where: In-person at 312 Main St, Vancouver & online
Tickets: Book online or in-person ticket here ($38-$81)
Funds raised will help Megaphone's Vendor Program come back strong after a challenging pandemic year.
Prior to the program, guests will have a chance to visit with Megaphone vendors and peers at various stations, where they'll help you navigate the app, flip through the Megaphone magazine and Hope in Shadows archives, and be the first to hear about a special project Megaphone peers are releasing soon.
After catching up, guests will sit down to hear the keynote address from climate justice advocate, Kai Nagata, and celebrate the announcement of Megaphone's Vendor of the Year 2021. Be inspired as we take another step together in changing the story on poverty!
The in-person tickets for this event are limited to 50 in order to maintain the health and safety of vendors and guests. If in-person tickets have sold-out or you'd prefer to tune into the program livestream, they've tried to make this a special experience for you too.
Online guests can choose to bring their own breakfast or opt for receiving a $15 JJ Bean gift card to purchase a coffee and breakfast from whichever location they prefer before jumping online from the home office at 7:45am to be part of the Megaphone Breakfast program.
About Megaphone
Published every month, Megaphone is a magazine sold on the streets of Vancouver by homeless and low-income vendors. Megaphone also runs writing workshops in the Downtown Eastside and downtown Vancouver for marginalized writers. Shop online now or find a vendor near you.
Miss604's Rebecca Bollwitt is a proud contributor to the magazine, since April 2021, writing the Heartbeats column that shines a spotlight on non-profit organizations in the community and the amazing people behind them.